Hey YA Readers: I've got a fun interview for you today with an author whose work is funny.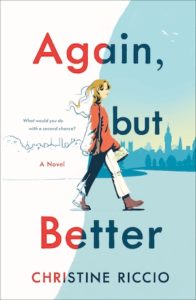 "What's Up in YA?" is sponsored by Wednesday Books.
From one of the most followed BookTubers today, Christine Riccio, comes a story about second chances, discovering yourself, and being brave enough to try again. Colleen Hoover calls Again, but Better "is a fantastic debut novel! Entertaining, clever, and impossible to put down." What would you do with a second chance?
---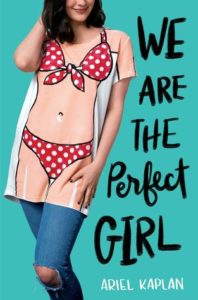 I'm so glad that I had the chance to meet Ariel Kaplan (who has also written as AE Kaplan) last fall at an event. Had I not spent the day with her, I suspect I'd be like so many other readers and sleeping on her books.
But I'm not, and neither should you!
Kaplan's third book We Are The Perfect Girl hit shelves this week. It's a romp of a read, packed with laugh-out-loud moments, that retells Cyrano de Bergerac, with a powerful thread about mental health, family challenges, and more.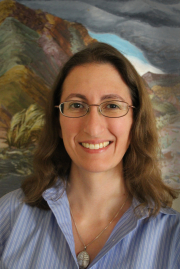 We Are The Perfect Girl follows Kaplan's sophomore novel, We Regret To Inform You, about a college admissions scandal (sound relevant?).
I asked Ariel, who is writing some of the funniest YA right now, to talk with me a bit about her current book, her prior books, and what YA books she herself enjoys.
Kelly Jensen: Give the short pitch for We Are the Perfect Girl
Ariel Kaplan: Charming extrovert Aphra and beautiful, book-smart Bethany have been best friends most of their lives, but when Bethany asks for help winning their mutual crush—whom Aphra has been flirting with via an anonymous chat app—Aphra is torn between helping her debilitatingly shy friend and pursuing the guy she likes, but thinks she doesn't have a chance with.
KJ: What inspired your decision to reimagine the classic Cyrano de Bergerac?
AK: Cyrano de Bergerac has always been a favorite of mine; the writing is so sharp, even in translation, and Cyrano is this great juxtaposition of swagger and self-loathing. I've always wondered what that would look like in a female character, where those elements are magnified by society's over-the-top expectations of girls, and I've always wondered how Cyrano would have been different if Cyrano and Christian had been really close friends.
The title of the book comes from a single line which states that if main character Aphra and her best friend Bethany were one person, they'd be the perfect girl because Aphra is outspoken and bold but average in the looks department. Bethany is quiet and reserved but, according to Aphra, gorgeous. This is such a teen phenomenon and belief and something that's rarely addressed head on in YA. Likewise, it really gets at the heart of Aphra's own mental health struggle, for which she sees a therapist. Can you talk a bit to that and more specifically, her struggle with body dysmorphia?
We are the Perfect Girl is actually a play on a line from the original Cyrano, in which Cyrano tells Christian, "Together we can make the perfect man: your looks, my voice;" it's the beginning of their mutual attempt to win Roxane for Christian, with whom Roxane is already in love, and I wanted to give a nod to that.
Some years ago, when I was re-shelving some books after a flood in my basement, I went through my old high school yearbook and had the bizarre realization that the girls everyone thought were really pretty back in ninth and tenth grade weren't any more objectively pretty than anyone else—and not only that, but the girls who were teased for being less attractive really weren't. It really caught me by surprise, how little difference there was, and how invested we all were in the idea of conventional attractiveness, even when it was hurting us. We had this idea that there was this target we were all trying to hit, and that was perfection, and I don't think any of us, really, thought we were measuring up. And it's not just the physical that has to be perfect, either; there's this great pressure to excel at everything, all the time, and if you can't be perfect, if you can't be very pretty in this standardized way, or very good at everything, it's like you owe the world an apology for it.
So Aphra has really bought into this, in a way I think is pretty common, and I wanted to make it clear that she's not even being directly bullied—when she says "everyone likes me" that's actually true, she's a smart, athletic, reasonably popular kid with a lot of friends. And even with everything she has going for her—which is a lot!—she's in a significant, fairly constant amount of emotional distress because of what she's been told about herself by the society she lives in.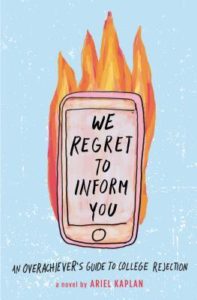 Your previous book, We Regret To Inform You, takes on college admissions. I'd love to hear you talk a bit about how the current admissions scandal does and doesn't tie into that novel and maybe, too, some of the questions or insights you've heard from young readers about the book (yes, I'm thinking specifically about our panels!)
I think Regret definitely ties into the current news cycle. What we're seeing in the stories of these celebrities and other well-heeled individuals is that once the curtain is pulled back, the idea that college admissions is a meritocracy—and not part of our capitalist system—starts to break down pretty quickly.
So I got some early reviews of this book complaining that the story was too far-fetched, but now, suddenly, I'm getting is people asking if I had some kind of prescience about all this. The thing is, what we're seeing now is nothing new, except that this particular bunch of parents was a lot less savvy than most and crossed the line from unethically crooked into illegally crooked.
I've had a number of kids quietly come up to me after events and tell me that either the stress of the process is keeping them up at night, or that they've already been rejected by their dream school, and that the book was something that made them feel better, and that was pretty humbling to hear. It's hard for me, as a parent, not to want to give these kids a hug and a cookie and tell them they are still capable of doing great things, even if a handful of people on an admissions board didn't pick them.
Something I love about your books and that you nail in this one is humor. You take on some big, heady topics, but there is a lot of humor. How do you strike balance?
It's not an easy thing, to be honest, and I spend a lot of time thinking about whether what I've written might be read as making light of something serious. But the fact is, this is how I experience the world, which I think is a very culturally-informed view and not something I can really turn off. Whenever I try to write things that are only funny or only serious, it never works.
Let's talk about your reading life a bit! What have been some of the funniest books for teens you've read and enjoyed?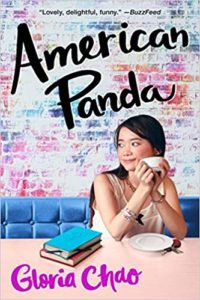 I've read some good ones lately! Here are a few:
Denton Little's Deathdate by Lance Rubin
Gloria Chao's American Panda
Ben Phillipe's Field Guide to the North American Teenager
What about some of your favorite YA titles that take on mental health and mental illness?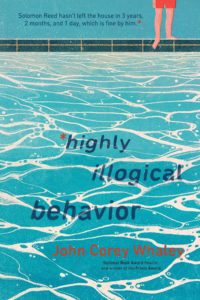 Some I've enjoyed recently:
This Song will Save Your Life by Leila Sales
Highly Illogical Behavior by John Corey Whaley (and not only because of the fact that it's another Star Trek-inspired book, though it doesn't hurt.)
Exit, Pursued by a Bear by E.K. Johnston
If you could go back in time and hand your 12-year-old self one book, what would it be and why?
That's hard! My twelve-year-old self had been pretty turned-off by the world of novels; we had to read a lot of dry and/or unpleasant ones at school, because they were "classics." YA, as it is now, didn't really exist then, which is part of the reason I think I appreciate it so much—there's so much variety, and so many books about more than just kids with dead dogs. I'm not sure I could pick one book; certainly, I'd give myself Harry Potter, because I really needed to read something fun, and I could have used a book like Shannon Hale's Best Friends.
Ah, I do have one after all: Naomi Novik's Spinning Silver, which is basically a novel-length version of the Jewish folktales I loved when I was a kid. It would have blown my mind then to know that something like that existed.
You can find out more about Ariel Kaplan and her work at her website, as well as on Twitter. 
---
Thanks for hanging out, y'all, and thanks to Ariel for adding more books to my to-read list.
We'll see you later this week!
— Kelly Jensen, @veronikellymars on Instagram and editor of (Don't) Call Me Crazy and Here We Are.