Sponsored by The Unhoneymooners by Christina Lauren, from Gallery Books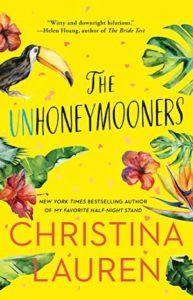 ---
Romeo And Juliet Hip-Hop Movie Musical!
Queen Latifah and Will Smith are producing a Romeo And Juliet hip-hop movie musical for Netflix that will be set in today's N.Y. and follow a Brooklyn waitress and wealthy heir musician–why don't I have this RIGHT NOW!
New China Tariffs May Come For Books
If you haven't been following closely with the Trump administrations trade war with China–no judgement, there is so much to follow!–this bit may be of interest: "books are among the $300 billion worth of Chinese imports that face a potential 25% tariff following the failure of the U.S. and China to reach a new trade agreement." More information here.
From Vampire To Batman?
Matt Reeves is working on The Batman and sources say Robert Pattison is the top choice, and in final negotiations, to play Batman. Opine away.