Hello, nonfiction friends and readers! I want to start out this week's newsletter with some sad news I neglected to share last week. Rachel Held Evans, a Christian author, blogger, and thinker, died suddenly on May 4 after a short, tragic illness. She leaves behind a husband, two children, and a legacy of progressive Christianity that challenged Evangelicals and sought to open the church up to those who felt unwelcome.
---
Sponsored by Kawaii Craft Life by Sosae Caetano and Dennis Caetano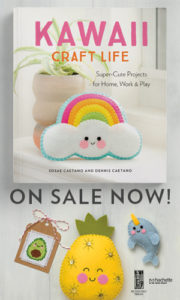 Kawaii Craft Life is a first-of-its-kind needlecraft book featuring 35 super-cute projects to decorate the home or give as gifts. Add an adorable kawaii touch to your home, dorm room, or office with this charming collection of feltcraft, cross-stitch, and embroidery projects. It includes materials lists and hand-stitching basics, step-by-step instructions and illustrations, printable templates, and beautiful photography. A celebration of all things kawaii style and suitable for both beginners and seasoned crafters alike, you can create dozens of cute and cuddly crafts.
---
I haven't read any of her work, so I have to rely on some others to share their thoughts on her writing, thinking, and legacy:
I've heard excellent things about all of her books, particularly the two most recent – Inspired and Searching for Sunday – so hopefully I can pick one of those up soon.
It feels weird to go from that really sad event to other news, but I guess that's the nature of a newsletter. This week I've got a couple new book announcements and some thoughts on a book festival I attended last weekend. First, new books:
Michael Wolff has written a "sequel" to Fire and Fury, and it's coming out on June 4. Siege: Trump Under Fire was just announced this week, and is described by the publisher as an "equally essential and explosive book about a presidency that is under fire from almost every side." It begins at the beginning of Trump's second year and ends with the completion of the Mueller report. This is a book a lot of people are probably going to read… and I'll be happy just reading the excerpts that get reported.
Chelsea Manning is writing a memoir. Due next year, the book will be about her childhood, her time as a soldier, and "how her plea for increased institutional transparency and government accountability take place alongside a fight to defend her rights as a trans woman." Manning also told reporters that she and the publisher are trying to avoid having to submit the manuscript to the government for a classified information review. That's interesting!
And second, book festival! This weekend was the first annual Wordplay festival in Minneapolis. This event was organized by The Loft, an amazing local literary organization, and was really impressive for a first year. I was able to hear several great authors (mostly nonfiction) talk about their books:
Mira Jacob (Good Talk) and poet Tina Chang (Hybrida) spoke about raising mixed-race kids, and how some of the most difficult conversations we need to have are with people we love but also deeply disagree with.
Anika Fajardo (Magical Realism for Nonbelievers) and Vanessa McGrady (Rocks Needs River) shared some of their stories about motherhood, complicated families, and the decisions that get made when writing a memoir.
Helen Ellis (Southern Lady Code) was hilarious in conversation with comedian/novelist Lorna Landvik, definitely the highlight of my weekend. Her stories about her mother were so great.
And that's all for this week! You can find me on Twitter @kimthedork, on email at kim@riotnewmedia.com, and co-hosting the For Real podcast here at Book Riot. Happy reading! – Kim