Hello, Kid Lit Friends!
"The Kids Are All Right" is sponsored by Hurricane Season by Nicole Melleby from Algonquin Young Readers.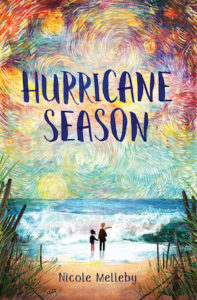 Sixth-grader Fig is sure it's up to her alone to help her artist father who is struggling with his mental health. But with the help of her best friend, a cute girl at the library, and a surprisingly kind new neighbor, Fig learns she isn't as alone as she once thought… and begins to compose her own definition of family.
This is a radiant debut about love and art, about growing up and coming out, and more than anything else, it is a story about love—both its limits and its incredible healing power.
---
New York City has been pummeled by rain lately, and the other day we had a record-setting low temperature. But the rain and cold haven't prevented my family from thinking about summer weather and activities. Here are some of my favorite summer themed picture books – what are yours?
*Please note that all book descriptions come from the publishers.*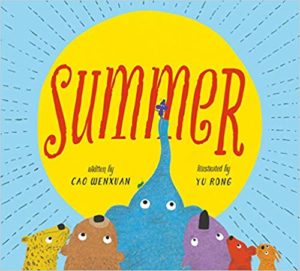 Summer by Cao Wenxuan, illustrated by Yu Rong
Summer is a poetic, inspirational picture book about the power of kindness from two of China's most acclaimed creators―and children will discover a surprise as they turn the pages! During a hot summer day in the grasslands, a group of animals race to claim the single spot of shade―under one tiny leaf that clings to a branch. The animals fight until they are inspired by an act of love to offer shade to one another.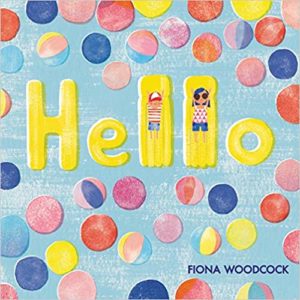 Hello by Fiona Woodcock
Hello! Are you ready for a brilliant day? There are plenty of spills and thrills as a brother and a sister collide in bumper cars, ride roller coasters, toss beach balls, and act silly in the chilly ocean water, where they meet a jellyfish! A brother and sister enjoy a brilliant day full of spills, thrills, and silly adventures in this playful story comprised only of words that contain a double L (such as spills, thrills, and silly)!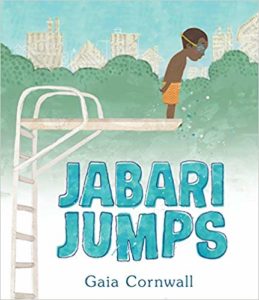 Jabari Jumps by Gaia Cornwall
Jabari is definitely ready to jump off the diving board. He's finished his swimming lessons and passed his swim test, and he's a great jumper, so he's not scared at all. "Looks easy," says Jabari, watching the other kids take their turns. But when his dad squeezes his hand, Jabari squeezes back. He needs to figure out what kind of special jump to do anyway, and he should probably do some stretches before climbing up onto the diving board. In a sweetly appealing tale of overcoming your fears, newcomer Gaia Cornwall captures a moment between a patient and encouraging father and a determined little boy you can't help but root for.
There Might Be Lobsters by Carolyn Crimi, illustrated by Laurel Molk
Lots of things at the beach scare Sukie. Lots. Because she is just a small dog, and the stairs are big and sandy, and the waves are big and whooshy, and the balls are big and beachy. And besides, there might be lobsters. With endearing illustrations and a perfectly paced text that captures a timid pup's looping thoughts, here is a funny and honest read-aloud about how overwhelming the world can be when you're worried — and how empowering it is to overcome your fears when it matters the most.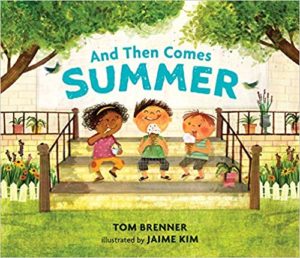 And Then Comes Summer by Tom Brenner, illustrated by Jaime Kim
When the days stretch out like a slow yawn, and the cheerful faces of Johnny-jump-ups jump up . . . then it's time to get ready for summer! From flip-flops and hide-and-seek to fireworks and ice-cream trucks, from lemonade stands and late bedtimes to swimming in the lake and toasting marshmallows, there's something for everyone in this bright and buoyant celebration of the sunny season. Tom Brenner's lovely, lyrical ode to summers spent outdoors will strike a chord with anyone who's ever counted down the days until school gets out, and Jaime Kim's jubilant, nostalgia-soaked illustrations leave little doubt that summer is indeed a time unlike any other.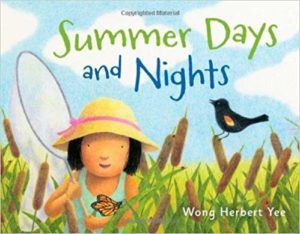 Summer Days and Nights by Wong Herbert Yee
On a hot summer day, a little girl finds ways to entertain herself and stay cool. She catches a butterfly, sips lemonade, jumps in a pool, and goes on a picnic. At night, she sees an owl in a tree and a frog in a pond, and hears leaves rustling. Before long, she's fast asleep, dreaming about more summer days and summer nights.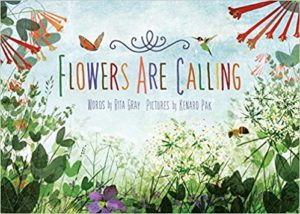 Flowers Are Calling by Rita Gray, illustrated by Kenard Pak
Flowers are calling to all the animals of the forest, "Drink me!"—but it's the pollinators who feast on their nectar. In rhyming poetic form and with luminous artwork, this book shows us the marvel of natural cooperation between plants, animals, and insects as they each play their part in the forest's cycle of life.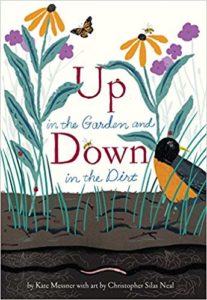 Up in the Garden and Down in the Dirt by Kate Messner, illustrated by Christopher Silas Neal
In this exuberant and lyrical follow-up to the award-winning Over and Under the Snow, discover the wonders that lie hidden between stalks, under the shade of leaves . . . and down in the dirt. Explore the hidden world and many lives of a garden through the course of a year! Up in the garden, the world is full of green—leaves and sprouts, growing vegetables, ripening fruit. But down in the dirt exists a busy world—earthworms dig, snakes hunt, skunks burrow—populated by all the animals that make a garden their home.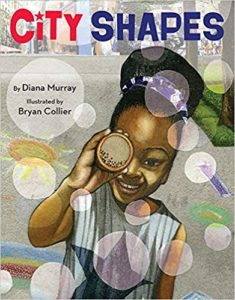 City Shapes by Diana Murray, illustrated by Bryan Collier
From shimmering skyscrapers to fluttering kites to twinkling stars high in the sky, everyday scenes become extraordinary as a young girl walks through her neighborhood noticing exciting new shapes at every turn. Far more than a simple concept book, City Shapes is an explosion of life. Diana Murray's richly crafted yet playful verse encourages readers to discover shapes in the most surprising places, and Bryan Collier's dynamic collages add even more layers to each scene in this ode to city living.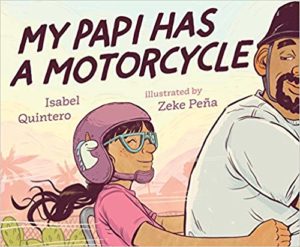 My Papi Has A Motorcycle by Isabel Quintero, illustrated by Zeke Pena
When Daisy Ramona zooms around her neighborhood with her papi on his motorcycle, she sees the people and places she's always known. She also sees a community that is rapidly changing around her. But as the sun sets purple-blue-gold behind Daisy Ramona and her papi, she knows that the love she feels will always be there.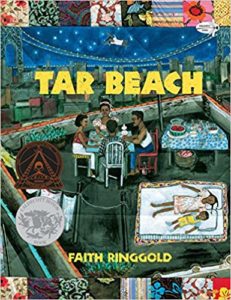 Tar Beach by Faith Ringgold
"Ringgold recounts the dream adventure of eight-year-old Cassie Louise Lightfoot, who flies above her apartment-building rooftop, the 'tar beach' of the title, looking down on 1939 Harlem. Part autobiographical, part fictional, this allegorical tale sparkles with symbolic and historical references central to African-American culture. The spectacular artwork resonates with color and texture. Children will delight in the universal dream of mastering one's world by flying over it. A practical and stunningly beautiful book."–(starred) "Horn Book.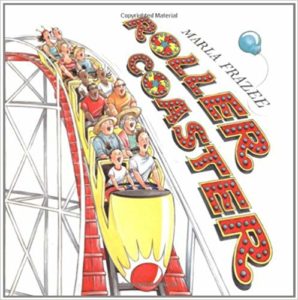 Roller Coaster by Marla Frazee
The roller coaster car is going up, up, up to the highest spot. And at least one of the people in the car has never ridden on a roller coaster before . . . ever. Wheeeeeeee!
Get ready to experience the thrill of riding a coaster for the very first time in this vibrant new adventure from acclaimed picture book creator Marla Frazee.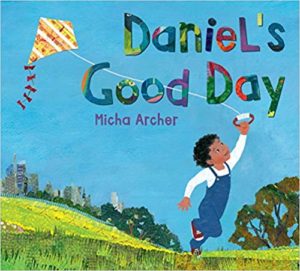 Daniel's Good Day by Micha Archer
The people in Daniel's neighborhood always say, "Have a good day!" But what exactly is a good day? Daniel is determined to find out, and as he strolls through his neighborhood, he finds a wonderful world full of answers as varied as his neighbors. For Emma, a good day means a strong wind for kite flying. For the bus driver, a good day means pleases and thank-yous. A good day is bees for the gardener, birthdays for the baker, and wagging tails for the mail carrier. And, for Daniel's grandma, a good day is a hug from Daniel! And when Daniel puts all these good days together, they make a lovely poem full of his neighbors' favorite things.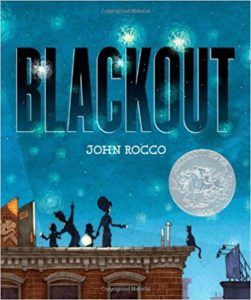 Blackout by John Rocco
One hot summer night in the city, all the power goes out. The TV shuts off and a boy wails, "Mommm!" His sister can no longer use the phone, Mom can't work on her computer, and Dad can't finish cooking dinner. What's a family to do? When they go up to the roof to escape the heat, they find the lights–in stars that can be seen for a change–and so many neighbors it's like a block party in the sky! On the street below, people are having just as much fun–talking, rollerblading, and eating ice cream before it melts. The boy and his family enjoy being not so busy for once. They even have time to play a board game together. When the electricity is restored, everything can go back to normal . . . but not everyone likes normal. The boy switches off the lights, and out comes the board game again.
Around the web…
The Pacific Northwest Welcomes Its First Children's Book Festival, via Publisher's Weekly
Wimpy Kid 14 Title and Cover Revealed, via Publisher's Weekly
I would love to know what you are reading this week! Find me on Twitter at @KarinaYanGlaser, on Instagram at @KarinaIsReadingAndWriting, or email me at karina@bookriot.com.
Until next time!
Karina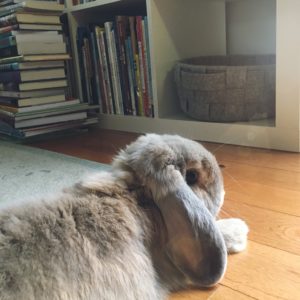 *If this e-mail was forwarded to you, follow this link to subscribe to "The Kids Are All Right" newsletter and other fabulous Book Riot newsletters for your own customized e-mail delivery. Thank you!*