Hello mystery fans! This week I have for you a historical mystery, Australian crime, and a true crime biography. Plus, lots of releases.
---
Sponsored by Forge Books
Delighted by a surprise invitation, Miriam Macy sails off to a luxurious private island with six other strangers. Surrounded by miles of open water, Miriam is shocked to discover that she and the rest of her companions were brought to the island under false pretenses—and all seven strangers harbor a secret. Danger lurks in the forest and in the halls of the lonely mansion. Sporadic cell-phone coverage and miles of ocean keeps the group trapped in paradise. Strange accidents stir suspicions, as one by one…they all fall down. Don't miss this unputdownable thriller by Rachel Howzell Hall.
---
Great Historical Mystery! (TW suicide)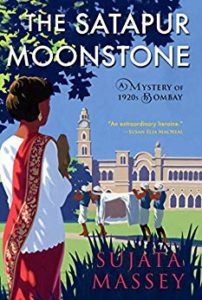 The Satapur Moonstone (Perveen Mistry #2) by Sujata Massey: I love this historical mystery series and if you're already a fan of Perveen from the first book I don't see any reason why you wouldn't also enjoy this one. The first half of the book does a great job of bringing the Satara mountains in India to life during 1922. You see not only Britain's colonialism in India but also the caste system and the different religions. Massey does a really good job of showing a lot through Perveen's travels and interactions as she takes on a job where she'll have to intervene and decide where a future ruler will go to school until he's old enough to lead. The mystery part starts once she's at the kingdom of Satapur and discovers not everyone believes the royal family members' deaths were accidental…and her own life seems to be in jeopardy. From there, the tension builds and builds into an explosive ending. I love that Perveen is smart and thoughtful and introspective and willing to fight for what she believes. This is a great series for historical mystery fans and a perfect introduction to mysteries for fans of historical fiction who have previously shied away from the crime genre.
Australian Crime! (TW rape/ past suicide mentioned/ past child and domestic abuse mentions)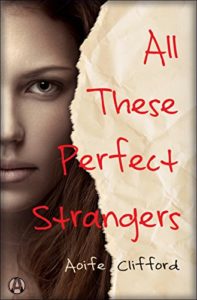 All These Perfect Strangers by Aoife Clifford: This was a page-turner for me, where the main character, Pen, keeps her cards close to the vest even from the reader. You know she was previously a part of a trial, everyone blames her for something, and her best friend no longer speaks to her. But the why and what happened are only slowly revealed as she's trying to start her life over at University. Except tensions are high at her new school with a recent attack on a student, and Pen's new friend feels more like an enemy sometimes, and then people start to die… This one works for fans of past and present mysteries where you don't know who you can, or should, trust.
History + Biographies + True Crime!
Furious Hours: Murder, Fraud, and the Last Trial of Harper Lee by Casey Cep: This was one of those audiobooks that I listened to in a day as I found it really interesting. You basically get the story of a serial killer preacher who kept taking life insurance policies out on people who kept dying. You learn about the lawyer who defended him, and later defended the man who killed him. Then it goes into Truman Capote researching with Harper Lee for his writing of In Cold Blood, and finally everything comes together as we learn of Harper Lee's writing about the preacher serial killer in hopes of writing her own true crime book. I loved the way this was written–not for entertainment value but rather as an investigation of the ills of our society–and there was plenty of "did you know" tidbits throughout that kept this interesting rather than boring. Great read for fans of history, biographies, and true crime–it never goes the rout of obsessing over the violence or gruesome details.
Recent Releases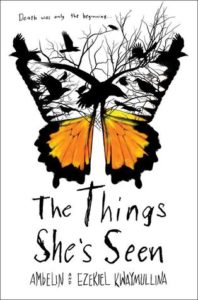 The Things She's Seen by Ambelin Kwaymullina, Ezekiel Kwaymullina (Get thee this book about an Aboriginal teen ghost who helps her detective father solve a case to help him through his grief of her passing–Full review)
Not Bad People by Brandy Scott (Suspense)
If She Wakes by Michael Koryta (Thriller)
The Scent of Murder (Jazz Ramsey #1) by Kylie Logan (Mystery with a cadaver dog trainer as lead.)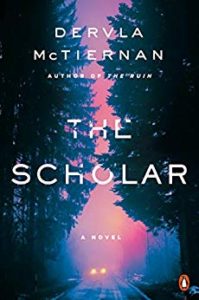 The Scholar (Cormac Reilly #2) by Dervla McTiernan (Sequel in great Irish procedural series.)
The Last Time I Saw You by Liv Constantine (Psychological suspense)
The Night Before by Wendy Walker (Thriller)
The Last Thing She Remembers by J. S. Monroe (Psychological thriller)
Miss Kopp Just Won't Quit (Kopp Sisters #4) by Amy Stewart (Paperback) (Historical mystery)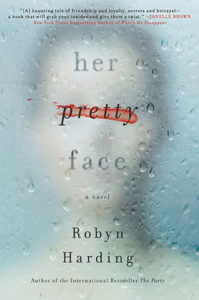 Her Pretty Face by Robyn Harding (Paperback) (Thriller)
An Unwanted Guest by Shari Lapena (Paperback) (Murder mystery)
The 7½ Deaths of Evelyn Hardcastle by Stuart Turton (Paperback) (TW rape/ fat shaming)
Our Kind of Cruelty by Araminta Hall (Paperback) (Thriller)
The Word Is Murder by Anthony Horowitz (Paperback) (Murder mystery)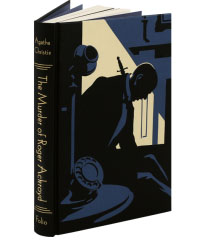 Folio Society's The Murder of Roger Ackroyd by Agatha Christie, Andrew Davidson (Illustrations), Sophie Hannah (Introduction)
Browse all the books recommended in Unusual Suspects previous newsletters on this shelf. And here's an Unusual Suspects Pinterest board.
Until next time, keep investigating! And in the meantime, come talk books with me on Twitter, Instagram, and Litsy–you can find me under Jamie Canavés.
If a mystery fan forwarded this newsletter to you and you'd like your very own you can sign up here.