Hi Kid Lit Friends,
There have been so many wonderful books out lately about kids learning English as a second language. According to Face the Facts, a project of George Washington University, ten percent of all public school students are English Language Learners. NPR also has really interesting graphics about how each state does in terms of serving this population of learners.
Here is a list of some great children's books featuring children learning English as a second language. I love all of these for their honesty, beautiful writing, and terrific storytelling.
---
Sponsored by Crossing on Time by David Macaulay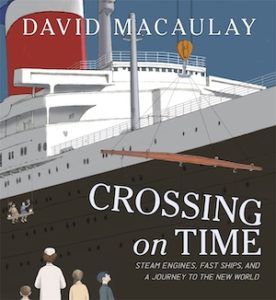 David Macaulay, co-creator of the international bestseller The Way Things Work, brings his signature curiosity and detailing to the story of the steamship in this meticulously researched and stunningly illustrated book. Prior to the 1800s, ships crossing the Atlantic Ocean relied on the wind in their sails to make their journeys. But invention of steam power ushered in a new era of transportation that would change ocean travel forever: the steamship. Framed around the author's own experience steaming across the Atlantic, Crossing on Time is a tour de force of the art of explanation and a touching and surprising childhood story.
---
*Please note that all book descriptions come from the publisher.
Picture Books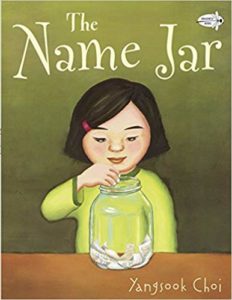 The Name Jar by Yangsook Choi
Being the new kid in school is hard enough, but what about when nobody can pronounce your name? Having just moved from Korea, Unhei is anxious that American kids will like her. So instead of introducing herself on the first day of school, she tells the class that she will choose a name by the following week. Her new classmates are fascinated by this no-name girl and decide to help out by filling a glass jar with names for her to pick from. But while Unhei practices being a Suzy, Laura, or Amanda, one of her classmates comes to her neighborhood and discovers her real name and its special meaning. On the day of her name choosing, the name jar has mysteriously disappeared. Encouraged by her new friends, Unhei chooses her own Korean name and helps everyone pronounce it—Yoon-Hey.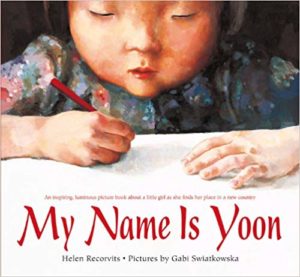 My Name is Yoon by Helen Recorvits, illustrated by Gabe Swiatkowska
Yoon's name means "shining wisdom," and when she writes it in Korean, it looks happy, like dancing figures. But her father tells her that she must learn to write it in English. In English, all the lines and circles stand alone, which is just how Yoon feels in the United States. Yoon isn't sure that she wants to be YOON. At her new school, she tries out different names―maybe CAT or BIRD. Maybe CUPCAKE!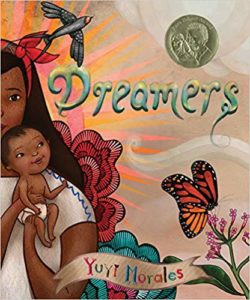 Dreamers by Yuyi Morales
In 1994, Yuyi Morales left her home in Xalapa, Mexico and came to the US with her infant son. She left behind nearly everything she owned, but she didn't come empty-handed. She brought her strength, her work, her passion, her hopes and dreams. . . and her stories. Caldecott Honor artist and six-time Pura Belpré winner Yuyi Morales's gorgeous picture book Dreamers is about making a home in a new place. Yuyi and her son Kelly's passage was not easy, and Yuyi spoke no English whatsoever at the time. But together, they found an unexpected, unbelievable place: the public library. There, book by book, they untangled the language of this strange new land, and learned to make their home within it.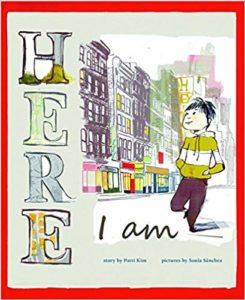 Here I Am by Patti Kim, illustrated by Sonia Sanchez
Newly arrived from their faraway homeland, a boy and his family enter into the lights, noise, and traffic of a busy American city in this dazzling wordless picture book. The language is unfamiliar. Food, habits, games, and gestures are puzzling. They boy clings tightly to his special keepsake from home and wonders how he will find his way. How will he once again become the happy, confident kid he used to be? Walk in his shoes as he takes the first tentative steps toward discovering joy in his new world. A poignant and affirming view of the immigrant experience.
Alma and How She Got Her Name by Juana Martinez-Neal
If you ask her, Alma Sofia Esperanza José Pura Candela has way too many names: six! How did such a small person wind up with such a large name? Alma turns to Daddy for an answer and learns of Sofia, the grandmother who loved books and flowers; Esperanza, the great-grandmother who longed to travel; José, the grandfather who was an artist; and other namesakes, too. As she hears the story of her name, Alma starts to think it might be a perfect fit after all — and realizes that she will one day have her own story to tell.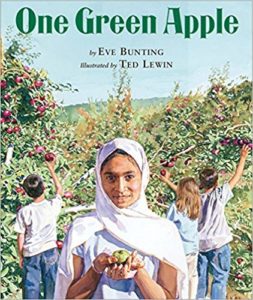 One Green Apple by Eve Bunting, illustrated by Ted Lewin
Farah feels alone, even when surrounded by her classmates. She listens and nods but doesn't speak. It's hard being the new kid in school, especially when you're from another country and don't know the language. Then, on a field trip to an apple orchard, Farah discovers there are lots of things that sound the same as they did at home, from dogs crunching their food to the ripple of friendly laughter. As she helps the class make apple cider, Farah connects with the other students and begins to feel that she belongs.
Middle Grade Books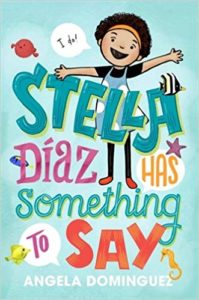 Stella Diaz Has Something to Say by Angela Dominguez
Stella Diaz loves marine animals, especially her betta fish, Pancho. But Stella Diaz is not a betta fish. Betta fish like to be alone, while Stella loves spending time with her mom and brother and her best friend Jenny. Trouble is, Jenny is in another class this year, and Stella feels very lonely. When a new boy arrives in Stella's class, she really wants to be his friend, but sometimes Stella accidentally speaks Spanish instead of English and pronounces words wrong, which makes her turn roja. Plus, she has to speak in front of her whole class for a big presentation at school! But she better get over her fears soon, because Stella Díaz has something to say!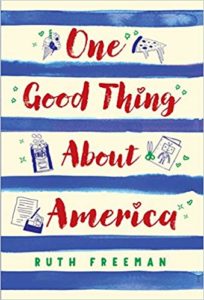 One Good Thing About America by Ruth Freeman
Back home, nine-year-old Anaïs was the best English student in her class, but here in Crazy America it feels like she doesn't know English at all. Nothing makes sense (chicken fingers?), and the kids at school have some very strange ideas about Africa. Anaïs misses home.  She misses their little house under the mango trees, and the family left behind—Papa and grandmother Oma and big brother Olivier.  She worries about the fighting that drove her and Mama and little Jean-Claude to leave.
I Lived on Butterfly Hill by Marjorie Agosin
Celeste Marconi is a dreamer. She lives peacefully among friends and neighbors and family in the idyllic town of Valparaiso, Chile—until the time comes when even Celeste, with her head in the clouds, can't deny the political unrest that is sweeping through the country. So Celeste's parents—her educated, generous, kind parents—must go into hiding before they, too, "disappear." To protect their daughter, they send her to America. As Celeste adapts to her new life in Maine, she never stops dreaming of Chile. But even after democracy is restored to her home country, questions remain: Will her parents reemerge from hiding? Will she ever be truly safe again?
Lety Out Loud by Angela Cervantes
Lety Muñoz's first language is Spanish, and she likes to take her time putting her words together. She loves volunteering at the Furry Friends Animal Shelter because the dogs and cats there don't care if she can't always find the right word. When the shelter needs a volunteer to write animal profiles, Lety jumps at the chance. But grumpy classmate Hunter also wants to write profiles — so now they have to work as a team. Hunter's not much of a team player, though. He devises a secret competition to decide who will be the official shelter scribe. Lety reluctantly agrees, but she's worried that if the shelter finds out about the contest, they'll kick her out of the volunteer program. Then she'll never be able to adopt Spike, her favorite dog at the shelter!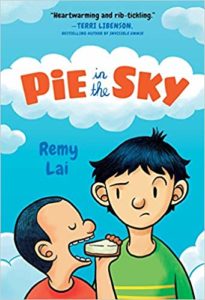 Pie in the Sky by Remy Lai
When Jingwen moves to a new country, he feels like he's landed on Mars. School is torture, making friends is impossible since he doesn't speak English, and he's often stuck looking after his (extremely irritating) little brother, Yanghao. To distract himself from the loneliness, Jingwen daydreams about making all the cakes on the menu of Pie in the Sky, the bakery his father had planned to open before he unexpectedly passed away. The only problem is his mother has laid down one major rule: the brothers are not to use the oven while she's at work. As Jingwen and Yanghao bake elaborate cakes, they'll have to cook up elaborate excuses to keep the cake making a secret from Mama.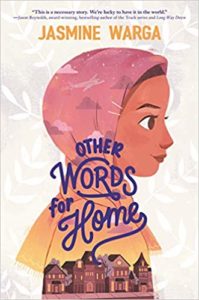 Other Words for Home by Jasmine Warga
ude never thought she'd be leaving her beloved older brother and father behind, all the way across the ocean in Syria. But when things in her hometown start becoming volatile, Jude and her mother are sent to live in Cincinnati with relatives. At first, everything in America seems too fast and too loud. The American movies that Jude has always loved haven't quite prepared her for starting school in the US—and her new label of "Middle Eastern," an identity she's never known before.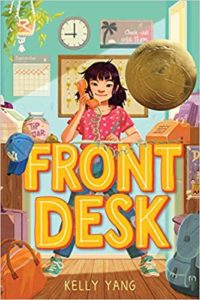 Front Desk by Kelly Yang
Mia Tang has a lot of secrets.
Number 1: She lives in a motel, not a big house. Every day, while her immigrant parents clean the rooms, ten-year-old Mia manages the front desk of the Calivista Motel and tends to its guests.
Number 2: Her parents hide immigrants. And if the mean motel owner, Mr. Yao, finds out they've been letting them stay in the empty rooms for free, the Tangs will be doomed.
Number 3: She wants to be a writer. But how can she when her mom thinks she should stick to math because English is not her first language?
Around the web…
Penguin Partners with the Crayon Collection on Recycling Program, via Publisher's Weekly
25 Fantastic Middle Grade Books by Black Authors, via Book Riot
Elle Fanning and Others to Perform The Baby-Sitters Club Audiobooks, via Book Riot
I would love to know what you are reading this week! Find me on Twitter at @KarinaYanGlaser, on Instagram at @KarinaIsReadingAndWriting, or email me at karina@bookriot.com.
Until next time!
Karina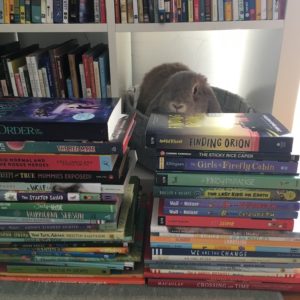 Izzy hanging out with last week's new releases!
*If this e-mail was forwarded to you, follow this link to subscribe to "The Kids Are All Right" newsletter and other fabulous Book Riot newsletters for your own customized e-mail delivery. Thank you!*