Hi mystery fans! This week I have for you an excellent true crime memoir, a Scottish murder mystery, and an Italian procedural!
---
Sponsored by Westside by W.M. Akers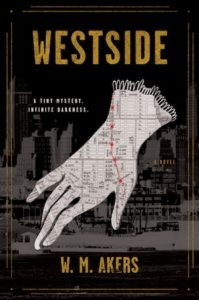 Gilda Carr is a young detective who specializes in tiny mysteries: the impossible puzzles that keep us awake at night. The tiny cases that distract Gilda from her grief, and the impossible question she knows she can't answer: "How did my father die?" It's 1921, and a thirteen-mile fence running the length of Broadway splits Manhattan, separating the prosperous Eastside from the Westside – an overgrown wasteland whose hostility to modern technology gives it the flavor of old New York. Only the poor and desperate remain, and it's here that Gilda's tiny mysteries end in blood.
---
Excellent True Crime Memoir (TW torture/ suicide)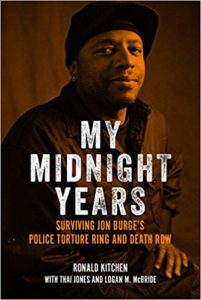 My Midnight Years: Surviving Jon Burge's Police Torture Ring and Death Row by Ronald Kitchen, Thai Jones, Logan McBride: This was so good I ended up listening to the audiobook in one day–Prentice Onayemi is an excellent narrator–and I haven't been able to stop thinking about it since. Ronald Kitchen was a low level drug dealer in Chicago in the '80s when he found himself arrested– which as a drug dealer wouldn't seem odd, except nothing the police were saying made any sense. He hadn't murdered people. But they were certain they had their murderer–or who they wanted to be their murderer–and so they tortured him until he agreed to the confession statement they wrote. It's heartbreaking to see how the justice system failed Kitchen–and many others–at every single level leading him to be placed on death row. Here he tells his story of his childhood, his wrongful arrest, life on death row, studying law in prison, and his appeals. I didn't have to like Kitchen to see the injustice and root for him but it was a bonus, and I love memoirs where people are able to lay bare the good, bad, and ugly accepting that we're all human and here it is. Highly recommend for fans of true crime memoirs and also nonfiction readers of our (in)justice system and racism.
Scottish Murder Mystery! (TW partner abuse)
Raven Black (Shetland Island #1) by Ann Cleeves: This is one of those satisfying from beginning to end murder mysteries where you get to know a handful of people in a remote area. When a murdered teenage girl is found in a remote Scottish Shetland Island Det. Insp. Jimmy Perez is on the case. But while everyone points their finger at one person–the loner who was the suspect in a previous missing girl case!–it's easy to see how it can be quite a few people once people's secrets start coming to light. So get ready to start wildly guessing who the culprit is! The 8th in the series, Wild Fire, published last year so I have a marathon ahead of me to catch up.
Italian Procedural! (TW child abuse)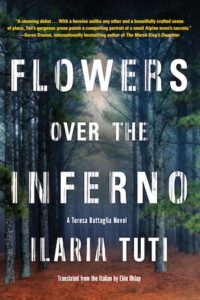 Flowers over the Inferno by Ilaria Tuti (Author), Ekin Oklap (Translator): This is for fans of darkish police procedurals that use psychology/profiling to catch the killer! While it follows a lot of what you're used to in those murder mysteries this did something new and surprising I really liked: the lead detective is Superintendent Teresa Battaglia, a woman in her sixties with diabetes who is hiding recent symptoms of dementia. It has a nice balance of letting you get to know Battaglia mostly through her work, so this one really works well for fans that like the focus to stay on the case/mystery at hand. It also has inserts of past events and a few chapters that follow the killer, which made me feel like it was perfect for fans of recent dark Nordic crime shows–even though it's set in a small Italian village. I'm really looking forward to see what the next book (it better get translated!) has in store for Battaglia.
Recent Releases
Furious Hours: Murder, Fraud, and the Last Trial of Harper Lee by Casey Cep (True crime)
The Body in the Wake (Faith Fairchild #25) by Katherine Hall Page (Maine, cozy mystery)
The Killer Across the Table: Unlocking the Secrets of Serial Killers and Predators with the FBI's Original Mindhunter by John Edward Douglas,Mark Olshaker (True crime)
Westside by W.M. Akers (Historical mystery + fantasy)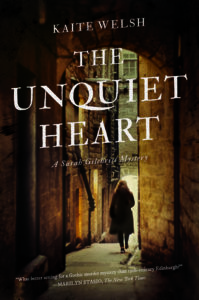 The Unquiet Heart (Sarah Gilchrist #2) by Kaite Welsh (Historical mystery)
The East End by Jason Allen (Currently reading: Crime novel set in the Hamptons.)
Not Bad People by Brandy Scott (Suspense)
Such a Perfect Wife by Kate White (Currently reading: Missing wife, reporter shows up to investigate.)
Guilty by Laura Elliot (Missing Child mystery)
Browse all the books recommended in Unusual Suspects previous newsletters on this shelf. And here's an Unusual Suspects Pinterest board.
Until next time, keep investigating! And in the meantime, come talk books with me on Twitter, Instagram, and Litsy–you can find me under Jamie Canavés.
If a mystery fan forwarded this newsletter to you and you'd like your very own you can sign up here.