Welcome to In The Club, a newsletter of resources to keep your book group well-met, well-read, and well-fed.
Friends… Dios mio! It's taking everything in me not to turn this newsletter into a Game of Thrones dissertation complete with bar graphs and pie charts. My thesis? How Cersei Done Already Shown You Hard-Headed Fools That She Gives Absolutely Zero F%@&s! Someone help me understand how my dude Tyrion is still out here like, "Come on, everyone, relax! She's really not that bad!" BRUUUUUH. She wants you dead! And not just dead, dead-by-giant-crossbow dead! If you don't sit your let's-give-peace-a-chance butt down…
Problematic but oh-so-addictive television shows aside, we have club business to get to! Let's chat Barnes & Noble, the celebrity book club effect and more. Shall we?
To the club!!
---
This newsletter is sponsored by Ignite English, where we inspire your reading.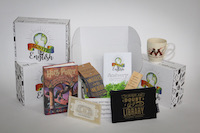 Ignite your learning, inspire your mind with the Englishbox! A bimonthly book box that brings reading to life! The Englishbox features either a classic or best-selling novel in every box accompanied by an interactive reading guide to help you dive deeper into the novel. You also get 3-4 book inspired items that are curated just for our readers. Each box includes special online access to addition book content and our online book club, so come chat books with us! Sign up for our newsletter for a change to win a free box!
---
Question for the Club
In case you missed this month's query, here it is for you again:
I'll be compiling answers all month long and already have so many great responses!
Meet Me at B&N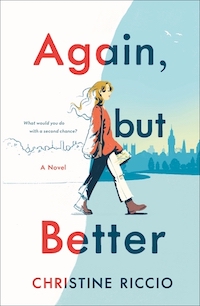 Calling all YA fans: Barnes and Noble is launching a YA book club! Meetings will take place on the second Thursday of every month at B&N stores across the country, the first of which is on June 13th to discuss debut author Christine Riccio's Again, But Better. Those attending will get to take part in giveaways and special promotions, including discounts on tea drinks and select debut young adult books.
Book Club Bonus: This sounds like an awesome summer reading activity for teens and adults alike: a great way to meet some new book friends and an easy entry into this book club life for anyone who's never partaken. I love the focus on debut authors! This is a practice I challenge you to incorporate in your own book clubs.  
Fact from Fiction
On last week's episode of For Real, our nonfiction podcast, Alice and Kim recommend a whole batch of nonfic reads for super (or even casual… ya know, fly casual) fans of Star Wars. I don't know much about Star Wars if I'm being honest, but these books sound great even to me!
Book Club Bonus: Lovers of fiction who are skeptical about trying nonfic for book club: find a nonfiction title about your favorite fictional thing! Like I always tell people who don't think they like nonfiction: there is something out there for you that you will love. That might just mean taking a beloved pretend thing and reading a not-pretend book about that. Now go on, and may the 4th with you even though I'm super late with that!
Hello Sunshine? Your Book is Selling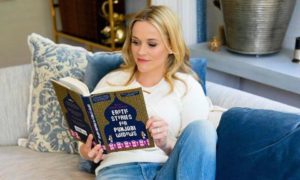 One minute your book is selling moderately. The next it winds up in the hands of Reese Witherspoon and BOOM! The game is changed. Such was the case for Balli Kaur Jaswal, for whom that little Hello Sunshine logo on her paperback made all the difference in the world.
Book Club Bonus: Adding to what I said earlier, this piece on the impact of celebrity book clubs only further drives home for me the importance of focusing on works by lesser-known, even debut, authors. While picking a debut for your book club may not have quite the impact that Reese or Oprah picking it might, it is still one small thing you can do to amplify that author's work. Request copies from your local library or purchase a bunch from your favorite bookstore.
Need help picking an under-the-radar read? Ask a friendly book blogger, bookseller, or librarian.  
Suggestion Section
---
Thanks for hanging with me today! Shoot me an email at vanessa@riotnewmedia.com with your burning book club questions or find me on Twitter and the gram @buenosdiazsd. Sign up for the Audiobooks newsletter, get it on the Read Harder podcast, and watch me booktube every Friday too.
Stay bad & bookish, my friends.
Vanessa
More Resources: 
– Our Book Group In A Box guide
– List your group on the Book Group Resources page