Hi Kid Lit Friends!
Happy first Tuesday of the month! I've got a huge long list of new releases for you, so hang on tight. As always, if I've had the chance to read one of these books and loved it, I marked it with a 
. Please note that all descriptions come from the publisher.
---
Sponsored by Starscape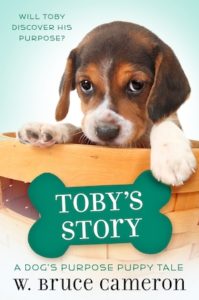 Toby is a beagle who doesn't seem to have a purpose. While all of his littermates are adopted right away, Toby is left behind because he's not as energetic. But because he is quiet, he is adopted by a girl named Mona and her mother, who works at a nursing home. As Toby comforts the residents of the home, he discovers that his purpose may be the most important of all! Toby's Story is another uplifting standalone in the Puppy Tales series by bestselling author W. Bruce Cameron about the bond that exists between humans and their cherished animal companions.
---
Picture Book New Releases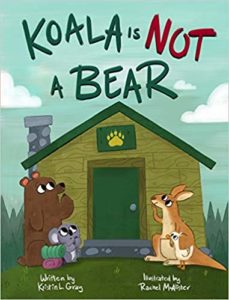 Koala Is Not A Bear by Kristin L. Gray, illustrated by Rachel McAlister
It's Koala's first day at camp, and she thinks she's found her place in the Bear Cabin—until know-it-all Kangaroo comes along and tells Koala in no uncertain terms that she is not a bear. Koala points out all the ways in which she resembles her new friend, Grizzly, but Kangaroo just isn't buying it. As Koala tries to find her place, alert readers will recognize clues about where Koala belongs. Using humor and fun illustrations, this engaging story will reel kids in and leave them with a satisfying ending.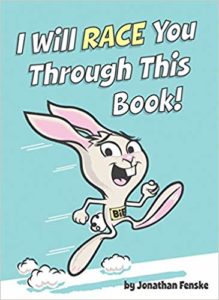 I Will Race You Through This Book! by Jonathan Fenske
This easy-to-read adventure breaks the fourth wall as Book-It Bunny challenges the reader to race her to the end of the story. But with distractions and tricks up her sleeve along the way, the competition becomes both fierce and funny at the same time. On your mark, get set, read!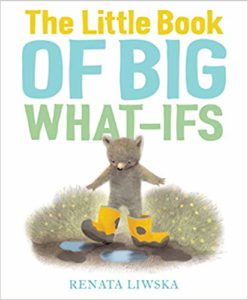 The Little Book of Big What-Ifs by Renata Liwska
Every day is filled with opportunities to wonder . . . what if?
In this charming book of big questions for little readers, New York Times bestselling creator Renata Liwska explores scenarios that span the spectrum from silly to serious, gently examining both the anxieties and curiosities of everyday life.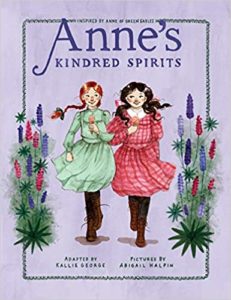 Anne's Kindred Spirits by Kallie George, illustrated by Abigail Halpin
Anne is nervous and excited to meet Diana, a neighbor girl who she just knows will be a kindred spirit. She's even more excited when she learns that she's invited to her very first picnic! Until Marilla's precious brooch goes missing and it looks like it's Anne's fault. That is, Marilla is upset and Anne's picnic adventure is now in jeopardy. Ultimately, the misunderstanding with the brooch is resolved and Anne is able to go to the picnic. Anne and Diana's friendship blossoms and Anne's bond with Matthew and Marilla grows stronger.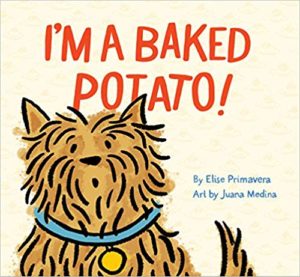 I'm a Baked Potato! by Elise Primavera, illustrated by Juana Medina
When a baked potato–loving lady adopts a dog, she adores him unconditionally—and given the pup's small, round frame and warm, brown coat she can't help but call him "Baked Potato"! But what happens when a dog who thinks he's a baked potato gets lost? Will he find his lady? And more importantly, will he find himself? I'm a Baked Potato! is a fun, bighearted story about the names we're given, the names we choose, and how both can help us find our way home. Full of heart and laugh-out-loud moments, this story will leave readers giggling—and looking at pets in a whole new way.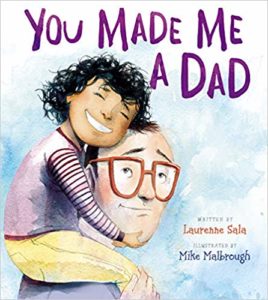 You Made Me a Dad by Laurenne Sala, illustrated by Mike Malbrough
In this touching celebration of fatherhood, the close bond between parent and child comes to life with heartwarming resonance. Laurenne Sala's tranquil text, accompanied by Mike Malbrough's tender watercolor illustrations, creates a warm look at the joys, fears, and responsibilities of being a dad over the years.
 Lambslide by Ann Patchett, illustrated by Robin Preiss Glasser
Nicolette Farmer is running for class president, and the rest of the Farmer family tells her she'll win by a landslide. A pack of overconfident lambs mistakenly hear lambslide and can't believe there's a slide made just for them. But when they can't find one on the farm, there's only one thing left to do: take a vote! They campaign. They bargain. They ask all the other animals if they, too, would like a lambslide.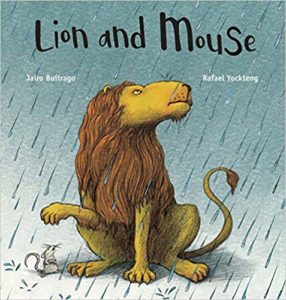 Lion and Mouse by Jairo Buitrago and Rafael Yockteng
One day, the mouse marches into the lion's den without an invitation. Before the lion can eat him for breakfast, the mouse begs for mercy. "If you let me go, I might be able to return the favor." The lion laughs at the idea of such a small, insignificant creature helping him out … until the next day when the mouse frees the lion from a hunter's trap.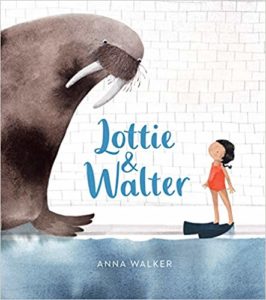 Lottie & Walter by Anna Walker
Lottie goes to swim lessons every Saturday, but she never gets in the water. That's because she is convinced there is a shark in the pool, a shark that wants to eat her and only her. But then Walter appears. Walter likes singing and reading books and bubble baths, and his favorite food is fish sticks, just like Lottie. When Saturday rolls around again, Lottie is no more ready to jump in the pool than she was before. Or is she? Sometimes it just takes a special friend to find the courage that was inside you all along.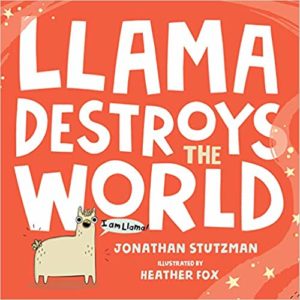 Llama Destroys the World by Jonathan Stutzman, illustrated by Heather Fox
Meet Llama, the next great picture-book megastar, who has most definitely driven a bus and who loves tacos way more than you. He also loves cake, and that's where our story begins.
On Monday, Llama discovers a pile of cake, which he promptly eats.
On Tuesday, Llama squeezes into his dancing pants, which he promptly rips.
The force of the rip creates a black hole (naturally).
By Friday, Llama will (indirectly) destroy the world.
 Summer by Cao Wenxuan, illustrated by Yu Rong
During a hot summer day in the grasslands, a group of animals race to claim the single spot of shade―under one tiny leaf that clings to a branch. The animals fight until they are inspired by an act of love to offer shade to one another.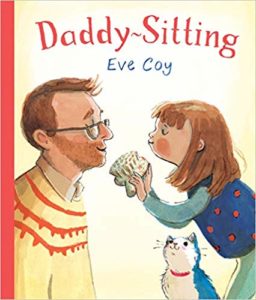 Daddy-Sitting by Eve Coy
A perfect book to share whenever a father and child read together. Appealing illustrations and a text narrated by an apple-cheeked little girl describe her day with Daddy and how she behaves like the parent during their activities—an outing to the park, housework, grocery shopping—as indulgent Daddy plays along.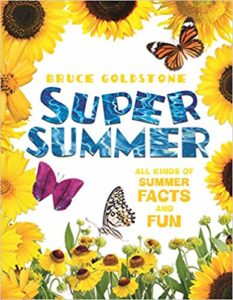 Super Summer: All Kinds of Summer Facts by Bruce Goldstone
Summer is a season of plenty―plenty of sun and fun. People take vacations and find plenty of activities in and around water. Animals try to stay cool, while bees and wasps go to work. Flowers bloom and fruits and vegetables ripen. Get ready to explore summer's amazing abundance!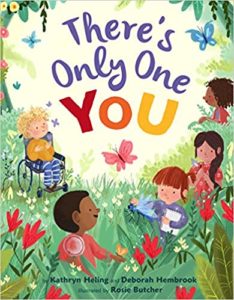 There's Only One You by Kathryn Heling and Deborah Hembrook, illustrated by Rosie Butcher
This feel-good book reassures kids that, whoever and whatever they are, it's awesome being YOU! Expertly written to include all kinds of children and families, it embraces the beauty in a range of physical types, personalities, and abilities. Kids will love discovering and recognizing themselves in these pages—and they'll feel proud to see their special qualities acknowledged.
Chapter Book New Releases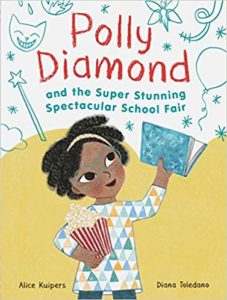 Polly Diamond and the Super Stunning Spectacular School Fair by Alice Kuipers, illustrated by Diana Toledano
Polly and her magic book, Spell, have all kinds of adventures together because whatever Polly writes in Spell comes true! But when Polly and Spell join forces to make the school fair super spectacular, they quickly discover that what you write and what you mean are not always the same. Filled with the familiar details of home and school, but with a sprinkling of magic, this book is just right for fans of Ivy + Bean, Judy Moody, and Dory Fantasmagory, as well for aspiring writers, who, just like Polly, know the magic of stories.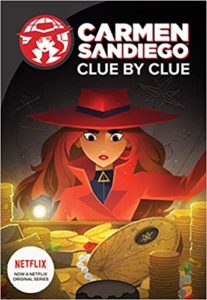 Carmen Sandiego: Clue By Clue
Carmen Sandiego and crew are off on a thrilling treasure hunt in this original story inspired by the Netflix animated series. When the secrets of a centuries' old treasure map are uncovered, it's up to Carmen to puzzle out the pirate's code and track down a long lost treasure. From the cobblestone streets of London to a sunken city in the Caribbean, Carmen must stay one step ahead on a trail of clues in order to beat her nemeses to the buried treasure! Using the book's special built-in decoder, readers can help Carmen unlock the map's clues–and make sure this pirate's booty finally makes its way into the right hands.
Carmen Sandiego: The Sticky Rice Caper
Where in the world is Carmen Sandiego? Headed to the island nation of Indonesia for her next caper! But just what is the mysterious lady in red after this time? Adventure awaits in this action-packed graphic novel starring the world's greatest thief.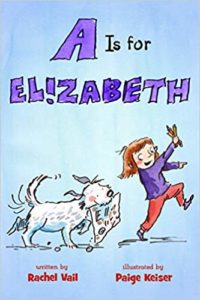 A is for Elizabeth by Rachel Vail, illustrated by Paige Keiser
Elizabeth is in second grade. Class 2B! It's great! Friends, recess, homework! Even a big project: Make a poster of your name. Yayyy! Hang on. The name Elizabeth has a bajillion letters in it! The name Anna has only four letters. Plus, Anna's first letter is A, which is also the first letter of Alphabetical Order. But Anna can't always be first! That's not fair!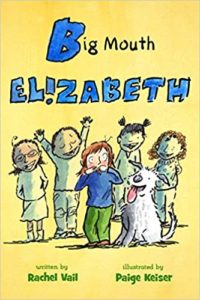 Big Mouth Elizabeth by Rachel Vail, illustrated by Paige Keiser
Second-grader Elizabeth longs to be a member of the Big Mouth Club, which is made up of kids who have lost at least one baby tooth. Elizabeth is WAY behind on losing her baby teeth, and so is Cali, a quiet girl who is also left out of the Big Mouth Club. Elizabeth thinks Cali is so much more babyish than she is―in fact, Elizabeth SHOULD be in the Big Mouth Club because she's NOT babyish. But when she understands how bad it feels to be left out, Elizabeth's attitude shifts.
Middle Grade New Releases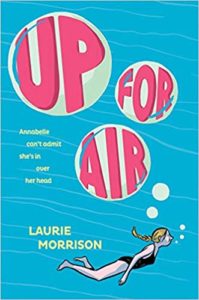 Up for Air by Laurie Morrison
Thirteen-year-old Annabelle struggles in school, no matter how hard she tries. But as soon as she dives into the pool, she's unstoppable. She's the fastest girl on the middle school swim team, and when she's asked to join the high school team over the summer, everything changes. Suddenly, she's got new friends, and a high school boy starts treating her like she's somebody special—and Annabelle thinks she'll finally stand out in a good way. She'll do anything to fit in and help the team make it to the Labor Day Invitational, even if it means blowing off her old friends. But after a prank goes wrong, Annabelle is abandoned by the older boy and can't swim. Who is she without the one thing she's good at?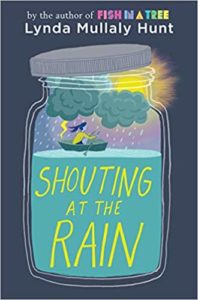 Shouting at the Rain by Lynda Mullaly Hunt
Delsie loves tracking the weather–lately, though, it seems the squalls are in her own life. She's always lived with her kindhearted Grammy, but now she's looking at their life with new eyes and wishing she could have a "regular family." Delsie observes other changes in the air, too–the most painful being a friend who's outgrown her. Luckily, she has neighbors with strong shoulders to support her, and Ronan, a new friend who is caring and courageous but also troubled by the losses he's endured. As Ronan and Delsie traipse around Cape Cod on their adventures, they both learn what it means to be angry versus sad, broken versus whole, and abandoned versus loved. And that, together, they can weather any storm.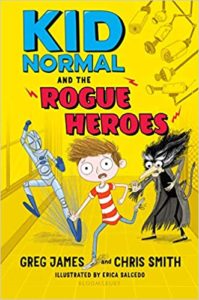 Kid Normal and the Rogue Heroes by Greg James and Chris Smith, illustrated by Erica Salcedo
Since becoming Kid Normal, Murph Cooper and the Super Zeroes – fellow students with arguably less-than-useful talents like the ability to conjure tiny horses from thin air – have been catching bad guys all over the place. But being a hero isn't easy, especially when you can't tell anyone about your epic adventures and your classmates still don't believe you've got what it takes.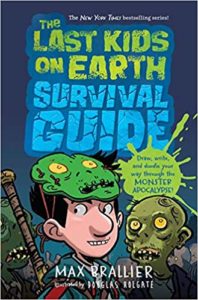 The Last Kids on Earth Survival Guide by Max Brallier, illustrated by Douglas Holgate
You've read all about the Last Kids on Earth's adventures in the post-zombie-monster-apocalypse, and now it's time to get in on the action! In this interactive journal, readers will feel like they're part of the Last Kids world by taking part in creative exercises that are based on the characters and settings that they've come to know so well. They'll draw their own inventions in Quint's workshop, design their perfect kids-only hangout that will rival Jack's treehouse, put together their dream post-apocalyptic warrior outfits and weapons that will give the Louisville Slicer a run for its money, imagine themselves and their friends as zombies, and so much more. The perfect creative outlet for every Last Kids fan.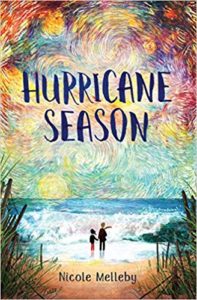 Hurricane Season by Nicole Melleby
Fig, a sixth grader, loves her dad and the home they share in a beachside town. She does not love the long months of hurricane season. Her father, a once-renowned piano player, sometimes goes looking for the music in the middle of a storm. Hurricane months bring unpredictable good and bad days. More than anything, Fig wants to see the world through her father's eyes, so she takes an art class to experience life as an artist does. Then Fig's dad shows up at school, confused and looking for her. Not only does the class not bring Fig closer to understanding him, it brings social services to their door.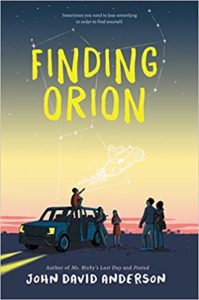 Finding Orion by John David Anderson
Rion Kwirk comes from a rather odd family. His mother named him and his sisters after her favorite constellations, and his father makes funky-flavored jellybeans for a living. One sister acts as if she's always on stage, and the other is a walking dictionary. But no one in the family is more odd than Rion's grandfather, Papa Kwirk. Which is why, when Rion and his family learn of Papa Kwirk's death and pile into the car to attend his funeral and pay their respects, Rion can't help but feel that that's not the end of his story. That there's so much more to Papa Kwirk to discover.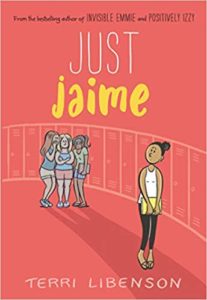 Just Jaime by Terri Libenson
The last day of seventh grade has Jaime and Maya wondering who their real friends are. Jaime knows something is off with her friend group. They've started to exclude her and make fun of the way she dresses and the things she likes. At least she can count on her BFF, Maya, to have her back . . . right? Maya feels more and more annoyed with Jaime, who seems babyish compared to the other girls in their popular group. It's like she has nothing in common with Jai anymore. Are their days as BFFs numbered?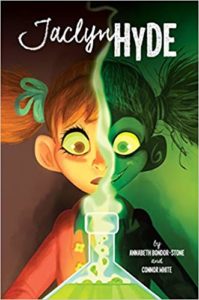 Jaclyn Hyde by Annabeth Bondor-Stone and Connor White
Jaclyn Hyde is almost perfect. Whether she's baking cookies for her classmates, building a replica Mt. Vesuvius for the science fair, or practicing her lines for Fog Island: The Musical, she almost never makes mistakes. But when she discovers the last batch of perfection potion in an abandoned laboratory, Jaclyn decides that being almost perfect isn't perfect enough anymore. But instead she finds out that trying to be perfectly perfect isn't all it's cracked up to be. In fact, it's downright horrifying. The potion turns Jaclyn into Jackie, a goblin-like monster who'll do anything to make sure Jaclyn comes out on top.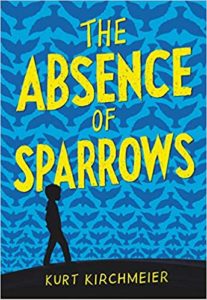 The Absence of Sparrows by Kurt Kirchmeier
In the small town of Griever's Mill, eleven-year-old Ben Cameron is expecting to finish off his summer of relaxing and bird-watching without a hitch. But everything goes wrong when dark clouds roll in. Old Man Crandall is the first to change–human one minute and a glass statue the next. Soon it's happening across the world. Dark clouds fill the sky and, at random, people are turned into frozen versions of themselves. There's nowhere to run, nowhere to hide, and no one knows how to stop it.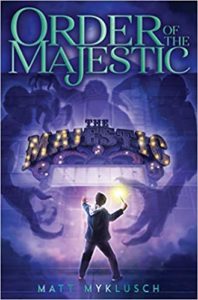 Order of the Majestic by Matt Myklusch
Twelve-year-old daydreamer Joey Kopecky's life has been turned upside down. After acing a series of tests, he's declared a genius and awarded a full scholarship at a special (year-round!) school. He's understandably devastated, until he takes one last test, and the room around him disappears, replaced by the interior of an old theater. There, Joey meets the washed-up magician, Redondo the Magnificent, and makes a shocking discovery…magic is real, but sadly, there isn't much left in the world. It may be too late to save what little remains, but for the first time in his life Joey wants to try—really try—to do something big.
Graphic Novel New Releases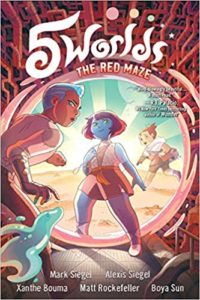 5 Worlds: The Red Maze by Mark Siegel, Alexis Siedel, Xanthe Bouma, Matt Rockefeller, Boya Sun
In book 3, Oona Lee is determined to light Moon Yatta's beacon and continue her quest to save the galaxy. But reaching the red beacon means navigating an impossible maze of pipes and facing devious enemies at every turn. Luckily, her friend Jax Amboy has returned from his adventures transformed! Now he must confront the owner of his former starball team, a ruthless businessman who will stop at nothing to get his best player back on the field . . . and who can grant them access to the beacon. Meanwhile, Oona and An Tzu find a mysterious rebel leader and release a surprising power within Oona's magic. Will they make it in time to stop the evil force seeking to rule the 5 Worlds?
Nonfiction New Releases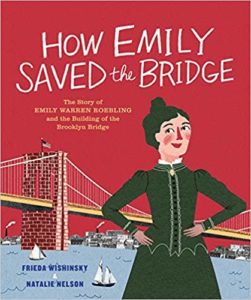 How Emily Saved the Bridge by Frieda Wishinsky and Natalie Nelson (picture book)
The Brooklyn Bridge, the iconic suspension bridge that connects Manhattan and Brooklyn, was completed in 1883. It is thanks to Emily Warren Roebling that the bridge was finished at all. Emily was not an engineer, but she was educated in math and science. She married Washington Roebling, the chief engineer of the famous bridge. When Washington became ill from decompression sickness, Emily stepped in, doing everything from keeping the books, to carrying messages for her husband, to monitoring the construction of the bridge. She was the first person to cross the Brooklyn Bridge when it opened.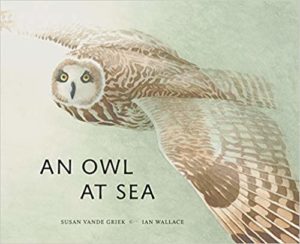 An Owl at Sea by Susan Vande Griek and Ian Wallace (picture book)
This is the true story of a Short-eared Owl that plummeted onto the deck of an oil rig in the North Sea, one hundred miles from shore. Weak and tired, it huddled on the deck until riggers provided it with a makeshift shelter and fresh meat to eat. When a helicopter arrived to transport some of the workers back home, they took the owl with them, handing it over to the Scottish SPCA. A few weeks later the owl was strong enough to be released into the countryside.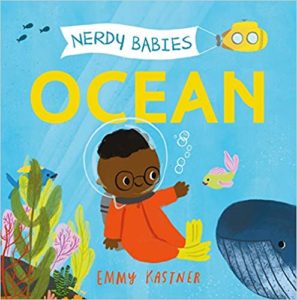 Nerdy Babies: Ocean by Emmy Kastner (picture book)
In Nerdy Babies: Ocean, follow our intrepid infants into the watery depths. Check out animals, plants, and fish that live in the ocean. Plus, learn about the unique ecosystem in this simple text written in question and answer format. With bright artwork by Emmy Kastner, this will be a book that the very littlest nerds will want to return to again and again. Stay curious. There's more to learn about everything!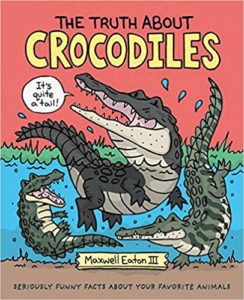 The Truth About Crocodiles by Maxwell Eaton III (picture book)
From writer/illustrator Maxwell Eaton III, The Truth About Crocodiles is the fifth installment in his hilarous series offering another lighthearted look filled with useful facts about crocodiles that will make you laugh so hard, you won't even realize you're learning something!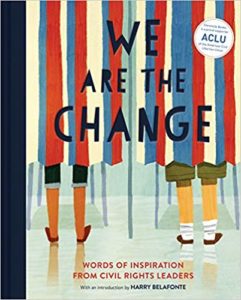 We Are The Change: Words of Inspiration from Civil Rights Leaders (middle grade)
Sixteen award-winning children's book artists illustrate the civil rights quotations that inspire them in this stirring and beautiful book. Featuring an introduction by Harry Belafonte, words from Eleanor Roosevelt, Maya Angelou, and Dr. Martin Luther King, Jr. among others, this inspirational collection sets a powerful example for generations of young leaders to come. It includes illustrations by Selina Alko, Alina Chau, Lisa Congdon, Emily Hughes, Molly Idle, Juana Medina, Innosanto Nagara, Christopher Silas Neal, John Parra, Brian Pinkney, Greg Pizzoli, Sean Qualls, Dan Santat, Shadra Strickland, Melissa Sweet, and Raúl the Third.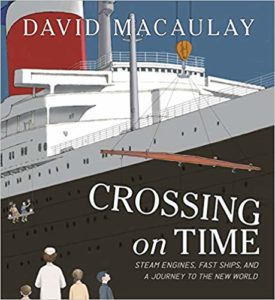 Crossing on Time: Steam Engines, Fast Ships, and A Journey to the New World by David Macauley (middle grade)
Prior to the 1800s, ships crossing the Atlantic Ocean relied on the wind in their sails to make their journeys. But invention of steam power ushered in a new era of transportation that would change ocean travel forever: the steamship. This book guides readers through the fascinating history that culminated in the building of the most advanced―and last―of these steamships: the SS United States. This book artfully explores the design and construction of the ship and the life of its designer and engineer, William Francis Gibbs.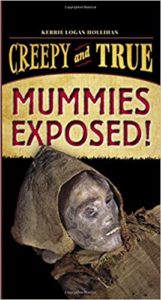 Mummies Exposed! by Kerrie Logan Hollihan (middle grade)
Just when you think that you know everything there is to know about mummies, new ones are discovered! Packed with facts but light in tone, this book introduces young readers to the most compelling examples of mummies from all over the world. There are many books about Egyptian mummies, but Mummies Exposed! goes beyond what you expect and uncovers both old favorites and recent discoveries; among them a Moche princess in Peru, the bog people of England and Ireland, and a Buddhist monk discovered within a sculpture!
I would love to know what you are reading this week! Find me on Twitter at @KarinaYanGlaser, on Instagram at @KarinaIsReadingAndWriting, or email me at karina@bookriot.com.
Until next time!
Karina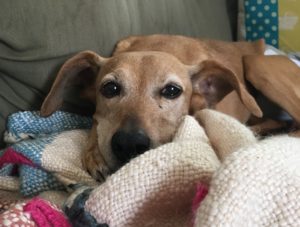 *If this e-mail was forwarded to you, follow this link to subscribe to "The Kids Are All Right" newsletter and other fabulous Book Riot newsletters for your own customized e-mail delivery. Thank you!*