Welcome back to another Monday edition of bookish behavior! I hope that your weekend was swell, and that you all managed to read something wonderful. It was a reaaaaaally slow news week again. Hey, you win some, you lose some. I still have a little bit of news and some other things, like trivia, puns, and a kitten picture. Have a great week, and remember to be excellent to each other! I'll see you again on Thursday. – xoxo, Liberty
---
Sponsored by Alfred A. Knopf, publisher of Exhalation by Ted Chiang
From the acclaimed author of Stories of Your Life and Others—the basis for the film Arrival—comes a groundbreaking short fiction collection, tackling some of humanity's oldest questions along with new quandaries only Ted Chiang could imagine. A portal through time forces a fabric seller in Baghdad to grapple with past mistakes and second chances. An alien scientist makes a shocking discovery with universal ramifications. The ability to glimpse into alternate universes necessitates a radical examination of choice and free will. Including all-new stories as well as classic uncollected works, Exhalation is Ted Chiang at his best: profound, sympathetic, and revelatory.
---
Here's this week's trivia question: What author subsidized his income early in his career by running local chess tournaments?(Scroll to the bottom for the answer.)
Deals, Reals, and Squeals!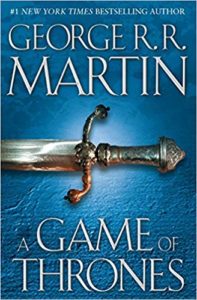 George R. R. Martin says unicorns will be in the remaining Game of Thrones books. (Unicornes?)
Outlander is coming to Netflix!
Justina Ireland tweeted the title of the next Dread Nation book.
Unnamed Press is publishing a science fiction collection.
Tim Roth and Clive Owen will star in The Song of Names, adapted from Norman Lebrecht's novel.
A sequel to Clockwork Orange has been discovered.
Cover Reveals
Here's the first look at The Chaos Curse (Kiranmala and the Kingdom Beyond #3) by Sayantani DasGupta. (Scholastic Press, March 3, 2020)
And here's the first look at Into the Crooked Place by Alexandra Christo. (Feiwel & Friends, October 8)
Book Riot Recommends
At Book Riot, I work on the New Books! email, the All the Books! podcast about new releases, and the Book Riot Insiders New Release Index. I am very fortunate to get to read a lot of upcoming titles, and learn about a lot of upcoming titles, and I'm delighted to share a couple with you each week so you can add them to your TBR! (It will now be books I loved on Mondays and books I'm excited to read on Thursdays. YAY, BOOKS!)
Loved, loved, loved: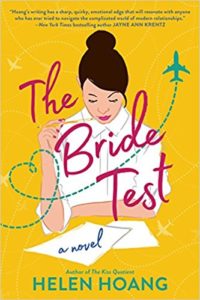 The Bride Test by Helen Hoang (Berkley, May 7)
Esme is working as a cleaner in Vietnam when a woman makes her a strange offer: move to California and marry her son, Khai, a handsome accountant who has never been in a relationship. Esme's mother talks her into accepting the offer. If she goes to California, she could also look for her father, who left before she was born. But when Esme arrives, it's obvious Khai isn't interested in getting married, and only agreed to humor her for his mother's sake. Can Esme get him to change his mind? And how will Khai deal with his growing attraction to Esme? This book is F-U-N and woooooooooo hot! (It's not explicit but everything happens on the page.) I adored it. I wish we had a new Helen Hoang novel every month!
What I'm reading this week: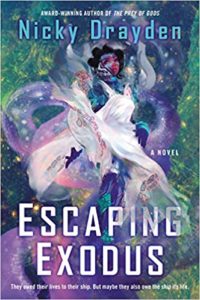 Escaping Exodus: A Novel by Nicky Drayden
The Dutch House by Ann Patchett
How We Fight for Our Lives by Saeed Jones
Comes the Blind Fury by John Saul
Pun of the week: 
Don't trust atoms, they make up everything.
Here's a kitten picture:
And this is funny.
Trivia answer: George R.R. Martin.
You made it to the bottom! Thanks for reading! – xo, L