Hey YA Readers: today highlights YA memoirs, mental health, and more with guest Samantha Schutz.
"What's Up in YA?" is sponsored by Algonquin Young Readers, publisher of In the Neighborhood of True by Susan Kaplan Carlton.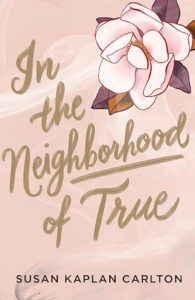 In 1958, Ruth Robb's family moves from New York City to Atlanta after her father's death. In her new hometown, Ruth quickly figures out she can be Jewish or she can be popular, but she can't be both. Eager to fit in, Ruth decides to hide her religion. Before she knows it, she is caught between two worlds, two religions, and two boys. When a violent hate crime brings the different parts of Ruth's life into sharp conflict, she will have to choose between all she's come to love about her new life and standing up for what she believes.
---
Samantha Schutz published a YA memoir back in 2016 called I Don't Want To Be Crazy. It's a chronicle of her experience with a mental breakdown and the book itself helped serve as a means for her to cope with understanding her mental health.
Nearly fifteen years later in an era where discussions of mental health are happening more frequently — though certainly not at the level they should be happening — Scholastic has republished Schutz's book with a new author letter. This rerelease marks an opportunity for the title to reach new readers and the note included in the book connects Schutz's personal experiences at the time of her writing with the research and realities acquired in the time between its publication and now.*
I'm excited to talk with Sam today about I Don't Want To Be Crazy, her experiences with mental health, and more, what she sees and hopes to keep seeing in terms of mental health representation in YA and with teens more broadly.
Samantha is a full-time publishing professional living in NYC. She is also the author of the YA verse novel
You Are Not Here
. For more info, visit
Samantha-Schutz.com
and @youmakemefeellessalone on Instagram.
---
Kelly Jensen: Your memoir hit shelves in 2006 — nearly 15 years ago — and it's being rereleased this year with a new cover and new author's note. What brought about this exciting decision and how are you feeling about your work connecting with a new and arguably different YA readership?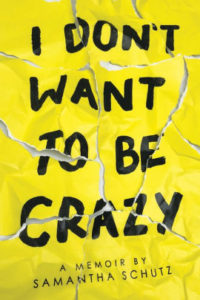 Samantha Schutz: Scholastic approached me about creating a new edition a year ago. "People need this book now more than ever," was a reoccurring phrase I heard from the Scholastic team. In fact, that's what most people say when I tell them about the new edition of the book.
A book about anxiety is always relevant. But I'm especially glad that my book is being rereleased now. Studies show that millennials are particularly anxious as compared to other generations. They were the first to grow up with the constant flood of the Internet and social media. Life feels more fast paced and competitive to them. Everything has to happen NOW and that puts so much extra pressure on them.
My hope, as ever, is that people can read my book and feel less alone. They can see my journey and know that it's possible to get help and that there is a way through difficult times.
KJ: One of the themes throughout is how hard it was for you to admit you were sick. Do you think this is still the case for today's teens? Have you seen a change around self-acceptance and acceptance from others when it comes to mental health and illness?
SS: The way we speak about mental illness—or anything that makes us feel "other"—has changed so much since I was in high school in NYC 1992-1996. No one was talking about anxiety or depression. For teens now, being around people who are transparent about who they are and what they might be struggling with is commonplace. A study showed that millennials are more accepting of people with mental health issues and more likely to talk about their own experiences. But just because people are talking about it doesn't mean that it's not still really painful to acknowledge to yourself and the people around you what you are going through. It still takes courage. And for all the people who are able to speak up, there are still lots of people who feel too ashamed.
KJ: The new author's note talks about how writing this memoir worked as a tool for you to better understand your anxiety. Can you talk a bit to that?
SS: While I wasn't having a lot of problems with anxiety when I was about 23, I was still living like I did. I was in a cloud of trauma as a result of the years of panic attacks and I couldn't see through it. I thought that if I could remind myself of how bad things were in college, I could see how different — and how good — my life was now. So I started re-reading my college journals. I only had to read a few pages to see how bad things had been. The difference between "then" and "now" was stark. It was as if I was reading about this character who was eerily familiar. There was something transformative about looking at myself from far above while at the same time doing inward reflection. The journey to write this book began with the intention of healing myself, but as I filled page after page and wrote poem after poem, I knew this book could provide comfort to others. I knew I wasn't alone in these feelings.
KJ: Why did you choose to write your memoir in verse?
SS: Writing in free verse comes naturally to me, and it's how I've written in my journals since I was a teen. This style was a natural choice—it allows an author to convey an incredible amount of emotion in a concise way. It's like cutting away all the fat and just getting to the meat of things. This book is all about in-the-moment emotion and this form allows me to keep the focus there. Free verse also allows the author more control over the rhythm through line breaks and the way the poem is organized on the page visually. The broken nature of the work also leaves space on the page that allows the reader to use their imagination and do some contemplation. It also makes it easier for the reader to read the book in small bursts–and that's a good thing for a heavy topic like this.
KJ: You also mention that the most common response you've heard is that your book made someone feel less alone. This has been the most common comment I've received with (Don't) Call Me Crazy as well. Which leads me to ask: do you think we're doing enough in the YA world to highlight mental illness and help make young readers feel less alone? What have you seen change in the 15 years between the publication of your memoir and today?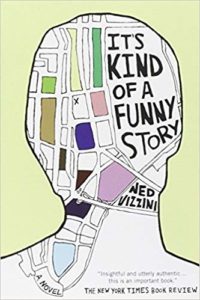 SS: I'm impressed with the tremendous efforts that publishers have gone to to represent diverse and authentic voices. When IDWTBC first came out, there were just a handful of YA books in this genre. The ones that were impactful on my process included
Speak, Luna, Perks of Being a Wallflower, It's Kind of a Funny Story, Crank, Cut, Stop Pretending: What Happened When My Big Sister Went Crazy
. Now there are so many more books available about mental health issues.
Everyone deserves to be recognized and seen. And when you can find a book that mirrors your own experience, it's incredibly validating. And when someone reads a book about someone experiencing something that's foreign to them, it can expand their world and hopefully their ability for compassion, too.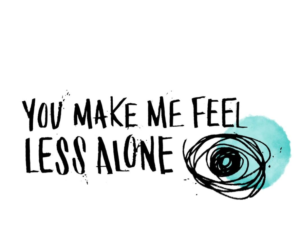 That's why I started @
youmakemefeellessalone
on Instagram. People can submit their art and writing about the challenges they are facing. The person submitting benefits because it's a way for them for them to unburden themselves. The viewers benefits too because they can relate to what they are reading and feel less alone.
KJ: Did you find any books to be particularly comforting to you when you struggled with panic attacks? Are there any books, especially ones published as YA, that you find to be particularly well done or resonant now?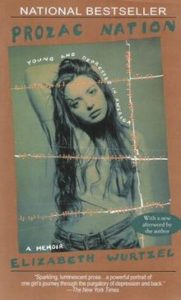 SS: I loved reading the journals of Anais Nin during those times. There was something about the way she scrutinized all of her emotions and picked everything apart that really drew me in. I was also a somewhat obsessive journal writer myself, so she was my idol.
YA as we know it didn't exist in the late 1990s. Looking back,
Girl, Interrupted
and
Prozac Nation
both debuted while I was in high school and I would have likely felt a connection to those books at the time, but they weren't on my radar. When I was in college, reading for pleasure was not something I did—in fact, I was never a big reader as a kid/teen. The only book I ever purchased as a young adult to help with my anxiety was
The Anxiety Workbook
and I dreaded using it and filling out its pages in between therapy sessions.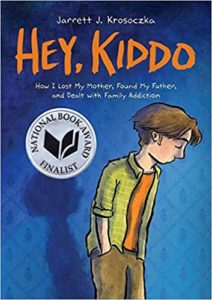 The most recent book I read that deals with mental health and really blew me away was
Hey, Kiddo
by Jarrett Krosoczka. This YA graphic novel memoir is about growing up in a family grappling with addiction and finding the art that helps you survive. It's painful and honest and incredibly beautiful. Also
Little Panic: Dispatches from an Anxious Life
, a memoir by Amanda Stern, was wonderful. It was fascinating to be inside the mind of the author as very young girl and hear her seemingly endless anxious thoughts.
KJ: What are some of your favorite YA verse books?
SS:
Stop Pretending: What Happened When My Big Sister Went Crazy
by Sonya Sones was my bible when I started writing
I Don't Want to Be Crazy
. I was comfortable writing short stories and poems in my journal and rambling about my feelings. But I had never tried to tell such a big story and I often found myself getting lost. Time and time again, I went back to Sones' book. As far as I was concerned, that book was perfection. It was brief (not much more than 150 pages), intense, painful, hopeful, and gorgeous. Every word she wrote was a road map to me. When I stared at a blank page, wondering how to best write dialogue in verse, I turned to Sones. If I was working on a scene with a lot of action, I looked to see how Sones handled it. How did I convey time passing? Sones.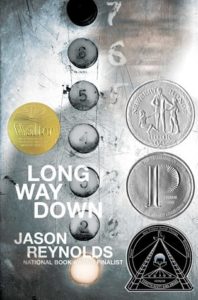 I'm also a big fan of anything Ellen Hopkins has written. She takes verse to a whole new level. Any time I see her poems that are written in two columns, I take a deep breath and smile. That format usually means that in addition to being able to read the poem horizontally across the page from left to right, it also means that you can read the vertical columns independently as two different poems. Each way you read it, it takes on a different meaning. It's incredible!
KJ: If you could go back in time and hand your teenage self any YA book, what would it be and why?
SS: Is it too cheesy to say my own book? I would love to show her proof that everything is going to be ok. That there is an end in sight to the pain she is feeling. It's going to be hard and it's going to take work and it's never going to be perfect, but she is going to get through this.
Thank you so much for talking with us, Sam!
*Of note: Because the content of the book has not changed in the time between its original release and rerelease, there might be some language that doesn't sit well with contemporary readers.
---
Thanks for hanging out and we'll see you again next week!
— Kelly Jensen, @veronikellymars on Instagram and editor of (Don't) Call Me Crazy and Here We Are.