This edition of Today in Books is sponsored by Henry Holt , publisher of TRUST EXERCISE by Susan Choi. Available now wherever books are sold.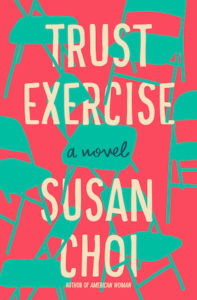 ---
Audible Is Producing Plays
Enjoy the theater from the comforts of your home–or car, or wherever you listen to audiobooks, really. Audible has begun recording plays like An Act of God, starring Sean Hayes, for its million of subscribers. Read more about its Greenwich Village theater leasing, the 11 audible plays available, and its plans here. PS: if you'd listen to Alan Cumming's read you an IKEA manual you'll definitely want to click that link and get the deets on his one-man show.
More Digitizing!
Seriously, my favorite news lately is all the things libraries have digitized and made accessible. Looking to see never before seen footage? The Oakland Library has got you covered with newly digitized African American Museum & Library Oakland collection which has "footage documenting California activism and organized labor in the 1960s and 1970s." Learn more here.
All The Disney+ Deets!
So if you've been dying to know when Disney+ (the upcoming streaming service) will be available and how much it'll cost we finally have the answers: Nov. 12, 2019 and $6.99 per month or $69.99 a year. Netflix probably just shook a little.