Hi Kid Lit Friends,
It seems to me that lots of kids enjoy a good mystery. I myself am terrible at figuring out riddles or ciphers, but my daughters are much more observant than I am and can generally figure out the clues in a story and predict the ending. Here are some amazing books featuring ciphers, perfect for puzzle-loving kids ages eight and up.
---
Sponsored by Maybe a Mermaid by Josephine Cameron and Macmillan Children's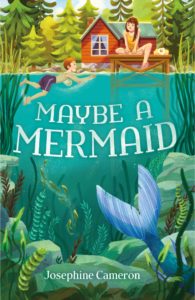 Anthoni Gillis has always wanted a True Blue Friend. But it's been hard to find one while she's been bouncing from town to town and helping her mother sell cosmetic products to keep them both afloat. So, when her mom brings her to Thunder Lake for the summer, Anthoni's got bigger fish to fry than the local rumors about a mermaid. She's too busy building a foolproof plan for making lifelong friends. And there won't be any maybes this time. Dive into a summer full of extraordinary possibilities!
---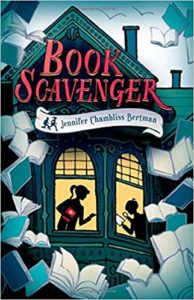 Book Scavenger by Jennifer Chambliss Bertman
For twelve-year-old Emily, the best thing about moving to San Francisco is that it's the home city of her literary idol: Garrison Griswold, book publisher and creator of the online sensation Book Scavenger (a game where books are hidden in cities all over the country and clues to find them are revealed through puzzles). Upon her arrival, however, Emily learns that Griswold has been attacked and is now in a coma, and no one knows anything about the epic new game he had been poised to launch. Then Emily and her new friend James discover an odd book, which they come to believe is from Griswold himself, and might contain the only copy of his mysterious new game.
Next books in the series: The Unbreakable Code and The Alcatraz Escape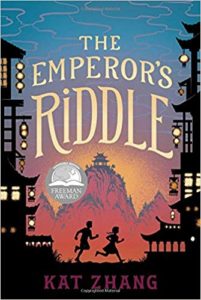 The Emperor's Riddle by Kat Zhang
Mia Chen is on what her mother calls a Grand Adventure. She's not sure what to make of this family trip to China, and didn't want to leave her friends for the summer, but she's excited about the prospect of exploring with her Aunt Lin, the only adult who truly understands her. Then Aunt Lin disappears, right after her old nemesis, a man named Ying, comes to visit. Mia knows that years ago, when Aunt Lin and Ying were sent to the Fuzhou countryside to work as laborers, the two searched for an ancient treasure together—one that still hasn't been found. She's suspicious that their shared history might be linked to Aunt Lin's disappearance. When Mia discovers an old map filled with riddles in Aunt Lin's room, she quickly pieces together her mission: find the treasure, find her aunt. Now, Mia, along with her big brother, Jake, must solve the clues to rescue the person she knows best in the world—and maybe unearth a treasure greater than her wildest dreams.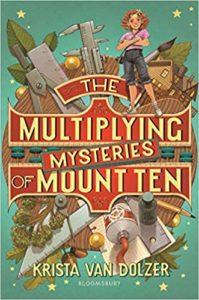 The Multiplying Mysteries of Mount Ten by Krista Van Dolzer
Twelve-year-old painter Esther can't wait to attend Camp Vermeer, the most prestigious art camp around. But when her stepdad accidentally drives up the wrong mountain, she lands at Camp Archimedes — a math camp! Determined to prove herself to the other campers, she tackles a brain-teaser that's supposed to be impossible, and solves it in a single day. But not everyone is happy about it… someone wants her out of camp at any cost, and starts leaving cryptic, threatening notes all over the grounds. Esther doesn't know who to trust. Will she solve this riddle before it's too late?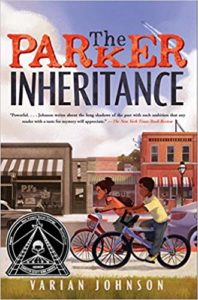 The Parker Inheritance by Varian Johnson
When Candice finds a letter in an old attic in Lambert, South Carolina, she isn't sure she should read it. It's addressed to her grandmother, who left the town in shame. But the letter describes a young woman. An injustice that happened decades ago. A mystery enfolding its writer. And the fortune that awaits the person who solves the puzzle. So with the help of Brandon, the quiet boy across the street, she begins to decipher the clues. The challenge will lead them deep into Lambert's history, full of ugly deeds, forgotten heroes, and one great love; and deeper into their own families, with their own unspoken secrets. Can they find the fortune and fulfill the letter's promise before the answers slip into the past yet again?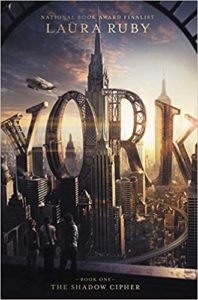 York: The Shadow Cipher by Laura Ruby
It was 1798 when the Morningstarr twins arrived in New York with a vision for a magnificent city: towering skyscrapers, dazzling machines, and winding train lines, all running on technology no one had ever seen before. Fifty-seven years later, the enigmatic architects disappeared, leaving behind for the people of New York the Old York Cipher—a puzzle laid into the shining city they constructed, at the end of which was promised a treasure beyond all imagining. By the present day, however, the puzzle has never been solved, and the greatest mystery of the modern world is little more than a tourist attraction.
Next book in the series: York: The Clockwork Ghost, out May 14, 2019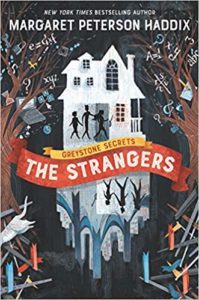 The Strangers by Margaret Peterson Haddix
What makes you you? The Greystone kids thought they knew. Chess has always been the protector over his younger siblings, Emma loves math, and Finn does what Finn does best—acting silly and being adored. They've been a happy family, just the three of them and their mom. But everything changes when reports of three kidnapped children reach the Greystone kids, and they're shocked by the startling similarities between themselves and these complete strangers. The other kids share their same first and middle names. They're the same ages. They even have identical birthdays. Who, exactly, are these strangers? Before Chess, Emma, and Finn can question their mom about it, she takes off on a sudden work trip and leaves them in the care of Ms. Morales and her daughter, Natalie. But puzzling clues left behind lead to complex codes, hidden rooms, and a dangerous secret that will turn their world upside down.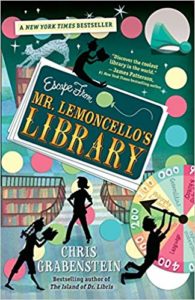 Mr. Lemoncello's Library by Chris Grabenstein
Kyle Keeley is the class clown and a huge fan of all games—board games, word games, and particularly video games. His hero, Luigi Lemoncello, the most notorious and creative gamemaker in the world, just so happens to be the genius behind the construction of the new town library. Lucky Kyle wins a coveted spot as one of twelve kids invited for an overnight sleepover in the library, hosted by Mr. Lemoncello and riddled with lots and lots of games. But when morning comes, the doors stay locked. Kyle and the other kids must solve every clue and figure out every secret puzzle to find the hidden escape route!
Next books in series: Mr. Lemoncello's Library Olympics, Mr. Lemoncello's Great Library Race, and Mr. Lemoncello's All-Star Breakout Game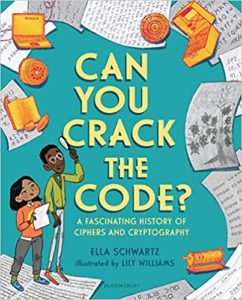 Can You Crack the Code? by Ella Schwartz, illustrated by Lily Williams
Codes can carry big secrets! Throughout history, lots of good guys and lots of bad guys have used codes to keep their messages under wraps. This fun and flippable nonfiction features stories of hidden treasures, war-time maneuverings, and contemporary hacking as well as explaining the mechanics behind the codes in accessible and kid friendly forms. Sidebars call out activities that invite the reader to try their own hand at cracking and crafting their own secret messages.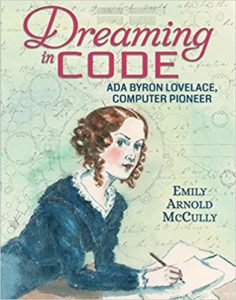 Dreaming in Code: Ada Byron Lovelace, Computer Pioneer by Emily Arnold McCully
Even by 1800s standards, Ada Byron Lovelace had an unusual upbringing. Her strict mother worked hard at cultivating her own role as the long-suffering ex-wife of bad-boy poet Lord Byron while raising Ada in isolation. Tutored by the brightest minds, Ada developed a hunger for mental puzzles, mathematical conundrums, and scientific discovery that kept pace with the breathtaking advances of the industrial and social revolutions taking place in Europe. At seventeen, Ada met eccentric inventor Charles Babbage, a kindred spirit. Their ensuing collaborations resulted in ideas and concepts that presaged computer programming by almost two hundred years, and Ada Lovelace is now recognized as a pioneer and prophet of the information age.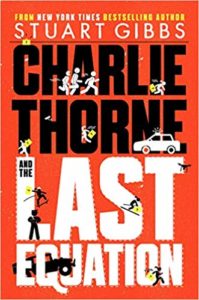 Charlie Thorne and the Last Equation by Stuart Gibbs (9/17/19, Simone & Schuster)
Decades ago, Albert Einstein devised an equation that could benefit all life on earth—or destroy it. Fearing what would happen if the equation fell into the wrong hands, he hid it. But now, a diabolical group known as the Furies are closing in on its location. In desperation, a team of CIA agents drags eleven-year-old Charlie into the hunt, needing her brilliance to find it first—even though this means placing her life in grave danger. In a breakneck adventure that spans the globe, Charlie must crack a complex code created by Einstein himself, struggle to survive in a world where no one can be trusted, and fight to keep the last equation safe once and for all.
Around the web…
50 Must-Read Poetry Books for Kids of All Ages, via Book Riot
30 Books of Poetry for Young Readers for National Poetry Month, via Book Riot
I would love to know what you are reading this week! Find me on Twitter at @KarinaYanGlaser, on Instagram at @KarinaIsReadingAndWriting, or email me at karina@bookriot.com.
Until next time!
Karina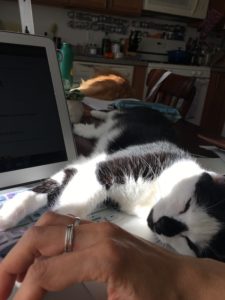 *If this e-mail was forwarded to you, follow this link to subscribe to "The Kids Are All Right" newsletter and other fabulous Book Riot newsletters for your own customized e-mail delivery. Thank you!*