Have we got some delightful stuff to talk about! And I'm not even being facetious!
---
Sponsored by Unscripted by Claire Handscombe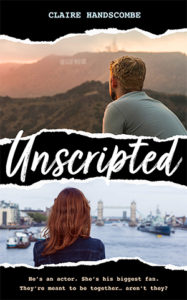 Nobody is a bigger fan of actor Thomas Cassidy than Libby is. Nobody. That's why she's totally going to marry him. She's going to write a novel, name the main character after Thom, and find a way to get it to him. Intrigued and flattered, he will read it, and ask to turn it into a movie. Their eyes will meet over the script… and fade to black. But with four interwoven lives in play, can anything be that simple? Thoughtful, quirky, and moving, Unscripted is a story of friendship and second chances, and asks the question: how far can you take your dream?
---
Over on Book Riot
I had to take a break last week, so the fabulous Andie J. Christopher subbed in for me for the most recent episode of When in Romance.
Do you know what the top 25 romances are on Goodreads? Well, at least according to Annika.
I did have time, however, to pull together a list of romance novellas I've loved. If you've subscribed to Kissing Books long enough, you've seen quite a few of these. But it's still nice to have them all in one place, right?
Deals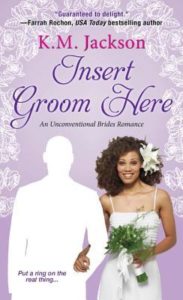 Looking for a laugh? Check out KM Jackson's Unconventional Brides trilogy, which are all 99 cents right now. The first one, Insert Groom Here, left me laughing out loud as I read the story of the woman whose fiancé dumped her on television and the man sent to film and produce the story of her finding a replacement for said fiancé…because they were supposed to get married on the same morning show. Whoops.
And if you want more laughter…but of a very different kind…KJ Charles' Any Old Diamonds is 1.29. Her signature acerbic wit matched with jewel thieves, intrigue, and secrets will stress you out and bliss you out altogether.
If you haven't read Tikka Chance on Me by Suleikha Snyder, take the time and that 99 cents and do it. It's a one-sitting read, and you will have all kinds of feelings. Also, pun titles are my favorite.
New Books
It's taking me a while to get through longer books recently, but I've actually managed to finish a couple! These are super easy reads—less in content but more in the way they're written. I read the second half of the first one in a single sitting.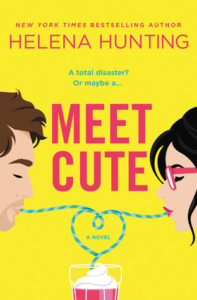 Meet Cute by Helena Hunting
I came into Meet Cute expecting endless laughter, because Shacking Up was hilarious. But the moments of fun are more loosely interspersed in this story that centers getting through grief after one of the protagonists loses both their parents in a car accident. The pair met in law school, when she tripped over him while playing frisbee. Dax had been a huge tv star as a kid, and Kailyn was his biggest fangirl. Five years later, he's in her office in need of help with his younger sister's trust. He's also got to deal with being a single parent, while experiencing his own grief. So there is some surprise anxiety feels.
It's also very white and very straight, but that's another chat for another day.
Otherwise, it's a hell of a book and you can devour it in maybe two sittings. Or one, if you're feeling particularly ambitious.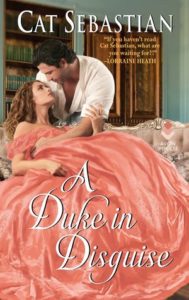 A Duke in Disguise by Cat Sebastian
This is Cat Sebastian's first m/f romance, featuring a bisexual protagonist and what equates to her BFF. They basically grew up together and always come back to each other, but each refuses to do anything to damage their friendship. So even though they're attracted to each other, they each create their own ways to enforce boundaries—upon themselves, not each other. When Verity's bookshop falls into (more) danger because of her brother's seditious tracts, Ash is there to help. His own work drawing flowers for an aristocrat leads to some discoveries of his own, and things just roll from there. It's a similarly fast read, and you can read it even if you haven't read Unmasked by the Marquess, which is first in the series but second chronologically. (But honestly if you haven't read that yet, you totally need to. More grumpy bisexuals, a gender nonconforming protagonist, wooing with books. Do it.)
Cat is a master in queer historicals, and I am very much looking forward to where she goes next.
I do need to leave a note on Hook Shot because I wasn't done when I discussed it. It does require a trigger warning for childhood sexual abuse. It is briefly mentioned early on, but there is a flashback scene later in the book. I was able to continue reading after that, but I actually stopped when Lotus asks Kenan not to act on a desire to do something violent and he does it anyway. Kidnapping and unnecessary violence are pretty hard limits for me, and even if the violent person believes they are justified, I am just…not about that. But the writing was still spectacular and feelings enacted and if you are okay reading books with graphic scenes of child rape, you might still find it worth trying.
What are you excited to read soon?
As usual, catch me on Twitter @jessisreading or Instagram @jess_is_reading, or send me an email at jessica@riotnewmedia.com if you've got feedback, book recs, or just want to say hi!