Hi Kid Lit Friends,
Happy April! I don't know about you, but I am VERY excited about spring. And new books. There are So Many Exciting Books coming out this month! I'm particularly excited about these picture book collaborations coming out today: Gondra's Treasure by Linda Sue Park and Jennifer Black Reinhardt, The Undefeated by Kwame Alexander and Kadir Nelson, Bikes for Sale by Carter Higgins and Zachariah Ohora, Dandy by Ame Dyckman, illustrated by Charles Santoso, and A Pig Named Mercy by Kate DiCamillo and Chris Van Dusen. Descriptions and links to those books below!
Check out these new releases and let me know what you think. As always, if I've had the chance to read one of these books and loved it, I marked it with a
. Please note that all descriptions come from the publisher.
---
Sponsored by Shelf Stuff by HarperCollins Children's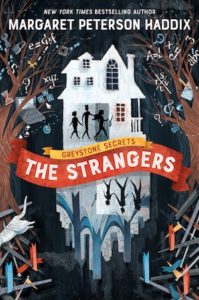 What makes you you? The Greystone kids thought they knew. They've been a happy family, just the three of them and their mom. But when reports of three kidnapped children reach the Greystone kids, they're shocked by the startling similarities between themselves and these complete strangers. The other kids share their same names. They're the same ages. They even have identical birthdays. Before the kids can question their mom about it, she takes off on a sudden work trip. But puzzling clues left behind lead to complex codes, hidden rooms, and a dangerous secret that will turn their world upside down.
---
Picture Book New Releases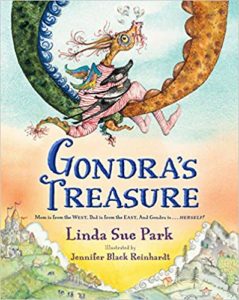 Gondra's Treasure by Linda Sue Park, illustrated by Jennifer Black Reinhardt
Gondra has inherited traits from both her eastern (Asian) dragon dad and western (European) dragon mom and enjoys them all. She's especially happy that she's a combination of both. Cheerful banter and hilariously adorable dragon portrayals present a warm, appealing family portrait. The beautiful and fanciful illustrations are rich in whimsical details that invite repeated readings.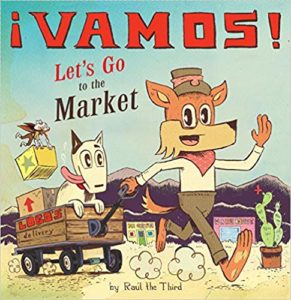 Vamos! Let's Go to the Market by Raul Gonzalez III
Bilingual in a new way, this paper over board book teaches readers simple words in Spanish as they experience the bustling life of a border town. Follow Little Lobo and his dog Bernabe as they deliver supplies to a variety of vendors, selling everything from sweets to sombreros, portraits to piñatas, carved masks to comic books!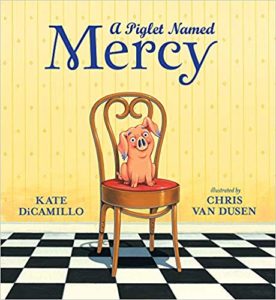 A Piglet Named Mercy by Kate DiCamillo, illustrated by Chris Van Dusen
Mr. Watson and Mrs. Watson live ordinary lives. Sometimes their lives feel a bit too ordinary. Sometimes they wish something different would happen. And one day it does, when someone unpredictable finds her way to their front door. In a delightful origin story for the star of the Mercy Watson series, a tiny piglet brings love (and chaos) to Deckawoo Drive — and the Watsons' lives will never be the same.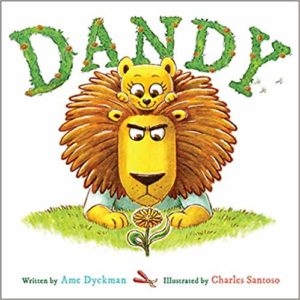 Dandy by Ame Dyckman, illustrated by Charles Santoso
When Daddy spots a solitary weed in his lawn, he's appalled (along with all of his neighborhood friends). But his daughter Sweetie has fallen in love with the beautiful flower, even going so far as to name it Charlotte. Racing against time and the mockery of his friends, Daddy has to find a way to get rid of the errant dandelion without breaking his little girl's heart.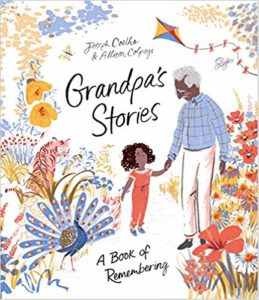 Grandpa's Stories by Joseph Coelho and Allison Colpoys
One young girl reflects on a year with her beloved grandpa. She remembers the fields and parks they explored in the springtime and the old toys they fixed up in the summer. She remembers the handmade gifts they exchanged in the fall and the stories Grandpa told by the fi re each winter. But this year, the girl must say good-bye to Grandpa. In the face of her grief, she is determined to find a way to honor him. She decides to record her Grandpa stories in the notebook he made for her and carry Grandpa with her as she grows. An honest and relatable depiction of loss, Grandpa's Stories celebrates life and the ways in which love lives on.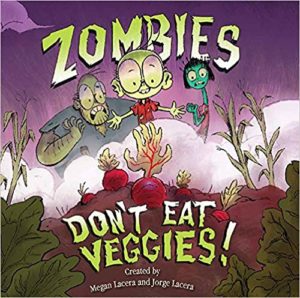 Zombies Don't Eat Veggies by Megan Lacera and Jorge Lacera
Mo Romero is a zombie who loves nothing more than growing, cooking, and eating vegetables. Tomatoes? Tantalizing. Peppers? Pure perfection! The problem? Mo's parents insist that their niño eat only zombie cuisine, like arm-panadas and finger foods. They tell Mo over and over that zombies don't eat veggies. But Mo can't imagine a lifetime of just eating zombie food and giving up his veggies. As he questions his own zombie identity, Mo tries his best to convince his parents to give peas a chance.
Bikes for Sale by Carter Higgins, illustrated by Zachariah Ohora
Maurice rides his bike to his shop every day. Lotta rides her bike to collect sticks every day. Both go about their separate routines, unaware of the friendship that awaits them just a few blocks away. But what happens when a branch and a lemon peel get in the way? This delightful falling-in-like story from acclaimed picture book creators Carter Higgins and Zachariah OHora celebrates the power of coincidence to lead us to the friends we're meant to meet all along.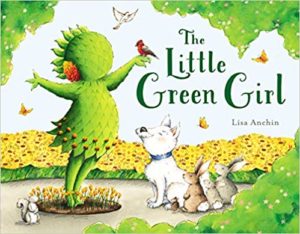 The Little Green Girl by Lisa Anchin
The Little Green Girl is no ordinary topiary. She dreams of visiting far off places and exploring the world beyond her garden's walls. But for her gardener, Mr. Aster, the prospect of deviating from his daily routine–let alone leaving his beloved home–is unimaginable. Try as she might, the Little Green Girl can't uproot herself and set off on her own. To realize her dream, she'll have to find a way to show Mr. Aster that it's possible to carry a bit of home with you wherever you go.
Tomorrow Most Likely by Dave Eggers, illustrated by Lane Smith
Rather than focusing on going to bed—and what kid wants to think about going to bed?—this book explores all of the dreamy, wonderful, strange things the next day might bring. Whimsical, witty, and hopeful, this revolutionary rewriting of a classic goodnight book from bestselling author Dave Eggers and award-winning illustrator Lane Smith is a bedtime story for tomorrow ever after.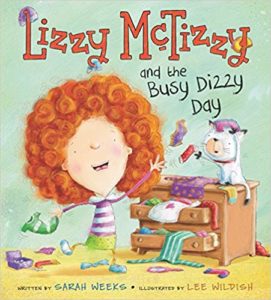 Lizzy McTizzy and the Busy Dizzy Day by Sarah Weeks, illustrated by Lee Wildish
Lizzy McTizzy is late to a party and can't find her other shoe! She'll stop at nothing to find it even if that means swinging from the chandelier or looking under the cat. The search leaves her dizzy just minutes before the celebration and she's still one blue shoe short. Join Lizzy as she finds out that being yourself is the best accessory of all!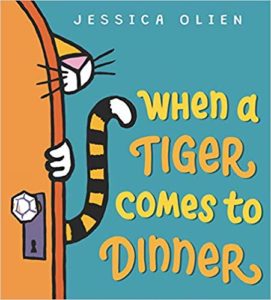 When a Tiger Comes to Dinner by Jessica Olien
A tiger is coming to dinner! Are you ready? Luckily, this book can help. Ask yourself, do tigers . . .Like to play a rousing game of Go Fish? Prefer peanut butter and jelly? Enjoy wearing party hats? Whatever you do, be sure to practice your ROAR! for when the tiger arrives!
Giant Tess by Dan Yaccarino
Tess has a BIG problem. She's a giant with an enormous wish to be like everyone else in the city of Myth-hattan. When she gives up on ever fitting in, she meets a friend just her size, and the two team up for a daring rescue. Can these misfits save the day—and the big city parade?
The Panda Problem by Deborah Underwood, illustrated by Hannah Marks
Every story needs a problem.
But Panda doesn't have a problem.
Unless . . . Panda is the problem.
Author of Here Comes the Easter Cat and The Quiet Book loses control of the narrative in the funniest, most exuberant, most kid-delighting way in this adventurous ode to what makes a story–and what makes a story great.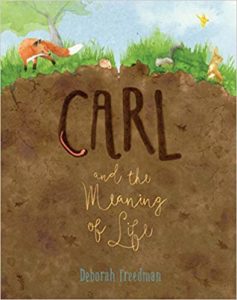 Carl and the Meaning of Life by Deborah Freedman
Carl is an earthworm. He spends his days happily tunneling in the soil until a field mouse asks him a simple question that stops him short: "Why?" Carl's quest takes him on an adventure to meet all the animals of the forest, each of whom seems to know exactly what they were put on this earth to do, unlike the curious Carl. But it's not until the world around him has changed that Carl begins to realize everyone, no matter how small, makes a big difference just by being themselves.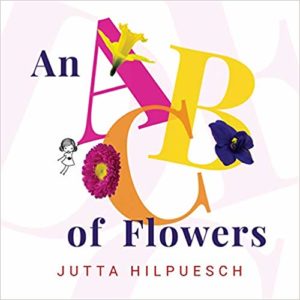 An ABC of Flowers by Jutta Hilpuesch
From asters and daisies to roses and sunflowers, An ABC of Flowers is a colorful burst from the garden that will have little hands eager to grab. Filled with gorgeous photo illustrations, bold colors, and clever line art featuring a miniature-sized girl named Amelie, toddlers will laugh and be mezmerized by the book's vibrant pages.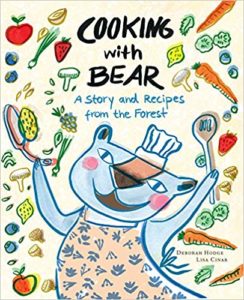 Cooking with Bear: A Story and Recipes from the Forest by Deborah Hodge and Lisa Cinar
When Bear wakes up after a long, cold winter, he's happy to see the signs of spring. To celebrate, he makes a special meal of fresh watercress soup and crusty seed bread. Fox follows his nose to Bear's den and joins him for lunch. The food is delicious, and Fox, who is tired of eating the same old thing, asks Bear to teach him how to cook.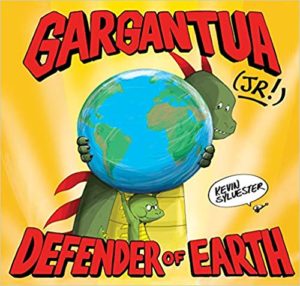 Gargantuan (Jr.): Defender of Earth by Kevin Sylvester
Gargantua Jr. wants to grow up to be just like his mom. Before he was born, Mom had a reputation for being a little wild – she wreaked havoc everywhere she went with her monster strength and fiery flames. But now she prefers to repair some of the damage, and she only knocks over buildings that are supposed to come down. She also protects Earth from dangerous space robots and giant asteroids. Gargantua Jr. would like to help out, but Mom says he's too little. So he sets out to show her that he's not a baby anymore … Thankfully, Mom comes to the rescue just in time.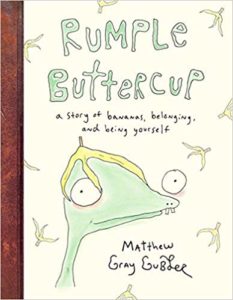 Rumple Buttercup by Matthew Gray Gubler
Rumple Buttercup has five crooked teeth, three strands of hair, green skin, and his left foot is slightly bigger than his right. He is weird. Join him and Candy Corn Carl (his imaginary friend made of trash) as they learn the joy of individuality as well as the magic of belonging.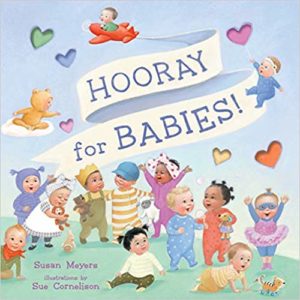 Hooray for Babies! by Susan Meyers, illustrated by Sue Cornelison
From the author of the bestselling Everywhere Babies comes a sweet and bouncy rhyming picture book that celebrates all the joys and wonders of being a baby.
Middle Grade New Releases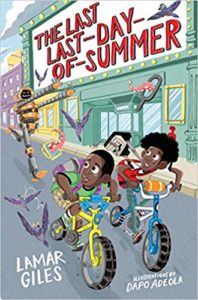 The Last Last-Day-of-Summer by Lamar Giles
Otto and Sheed are the local sleuths in their zany Virginia town, masters of unraveling mischief using their unmatched powers of deduction. And as the summer winds down and the first day of school looms, the boys are craving just a little bit more time for fun, even as they bicker over what kind of fun they want to have. That is, until a mysterious man appears with a camera that literally freezes time. Now, with the help of some very strange people and even stranger creatures, Otto and Sheed will have to put aside their differences to save their town—and each other—before time stops for good.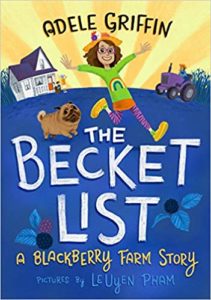 The Becket List: A Blackberry Farm Story by Adele Griffin, illustrated by LeUyen Pham
Everything is changing for Becket Branch. From subways to sidewalks to safety rules, Becket is a city kid born and raised. Now the Branch family is trading urban bustle for big green fields and moving to Gran's farm, where Becket has to make sense of new routines from feeding animals to baling hay. And as much as Becket loves to yell "Beautiful Alert!" there's a lot about the countryside that is just plain odd. But Becket is ready to put her own spin on country life. Whether selling her mouth-puckering lemonade, feeding hostile hens, or trying to make a best friend of her new neighbor Frieda Franca, Becket is determined to use her city smarts to get a grip on farm living.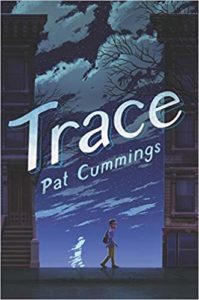 Trace by Pat Cummings
Trace Carter doesn't know how  to  feel at ease in his new life in New York. Even though  his artsy Auntie Lea is cool, her brownstone still isn't his  home. Haunted by flashbacks of the accident that killed his parents, the best he can do is try to distract himself from memories of the past. But the past isn't done with him. When Trace takes a wrong turn  in  the New York Public Library, he finds someone else lost in the stacks  with him: a crying little boy,  wearing  old,  tattered clothes.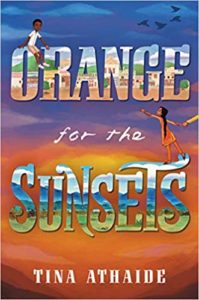 Orange for the Sunsets by Tina Athaide
Asha and her best friend, Yesofu, never cared about the differences between them: Indian. African. Girl. Boy. Short. Tall. But when Idi Amin announces that Indians have ninety days to leave the country, suddenly those differences are the only things that people in Entebbe can see—not the shared after-school samosas or Asha cheering for Yesofu at every cricket game. Determined for her life to stay the same, Asha clings to her world tighter than ever before. But Yesofu is torn, pulled between his friends, his family, and a promise of a better future. Now as neighbors leave and soldiers line the streets, the two friends find that nothing seems sure—not even their friendship.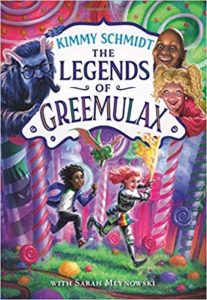 The Legends of Greemulax by Kimmy Schmidt with Sarah Mylnowski
Penn dreads the day that he will start to become a monster, but it's inevitable. The youngest of his tribe in Greemulax, he knows that as boys become men, they turn into powerful, hairy blue creatures called Grabagorns, and that their solemn vow is to never again be weak. Legend has it that dragons all but destroyed Greemulax years ago during a terrible time known as the Great Scorch. Not one of the tight-knit community's girls or women survived, and the men, ruled by Grabagorn Prime, have lived in mourning and anger ever since. But when one of Penn's dragon traps catches a real live girl named Kristy, he starts to question everything he thought was true.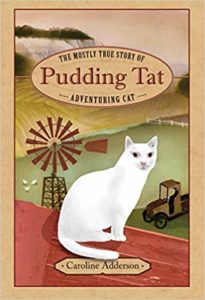 The Mostly True Story of Pudding Tat by Caroline Anderson
Pudding Tat is born on the Willoughby Farm in 1901 ― just another one of Mother Tat's kittens. But it turns out that Pudding is anything but ordinary. He is pure white with pink eyes that, though beautiful, do not see well, and hearing that is unusually acute. He finds himself drawn to the sweet sounds of the world around him ― the pattering heartbeat of a nearby mouse, the musical tinkling of a distant stream. Soon the sounds of adventure call to Pudding, too. But before he can strike out into the wide world on his own, he hears a voice ― coming from right inside his own ear.
Nonfiction New Releases
(PB = picture book; MG = middle grade book)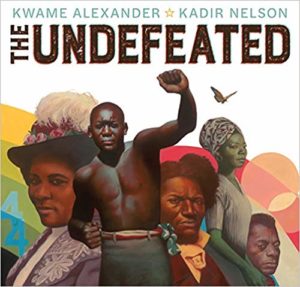 The Undefeated by Kwame Alexander, illustrated by Kadir Nelson (PB)
Originally performed for ESPN's The Undefeated, this poem is a love letter to black life in the United States. It highlights the unspeakable trauma of slavery, the faith and fire of the civil rights movement, and the grit, passion, and perseverance of some of the world's greatest heroes. The text is also peppered with references to the words of Martin Luther King, Jr., Langston Hughes, Gwendolyn Brooks, and others, offering deeper insights into the accomplishments of the past, while bringing stark attention to the endurance and spirit of those surviving and thriving in the present. Robust back matter at the end provides valuable historical context and additional detail for those wishing to learn more.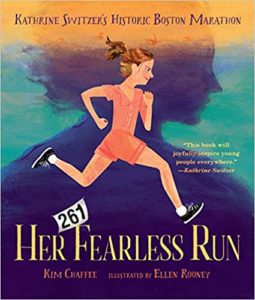 Her Fearless Run by Kim Chaffee, illustrated by Ellen Rooney (PB)
Kathrine Switzer changed the world of running. This narrative biography follows Kathrine from running laps as a girl in her backyard to becoming the first woman to run the Boston Marathon with official race numbers in 1967. Her inspirational true story is for anyone willing to challenge the rules. The compelling collage art adds to the kinetic action of the story. With tension and heart, this biography has the influential power to get readers into running.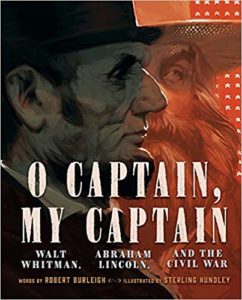 O Captain, My Captain by Robert Burleigh, illustrated by Sterling Hundley (PB)
Dramatic, lyrical, and beautifully illustrated, O Captain, My Captain tells the story of one of America's greatest poets and how he was inspired by one of America's greatest presidents. Whitman and Lincoln shared the national stage in Washington, DC, during the Civil War. Though the two men never met, Whitman would often see Lincoln's carriage on the road. The president was never far from the poet's mind, and Lincoln's "grace under pressure" was something Whitman returned to again and again in his poetry. Whitman witnessed Lincoln's second inauguration and mourned along with America as Lincoln's funeral train wound its way across the landscape to his final resting place.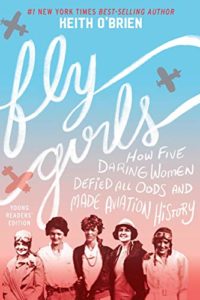 Fly Girls Young Reader's Edition by Keith O'Brien (MG)
In the years between World War I and World War II, airplane racing was one of the most popular sports in America. Thousands of fans flocked to multiday events, and the pilots who competed in these races were hailed as heroes. Well, the male pilots were hailed. Women who flew planes were often ridiculed by the press, and initially they weren't invited to race. Yet a group of women were determined to take to the sky—no matter what. With guts and grit, they overcame incredible odds both on the ground and in the air to pursue their dreams of flying and racing planes.
Graphic Novel New Release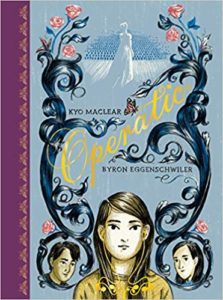 Operatic by Kyo Maclear and Byron Eggenschwiler
It's almost the end of middle school, and Charlie has to find her perfect song for a music class assignment. The class learns about a different style of music each day, from hip-hop to metal to disco, but it's hard for Charlie to concentrate when she can't stop noticing her classmate Emile, or wondering about Luka, who hasn't been to school in weeks. On top of everything, she has been talked into participating in an end-of-year performance with her best friends. Then, the class learns about opera, and Charlie discovers the music of Maria Callas. The more she learns about Maria's life, the more Charlie admires her passion for singing and her ability to express herself fully through her music. Can Charlie follow the example of the ultimate diva, Maria Callas, when it comes to her own life?
*Announcement!*
For those of you who love to read (or love to give) children's books, we've got a new podcast, hosted by author and Book Riot contributor Karina Yan Glaser and children's librarian Matthew Winner! It's called Kidlit These Days and you can subscribe on Apple Podcasts, Google Play, or your favorite podcatcher.
I would love to know what you are reading this week! Find me on Twitter at @KarinaYanGlaser, on Instagram at @KarinaIsReadingAndWriting, or email me at karina@bookriot.com.
Until next time!
Karina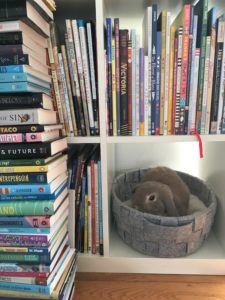 Izzy is in the book nook!
*If this e-mail was forwarded to you, follow this link to subscribe to "The Kids Are All Right" newsletter and other fabulous Book Riot newsletters for your own customized e-mail delivery. Thank you!*