Hi Kid Lit Friends,
Experiencing grief is an inevitable part of growing up, and while I wish that no child would have to know sadness, I think it is important to be able to speak to our kids about grief. Thankfully, there are many children's books that speak to this topic with wisdom and compassion. Here are some that stand out. Please note that all book descriptions come from the publisher.
---
Just for Book Riot readers: sign up for an Audible account, and get two audiobooks free!
---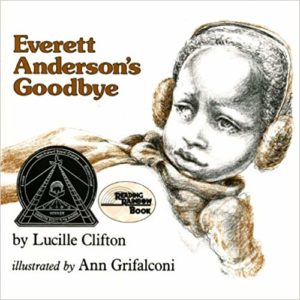 Everett Anderson's Goodbye by Lucille Clifton, illustrated by Ann Grifalconi
Everett Anderson's Goodbye is a touching portrait of a little boy who is trying to come to grips with his father's death. Lucille Clifton captures Everett's conflicting emotions as he confronts this painful reality. We see him struggle through many stages, from denial and anger to depression and, finally, acceptance. In this spare and moving poem, the last in this acclaimed series, Lucille Clifton brings Everett Anderson's life full circle.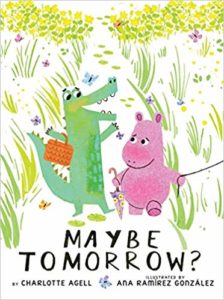 Maybe Tomorrow? by Charlotte Agell, illustrated by Ana Ramirez
Elba has a big block. She's been dragging it around for a long time. Norris dances everywhere he goes, even uphill. He is always surrounded by a happy cloud of butterflies. Can Norris and his butterflies help ease Elba's sadness and convince her to join them on a trip to the ocean? This tender exploration of loss illuminates how kindness, empathy, and friendship can lift our spirits and see us through many tomorrows.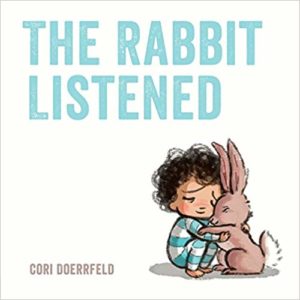 And the Rabbit Listened by Cori Doerrfeld
When something terrible happens, Taylor doesn't know where to turn. All the animals are sure they have the answer. The chicken wants to talk it out, but Taylor doesn't feel like chatting. The bear thinks Taylor should get angry, but that's not quite right either. One by one, the animals try to tell Taylor how to process this loss, and one by one they fail. Then the rabbit arrives. All the rabbit does is listen, which is just what Taylor needs.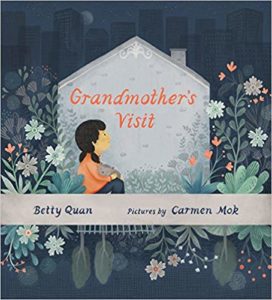 Grandmother's Visit by Betty Quan, illustrated by Carmen Mok
Grandmother lives with Grace's family. She teaches her how to measure water for rice. She tells her stories about growing up in China and together they savor the flavors of her childhood. Grandmother says goodbye when she drops Grace off at school every morning and hello when she picks her up at the end of the day. Then, Grandmother stops walking Grace to and from school, and the door to her room stays closed. One day, Grandmother's room is empty. And one day, Grandmother is buried. After the funeral, Grace's mom turns on all the outside lights so that Grandmother's spirit can find its way home for one final goodbye.
The Heart and the Bottle by Oliver Jeffers
There is a wonder and magic to childhood. We don't realize it at the time, of course . . . yet the adults in our lives do. They encourage us to see things in the stars, to find joy in colors and laughter as we play. But what happens when that special someone who encourages such wonder and magic is no longer around? We can hide, we can place our heart in a bottle and grow up . . . or we can find another special someone who understands the magic. And we can encourage them to see things in the stars, find joy among colors and laughter as they play.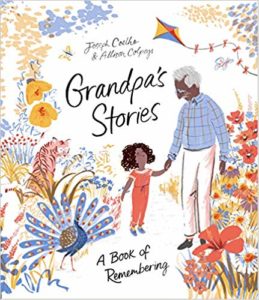 Grandpa's Stories by Joseph Coelho and Allison Colpoys (Abrams, 4/2)
One young girl reflects on a year with her beloved grandpa. She remembers the fields and parks they explored in the springtime and the old toys they fixed up in the summer. She remembers the handmade gifts they exchanged in the fall and the stories Grandpa told by the fi re each winter. But this year, the girl must say good-bye to Grandpa. In the face of her grief, she is determined to find a way to honor him. She decides to record her Grandpa stories in the notebook he made for her and carry Grandpa with her as she grows. An honest and relatable depiction of loss, Grandpa's Stories celebrates life and the ways in which love lives on.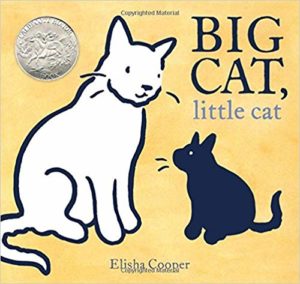 Big Cat, Little Cat by Elisha Cooper
There was a cat
who lived alone.
Until the day
a new cat came . . .
And so a story of friendship begins, following the two cats through their days, months, and years until one day, the older cat has to go. And he doesn't come back.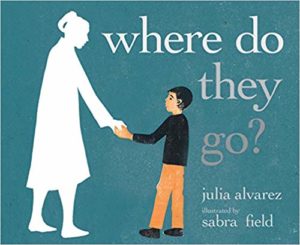 Where Do They Go? by Julia Alvarez, illustrated by Sabra Field
Julia Alvarez's picture book is a beautifully crafted poem for children that gently addresses the emotional side of death. The book asks, "When somebody dies, where do they go? / Do they go where the wind goes when it blows? … Do they wink back at me when I wish on a star? Do they whisper, 'You're perfect, just as you are'? …" Illustrated by Vermont woodcut artist, Sabra Field, Where Do They Go? is a beautiful and comforting meditation on death, asking questions young readers might have about what happens to those they love after they die.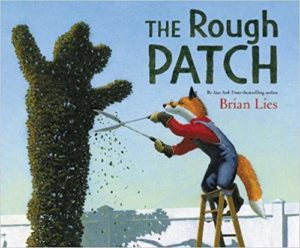 The Rough Patch by Brian Lies
Evan and his dog do everything together, from eating ice cream to caring for their prize-winning garden, which grows big and beautiful. One day the unthinkable happens: Evan's dog dies. Heartbroken, Evan destroys the garden and everything in it. The ground becomes overgrown with prickly weeds and thorns, and Evan embraces the chaos. But beauty grows in the darkest of places, and when a twisting vine turns into an immense pumpkin, Evan is drawn out of his isolation and back to the county fair, where friendships—old and new—await.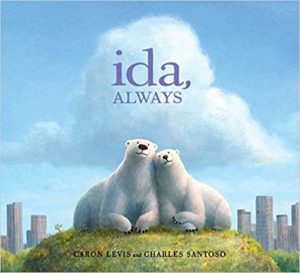 Ida, Always by Caron Lewis, illustrated by Charles Santoso
Then one sad day, Gus learns that Ida is very sick, and she isn't going to get better. The friends help each other face the difficult news with whispers, sniffles, cuddles, and even laughs. Slowly Gus realizes that even after Ida is gone, she will still be with him—through the sounds of their city, and the memories that live in their favorite spots.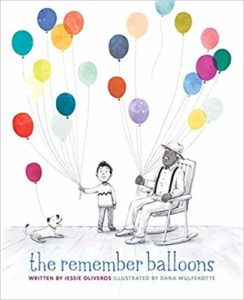 The Remember Balloons by Jessie Oliveros, illustrated by Dana Wulfette
James's Grandpa has the best balloons because he has the best memories. He has balloons showing Dad when he was young and Grandma when they were married. Grandpa has balloons about camping and Aunt Nelle's poor cow. Grandpa also has a silver balloon filled with the memory of a fishing trip he and James took together. But when Grandpa's balloons begin to float away, James is heartbroken. No matter how hard he runs, James can't catch them. One day, Grandpa lets go of the silver balloon—and he doesn't even notice! Grandpa no longer has balloons of his own. But James has many more than before. It's up to him to share those balloons, one by one.
*Exciting Announcement!*
For those of you who love to read (or love to give) children's books, we've got a new podcast, hosted by author and Book Riot contributor Karina Yan Glaser and children's librarian Matthew Winner! It's called Kidlit These Days and you can subscribe on Apple Podcasts, Google Play, or your favorite podcatcher.
I would love to know what you are reading this week! Find me on Twitter at @KarinaYanGlaser, on Instagram at @KarinaIsReadingAndWriting, or email me at karina@bookriot.com.
Until next time!
Karina
Nala enjoys hanging out with my younger daughter while she reads.
*If this e-mail was forwarded to you, follow this link to subscribe to "The Kids Are All Right" newsletter and other fabulous Book Riot newsletters for your own customized e-mail delivery. Thank you!*