Welcome to Check Your Shelf! This is your guide to help librarians like you up your game when it comes to doing your job (& rocking it).
"Check Your Shelf" is sponsored by The Global Economy as You've Never Seen It—99 Ingenious Infographics That Put It All Together by Thomas Ramge and Jan Schwochow.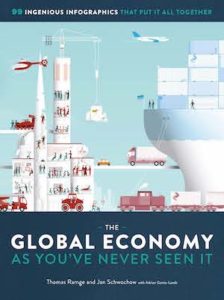 The Global Economy as You've Never Seen It presents an ingeniously conceived tour of the global economy and all its key components, illuminated in 99 large-scale, full-color infographics that anyone can understand. From start-ups to monopolies, from trade agreements to theory, author Thomas Ramge and infographic specialist Jan Schwochow bring every facet of the economic web to life. Economics connects us all, from what we buy, to how we buy it, who made it, and where. See the economy differently—and the world.
---
If you're a Check Your Shelf reader, we want to hear from YOU! Take this short survey and be entered to win a $50 Amazon gift card! Entries will be accepted until 3/31, and is open to US and Canadian residents. But hurry! There are only a couple days left!
And for those of you who love to read (or love to give) picture books and chapter books, we've got a new podcast, hosted by author and BR contributor Karina Glaser and children's librarian Matthew Winner! It's called Kidlit These Days and you can subscribe on Apple Podcasts, Google Play, or your favorite podcatcher.
Libraries & Librarians
Book Adaptations in the News
Books & Authors in the News
Upcoming Books in 2019
By the Numbers
Award News
Pop Cultured
All Things Comics
Audiophilia
Book Lists, Book Lists, Book Lists
Bookish Curiosities & Miscellaneous
Level Up (Library Reads)
Do you take part in LibraryReads, the monthly list of best books selected by librarians only? We've made it easy for you to find eligible diverse titles to nominate. Kelly Jensen created a database of upcoming diverse books that anyone can edit, and Nora Rawlins of Early Word is doing the same, as well as including information about series, vendors, and publisher buzz.
Thanks for hanging out and I'll see you again next week!
–Katie McLain, @kt_librarylady on Twitter. Currently reading Blood Harvest by S.J. Bolton.