Today's Riot Rundown is sponsored by Ignite English, where we inspire your reading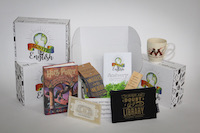 Giveaway: Win a free March Englishbox!
Ignite your learning, inspire your mind with the Englishbox! A bimonthly book box that brings reading to life! The Englishbox features either a classic or best-selling novel in every box accompanied by an interactive reading guide to help you dive deeper into the novel. You also get 3-4 book inspired items that are curated just for our readers. Each box includes special online access to addition book content and our online book club, so come chat books with us! Sign up for our newsletter for a change to win a free box!