Hello and happy Friday, demigods and Dúnedain! Today we're talking about who Captain Marvel might … eat? … next, intriguing author interviews, the best SF/F films of the last decade, We Set the Dark on Fire by Tehlor Kay Mejia, and more.
---
This newsletter is sponsored by Amazon Publishing and The Fever King by Victoria Lee.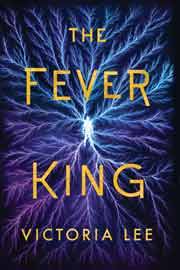 In The Fever King by Victoria Lee, the first read in a captivating new series, a teen wakes up in a hospital bed with a magical new ability. Will he use his newfound power to become a hero for the downtrodden, or is he destined to become their oppressor? Read The Fever King by Victoria Lee.
---
I asked about Dune series feelings in the last newsletter, and was assured by reader Ruth that "Only the first three books are worth reading in my opinion." Thanks for weighing in — I've heard that before from others, so we'll see what I can make time for!
Cannibal Captain Marvel? George R.R. Martin thinks she could eat Tony and Thor, and I can't technically disagree.
If reading G. Willow Wilson's The Bird King made you realize that you need more myth retellings in your life, behold! Here are 50.
And speaking of G. Willow Wilson, this is a fascinating and thoughtful interview with her about history, mythology, colonialism, and more.
In Star Wars news, the Force is strong with this review of EK Johnston's Queen's Shadow — it makes me want to read it IMMEDIATELY.
Ever wondered where Charlie Jane Anders (The City in the Middle of the Night) gets her ideas, or the importance of tidally locked planets, or what she's working on next? This interview is a great read.
What's the best SF/F film of the last decade? io9 is running a March Madness bracket! I will now spend way too long filling mine out.
Which Defense Against the Dark Arts professor are you? According to this quiz I am Remus Lupin *dusts shoulder off*.
I am, of course, not the only reader obsessed with Robin McKinley's works, and this ode to her characters gives me all the "THIS!!!!" feels.
Just when I thought I was tired of YA dystopias….
We Set the Dark on Fire (#1) by Tehlor Kay Mejia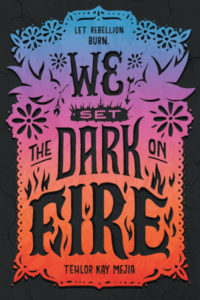 There are a lot of oppressive-government-plus-finishing-school-for-girls YA novels out there, y'all, but that doesn't mean that they can't still be done well, and Mejia has done it. We Set the Dark on Fire starts out with a gauzy myth and ends with a (literal) bang, and is a page-turner from start to finish.
Dani Vargas is a student at the Medio School for Girls, in training to become a Primera, or first wife, of one of Medio's elite young men. In Medio, each upper class household consists of a husband, a Primera trained to be poised and intelligent, and a Segunda whose job is to be beautiful and satisfy the emotional needs of her husband. Dani is very, very good at being a Primera, maintaining a facade of calm and propriety at all times — and a big part of that is that she has a lot to hide. She's actually from beyond the border wall of Medio, at school on illegal papers. Her parents spent years working to send her to the School for Girls so that she would have a better life, but on the eve of her graduation and selection, she can't help but wonder how much better this life actually is. When her assigned husband, who may one day be the president of Medio, turns out to be a cold, ruthless, violent young man, her fears are confirmed … and then the rebellion contacts her.
Dani has so many choices to make: where to align herself politically, how to best protect herself and her family, how to use the skills she's learned over the years, what to do about the new love awakening in her. What kind of life does she want, and what kind of life can she actually have? Mejia digs into the conflicts of family duty and personal loyalty, and the complicated morality of resistance, with thoughtfulness and nuance as well as strong emotion. Dani is also the least self-absorbed teen heroine I've seen in a while, as well as one of the most pragmatic. She has no high-flying, romantic notions, and is all too ready to sideline her own dreams and hopes for those of others. This is both a strength and a flaw, and a refreshing take on this familiar story.
This book is for readers craving a different take on the YA dystopia. Rooted in Latinx heritage, with an inclusive cast of characters including an LGBTQIA+ romance, We Set the Dark on Fire will suck you into its lush, detailed world and spit you out with a spinning brain and an urgent need to know what is going to happen next. (I also have an urgent need for the next installment to be told from Carmen's perspective, so if anyone has any info on that, PLEASE SHARE.)
Bonus: here's a great interview with Mejia about her own identity and influences, and the writing process.
And that's a wrap! You can find all of the books recommended in this newsletter on a handy Goodreads shelf. If you're interested in more science fiction and fantasy talk, you can catch me and my co-host Sharifah on the SFF Yeah! podcast. For many many more book recommendations you can find me on the Get Booked podcast with the inimitable Amanda, or on Twitter as jennIRL.
Stay strong,
Jenn