Sponsored by ​The Bird King​ by G. Willow Wilson, available now from Grove Press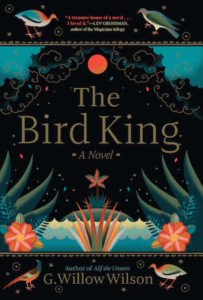 ---
Serial Box Now Available For Android
It's been a big year so far for the fiction app company that, like a TV series, breaks down a large standalone story into 10 to 15 individual installments. First, it announced it was partnering with Marvel to create new stories about Black Panther, Black Widow, Jessica Jones, and Thor. Then, it raised mucho millions in seed funding. And now the app that was only available for iOS has an app for Androids.
I Have Your Earworm For Today
Sesame Street's iconic song Sunny Day is getting an illustrated book treatment. The song, sure to wrap you in a hug and send you down childhood memory lane, will be interpreted by different artists each with a spread in the picture-book titled Sunny Day: A Celebration of Sesame Street. Check out some of the beautiful pages here.
New Marvel's Avengers: Endgame Trailer
Watch the new Endgame trailer here–just prepare yourself because it's dark and emotional. Also, *waves* at my new Captain! Also, also, spiffy new spacesuits!