Hi Kid Lit Friends!
Sometimes I find trends in book titles, and recently I've noticed that the word "moon" has been popping up a lot. These aren't necessarily books about the moon, but rather the use of the moon as symbolism. I thought that was interesting, so I thought I'd round up some of the books that have caught my eye or been important in children's literature. Interestingly, many of these books have won literature prizes! How many of these have you read?
---
Sponsored by Caracal, the middle grade imprint of Lion Forge!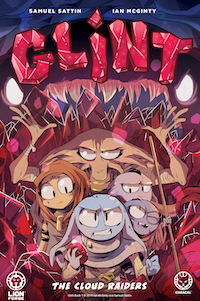 Glint—the mineral resource that keeps the planet and people of Mora alive—is running low. Loon and all the other pit workers are confined to a life of glint mining to serve the greater good of Mora. But when Loon decides to leave the mines for the military, his hopes for wartime glory with the Temple of Sacred Defense are soon overshadowed by Mora's dark secrets. Find Glint Book 1: The Cloud Raiders by Samuel Sattin and Ian McGinty in stores now from Caracal, the middle-grade imprint of Lion Forge!
---
*Please note that all descriptions come from the publisher.
Picture Books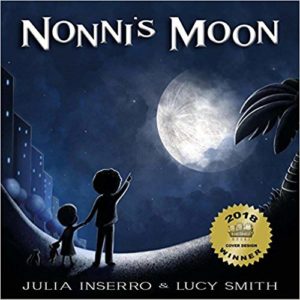 Nonni's Moon by Julia Inserro, illustrated Lucy Smith
Missing someone far away is hard. It's hard if you're a grown-up.
It's even harder if you're a child.
No one knows more than Beanie how hard it is to live far away from loved ones. But then she figures out a way she and Nonni can send messages back and forth…. through the moon!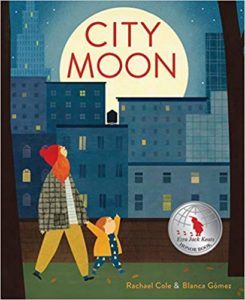 City Moon by Rachael Cole, illustrated by Blanca Gomez
This is a nighttime story that follows a little boy and his Mama as they walk around their neighborhood looking for the moon. As the elusive moon plays peek-a-boo behind buildings and clouds, the little boy asks simple questions about it, and his Mama patiently answers every one. When finally the moon appears—bright and white and round and glowing—the mama and her boy stop and wait for it to disappear again. The moonlit walk continues until the boy yawns and Mama lifts him into her arms and whispers, "it is time for bed."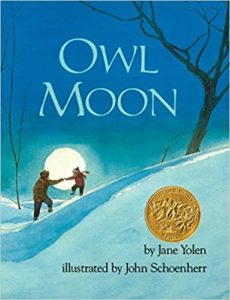 Owl Moon by Jane Yolen, illustrated by John Schoenherr
Late one winter night a little girl and her father go owling. The trees stand still as statues and the world is silent as a dream. Whoo-whoo-whoo, the father calls to the mysterious nighttime bird.
But there is no answer.
Wordlessly the two companions walk along, for when you go owling you don't need words. You don't need anything but hope. Sometimes there isn't an owl, but sometimes there is.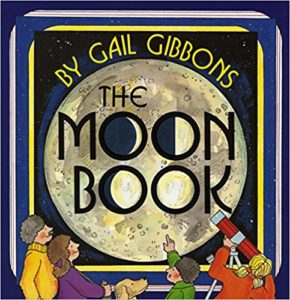 The Moon Book by Gail Gibbons
Shining light on all kinds of fascinating facts about our moon, this simple, introductory book includes information on how the moon affects the oceans' tides, why the same side of the moon always faces earth, why we have eclipses, and more.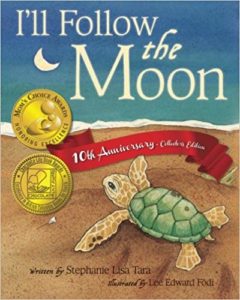 I'll Follow the Moon by Stephanie Lisa Tara, illustrated by Lee Edward Fodi
The atmosphere of a quiet but determined struggle to break free of the egg soon gives way to growing excitement as the turtle mingles with fellow hatchlings and catches his first tempting sensations: the smell of salt air, the sight of the moon's glow, the gentle touch and beckoning sounds of the waves rushing to shore. Once he's free of the land, new motions take over: gulp, spin, float, swim…The final happy refrain is new and satisfying.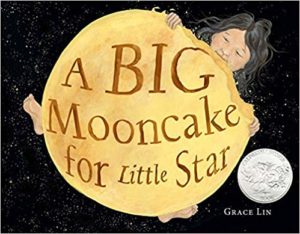 A Big Mooncake for Little Star by Grace Lin
Pat, pat, pat… Little Star's soft feet tiptoed to the Big Mooncake.
Little Star loves the delicious Mooncake that she bakes with her mama. But she's not supposed to eat any yet! What happens when she can't resist a nibble?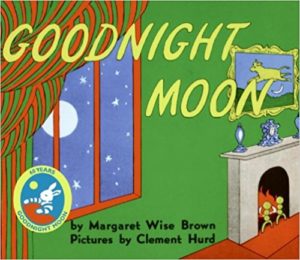 Goodnight Moon by Margaret Wise Brown
In a great green room, tucked away in bed, is a little bunny. "Goodnight room, goodnight moon." And to all the familiar things in the softly lit room—to the picture of the three little bears sitting on chairs, to the clocks and his socks, to the mittens and the kittens, to everything one by one—the little bunny says goodnight.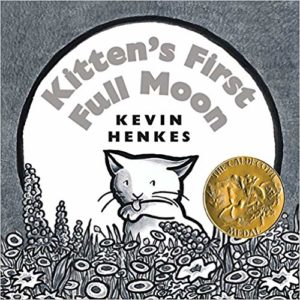 Kitten's First Full Moon by Kevin Henkes
A brave young kitten sets out into the world on a quest that leaves her bruised, bewildered, and hungry, but that ultimately leads her back home, where something special is waiting just for her.
Middle Grade Books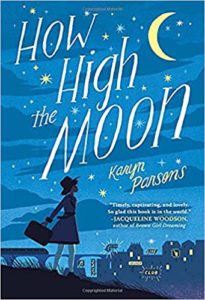 How High the Moon by Karyn Parsons
In the small town of Alcolu, South Carolina, in 1944, 12-year-old Ella spends her days fishing and running around with her best friend Henry and cousin Myrna. But life is not always so sunny for Ella, who gets bullied for her light skin tone, and whose mother is away pursuing a jazz singer dream in Boston. So Ella is ecstatic when her mother invites her to visit for Christmas. Little does she expect the truths she will discover about her mother, the father she never knew and her family's most unlikely history. And after a life-changing month, she returns South and is shocked by the news that her schoolmate George has been arrested for the murder of two local white girls.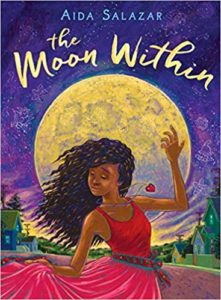 The Moon Within by Aida Salazar
Celi Rivera's life swirls with questions. About her changing body. Her first attraction to a boy. And her best friend's exploration of what it means to be genderfluid. But most of all, her mother's insistence she have a moon ceremony when her first period arrives. It's an ancestral Mexica ritual that Mima and her community have reclaimed, but Celi promises she will NOT be participating. Can she find the power within herself to take a stand for who she wants to be?
Note: Check out Aida Salazar speaking about her book on the Scholastic podcast here.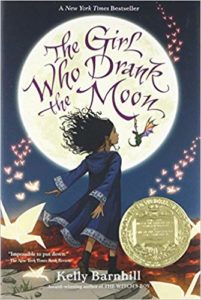 The Girl Who Drank the Moon by Kelly Barnhill
Every year, the people of the Protectorate leave a baby as an offering to the witch who lives in the forest. They hope this sacrifice will keep her from terrorizing their town. But the witch in the Forest, Xan, is kind. She shares her home with a wise Swamp Monster and a Perfectly Tiny Dragon. Xan rescues the children and delivers them to welcoming families on the other side of the forest, nourishing the babies with starlight on the journey. One year, Xan accidentally feeds a baby moonlight instead of starlight, filling the ordinary child with extraordinary magic. Xan decides she must raise this girl, whom she calls Luna, as her own. As Luna's thirteenth birthday approaches, her magic begins to emerge–with dangerous consequences.
Over the Moon by Natalie Lloyd
Twelve-year-old Mallie knows better than to dream. In Coal Top, you live the story you're given: boys toil in the mines and girls work as servants. Mallie can't bear the idea of that kind of life, but her family is counting on her wages to survive. It wasn't always this way. Before the Dust came, the people of Coal Top could weave starlight into cloth. They'd wear these dreaming clothes to sleep and wake up with the courage to seek adventure . . . or the peace to heal a broken heart. But now nothing can penetrate Coal Top's blanket of sorrow. So when Mallie is chosen for a dangerous competition in which daring (and ideally, orphaned) children train flying horses, she jumps at the chance. Maybe she'll change her story. Maybe she'll even find the magic she needs to dream again.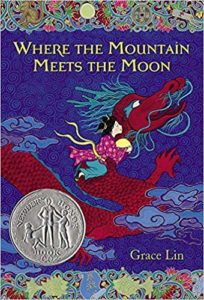 Where the Mountain Meets the Moon by Grace Lin
In the valley of Fruitless mountain, a young girl named Minli lives in a ramshackle hut with her parents. In the evenings, her father regales her with old folktales of the Jade Dragon and the Old Man on the Moon, who knows the answers to all of life's questions. Inspired by these stories, Minli sets off on an extraordinary journey to find the Old Man on the Moon to ask him how she can change her family's fortune. She encounters an assorted cast of characters and magical creatures along the way, including a dragon who accompanies her on her quest for the ultimate answer.
Moon Over Manifest by Clare Vanderpool
Abilene Tucker feels abandoned. Her father has put her on a train, sending her off to live with an old friend for the summer while he works a railroad job. Armed only with a few possessions and her list of universals, Abilene jumps off the train in Manifest, Kansas, aiming to learn about the boy her father once was.
Having heard stories about Manifest, Abilene is disappointed to find that it's just a dried-up, worn-out old town. But her disappointment quickly turns to excitement when she discovers a hidden cigar box full of mementos, including some old letters that mention a spy known as the Rattler.
I would love to know what you are reading this week! Find me on Twitter at @KarinaYanGlaser, on Instagram at @KarinaIsReadingAndWriting, or email me at karina@bookriot.com.
Until next time!
Karina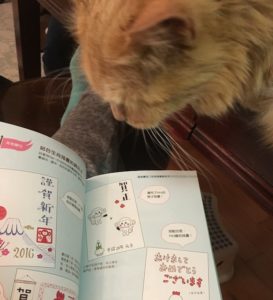 Nala peeking at the drawing book I'm looking at.
*If this e-mail was forwarded to you, follow this link to subscribe to "The Kids Are All Right" newsletter and other fabulous Book Riot newsletters for your own customized e-mail delivery. Thank you!*