Welcome to Check Your Shelf! This is your guide to help librarians like you up your game when it comes to doing your job (& rocking it).
"Check Your Shelf" is sponsored by Hanover Square Press and The Lady from the Black Lagoon by Mallory O'Meara.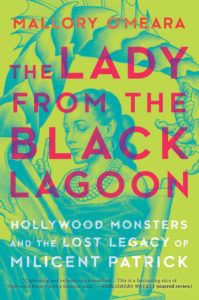 The Lady from the Black Lagoon uncovers the life and work of Milicent Patrick – one of Disney's first female animators and the only woman to create one of Hollywood's classic movie monsters—the Creature from the Black Lagoon. For someone who should have been hailed as a pioneer in the genre there was little information about Milicent available. Patrick's contribution had been claimed by a jealous male colleague, her career had been cut short and she soon after had disappeared from film history. The Lady from the Black Lagoon restores Patrick to her place in film history while calling out a Hollywood culture where little seems to have changed since.
---
Libraries & Librarians
Book Adaptations in the News
Books & Authors in the News
Upcoming Books in 2019
New notable books for March from Amazon, AV Club, Barnes & Noble (Fiction, Mysteries, Thrillers, SciFi/Fantasy, Biographies/Memoirs, History/Current Events), Bustle, Chicago Review of Books, Chicago Tribune, Cosmo, CrimeReads, Entertainment Weekly, io9, Lambda Literary, LitHub, The Millions (Fiction/Nonfiction, and Poetry), New York Times, Time, Tor.com (SciFi), and Vulture.
O Magazine gives us 30 LGBTQ+ books for 2019.
By the Numbers
Award News
Pop Cultured
All Things Comics
Audiophilia
Book Lists, Book Lists, Book Lists
Bookish Curiosities & Miscellaneous
Level Up (Library Reads)
Do you take part in LibraryReads, the monthly list of best books selected by librarians only? We've made it easy for you to find eligible diverse titles to nominate. Kelly Jensen created a database of upcoming diverse books that anyone can edit, and Nora Rawlins of Early Word is doing the same, as well as including information about series, vendors, and publisher buzz.
–Katie McLain, @kt_librarylady on Twitter. Currently reading Beyond Belief: My Secret Life Inside Scientology and My Harrowing Escape by Jenna Miscavige Hill.