Hola Audiophiles,
Thanks for joining me for another week of audio love! I don't know about you, but I am setting a personal record for audiobook consumption. Between the bookstore's book club, reading for Indies Introduce, and all the podcasting/booktubing stuff for the Riot, my required reading has really ticked up a couple of notches in the last few months. I'm constantly working on lots of titles at once and would never be able to do it all without the my Libby and Libro apps!
Let's put some of that listening to use then, shall we? Let's audio.
---
Sponsored by Oasis Audio.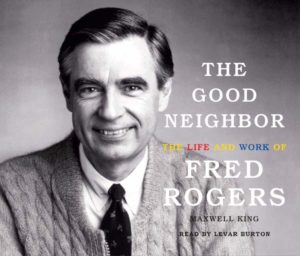 Fred Rogers was an enormously influential figure in the history of television and in the lives of tens of millions of children. The Good Neighbor, the first full-length biography of Fred Rogers, tells the story of this enduring American icon. Narrated by LeVar Burton, The Good Neighbor traces Rogers's personal, professional, and artistic life through decades of work — including a surprising decision to walk away from the show to make television for adults, only to return with increasingly sophisticated episodes. An engaging story, rich in detail, The Good Neighbor is the definitive portrait of a beloved figure, cherished by generations.
---
Latest Listens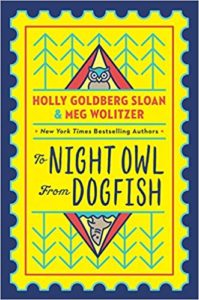 One of my recent faves is To Night Owl from Dogfish by Holly Goldberg Sloan and Wollitzer, an amazing middle grade epistolary novel about two girls who discover than their dads have been dating in secret. They plan a reverse parent trap to keep them apart when they're shipped off to the same camp for the summer – what could possibly go wrong?!
If you tuned in to last week's All the Books, you already heard me rave about this super sweet and hilarious book. As I mentioned then, I have just one complaint about the audio: I couldn't quite handle the reading of the subject lines of the girls' emails. Once it went from " re: you don't know me" to "re: re: re: re: re: re: re: re: re: re: re: re: re: re: re: re: re: re: re: re: re: re: re: re: you don't know me" and beyond, The narrators themselves are really quite excellent, but if I had to hear "ree" one more time, I was going to start cussing at my car speakers in Spanish.
Listens on Deck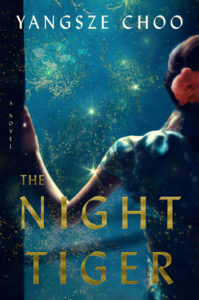 I'm part of the way through Yangsze Choo's The Night Tiger which is beautiful and mysterious from page one! The author narrates this one and her voice is just so soothing and melodic that I'd listen to her read the ingredient list on a back of a cereal box. I will of course take her engaging novel set in Malaysia instead; it's about a young woman working as a dancehall girl to pay off her mother's Mahjong debts and a house boy on a mission to fulfill his master's dying wish. The two are brought together by a severed finger as sometimes happens. Throw in a string of unexplained murders and whispers of a tumor about men turning into tigers and I am in for that ride. So excited to finish it!
Some of the other audiobooks I'm working on and loving include Shout by Laurie Halse Anderson and Internment by Samira Ahmed. Get both of these now!! They're such important and emotional listes that are wrecking me gorgeously. The rest I can't talk about yet… guess you'll just need to tune in to the Read Harder podcast.
From the Internets
Audiopreneurship – Forbes recommends ten audiobooks every entrepreneur should listen to. I'll admit I'm terrible at reading business books but really appreciate this list! It's got some of the category classics but also Laura Hillenbrand's Unbroken; now that'll give you some perspective for sure.
Still I Rise – Forbes had a lot of info for me this week, apparently! This piece states that according to the Association of American Publishers, e-book sales are falling but audiobook sales continue to rise. We're talking double-digit growth!
Over at the Riot
On last week's episode of the Book Riot podcast (Episode #301: Bibliographic Rigor), Jeff and Rebecca talked about the news that HMH will begin producing its own audiobooks. I thought about that conversation when I came across the Forbes article about e-books vs. audiobooks; audio, amirite?!?
Women Doing the Thing – I'm bringing back some older posts in honor of Women's History Month! No time like the present to acquaint thy ear holes with some fabulous women:
---
That's all I got today! Shoot me an email at vanessa@riotnewmedia.com with audiobook feedback & questions or find me on Twitter and the gram @buenosdiazsd. Sign up for the In The Club newsletter, peep the Read Harder podcast, and watch me booktube every Friday too!
Stay bad & bookish, my friends.
Vanessa