It's Thursday, and you know what that means! (No, not that it's almost Friday, though that's good, too.)
We've got new books to talk about! I'm so excited.
---
Sponsored by Devil's Daughter by Lisa Kleypas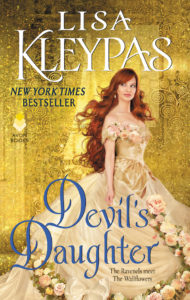 West Ravenel is a man with a tarnished past. No apologies, no excuses. However, from the moment he meets Phoebe, Lady Clare, he is consumed by irresistible desire. What West doesn't bargain on is that Phoebe is no straitlaced aristocratic lady. She's the daughter of a strong-willed wallflower who long ago eloped with the most devilishly wicked rake in England. Before long, Phoebe sets out to seduce the man who has awakened her fiery nature and shown her unimaginable pleasure. Will their overwhelming passion be enough to overcome the obstacles of the past? Only the devil's daughter knows…
---
Over on Book Riot
Looking for some good romance-beer matches?
Sil did us a favor and highlighted some upcoming #romanceclass novels coming out. Which are you looking forward to?
How about some historicals? You've probably read a bunch of these authors, but there's always a chance to find someone new.
So The L Word is coming back, and Dana pulled together some great books to read while we're waiting. It's not all romance, but there are some good titles in there!
If you're doing the Read Harder challenge, Trisha pulled together some historical romances by authors of color to check out.
Did someone say romance short stories for free? Oh yeah, Casey did.
Deals
If you're counting down the minutes until The Right Swipe comes out, check out Alisha Rai's Falling for Him. It's a novella featuring an age difference and some hot lovin. What would a Rai book be without the hot lovin, right? 99 cents is totally an easy price to pay for so much hotness. And if you're done with that one, the second Karimi Siblings book, Waiting for Her, is 2.99. (Also, did I mention that Hate to Want You is also 1.99?)
If you're looking for a new historical series starter, Christi Caldwell's The Rogue's Wager is 99 cents and FREE if you have Prime Reading. You've got a Marquess who has no desire to live a serious life, and a bookkeeper at a gambling den. What could go wrong? (He could go into her bedroom by accident, that's what.)
New Releases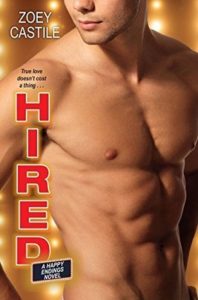 Hired
Zoey Castile
Y'all. This book is a goddamned delight. It's the sequel to Stripped, but you don't have to have read it in order to know what's going on. You just have to know that Zoey called the series a love letter to Magic Mike XXL, and the Strippers With Feelings trope has never been better. In this one, Aiden is unhappy in New Orleans, and happens upon Faith, whose mother is running for mayor. They have an…unsuccessful…one night stand, and then find themselves unable to keep their thoughts—or their hands—off each other. There's just one problem: Aiden is an escort, and he's technically on call for a client. If he could bring himself to tell Faith, he might be forgiven. But what are the chances that would happen?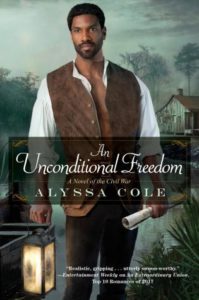 An Unconditional Freedom
Alyssa Cole
Okay. This book. I haven't actually finished this book. I started it a while ago and just…stopped. It's not an easy book to read. It's. Intense. Daniel is so broken, and his mind is painful to be inside. Janeta is so lost, and learning too quickly how wrong her upbringing was. The two don't seem like they'd go well together, but they have to work together on a mission for the Loyal League. Did I mention Janeta is a spy? For the Confederacy? Yeah, it's bad. But I know if I stick to it, all will come out well on the other side. Alyssa Cole doesn't disappoint when it comes to growing her characters and helping them discover the best in themselves. So what if it happens twenty pages at a time? More time for me to get used to the fact that the series is ending.
(PS – I don't know how long this will be the case, but if you haven't yet read the first two in the series, An Extraordinary Union and A Hope Divided are both 2.99 right now.)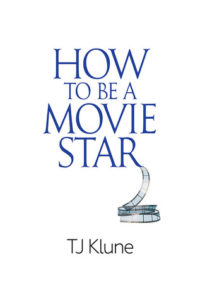 How to be a Movie Star
TJ Klune
This actually came out a couple weeks ago, but I missed it. I missed a new TJ Klune novel. In this sequel to How to Be a Normal Person (I'm not sure how they're connected), demisexual Josiah wants to be a movie star, but hasn't really gotten farther than a couple of bit parts. He's sort of friends with novelist-turned-filmmaker Q-Bert. They communicate relatively well, considering Josy isn't always…sober. (Content warning: apparently Josy is quite the stoner, so if that's something that turns you off, now you know.) TJ Klune, if you haven't read his work, does an amazing thing where he combines humor and heart-wrenching heaviness, but it all turns out good in the end.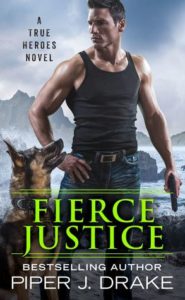 Fierce Justice
Piper J. Drake
This is the fifth book in the True Heroes series, but you can definitely start here if you want to. A K9 handler has to help a "soldier of fortune" stop a kidnapping ring, and they clash the whole way through it. The last time they met, they were on opposite sides of the conflict, so they have to figure out how to work together this time. And while it doesn't yet have a record in doesthedogdie.com, every place I've looked (mostly Amazon and Goodreads reviews) has no record of the dog dying. So there's that.
As usual, catch me on Twitter @jessisreading or Instagram @jess_is_reading, or send me an email at jessica@riotnewmedia.com if you've got feedback or just want to say hi!