Hello and happy Tuesday, darklings! It's me, Liberty! I have attached myself to Jenn's brain stem, and I am now driving the mother ship. Or she asked me to fill in for her today. One of these things is true. Either way, I am excited to be here! Today we've got the teaser for His Dark Materials, wormholes in IKEA, upcoming new releases, a review of Gideon the Ninth by Tamsyn Muir, and more.
---
Sponsored by Flatiron Books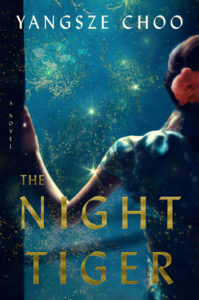 The Night Tiger pulls readers into a world of servants and masters, age-old superstition and modern idealism, sibling rivalry and forbidden love. Ji Lin is a dancehall girl to help pay off her mother's Mahjong debts. But when one of her dance partners accidentally leaves behind a gruesome souvenir, she may finally get the adventure she's been longing for. Eleven-year-old houseboy Ren is also on a mission, to fulfill his former master's dying wish: that Ren find the man's finger, lost years ago, and bury it with his body. Ji Lin and Ren's dangerous paths crisscross in this dazzling novel.
---
I'd believe there are wormholes in IKEA: Says Tor editor Carl Engle-Laird: "I'm very pleased to announce that Tor.com Publishing has acquired Finna, a new science fiction novella from Nino Cipri. When an elderly customer at a big box furniture store slips through a portal to another dimension, it's up to two minimum-wage employees to track her across the multiverse and protect their company's bottom line. Multi-dimensional swashbuckling would be hard enough, but our two unfortunate souls broke up a week ago. Can friendship blossom from the ashes of a relationship? In infinite dimensions, all things are possible." SIGN. ME. UP.
This week in 'strange merchandising': The final season of Game of Thrones premieres on April 14th, and to celebrate, they've teamed up with Nabisco for GOT-themed Oreo packaging. They're the perfect treat for the guests at your Red Wedding! (Okay, now I've just had a mental image of Walder Frey trying to eat an Oreo, and I need brain bleach.) (GOT-related: Have you seen my shark?)
And speaking of Game of Thrones, here's new footage from HBO, as well as another peek at Watchmen. (I'm not sure I'm going to, er, watch the new Watchmen adaptation, because I still feel very Tales of the Black Freighter or GTFO, just like I did when the movie came out.)
Here's the latest on the Children of Blood and Bone adaptation: Rick Famuyiwa, director of the coming-of-age movie Dope, has signed on to direct Fox 2000's adaptation of the best-selling YA novel by Tomi Adeyemi.
The first teaser trailer for the BBC's adaptation of His Dark Materials is out: 
Me: I don't want to watch another His Dark Materials adaptation.
BBC: We give you the gift of Ruth Wilson.
Me: *sobs into my Darth Vader onesie* This is all I ever wanted.
For thou are crunchy and taste good with ketchup: Here are five fantasy books about human and dragon friendships.
And speaking of dragons: IDW Publishing is rolling out a new 5-part comic book miniseries next month based on Dungeons & Dragons.
SYFY WIRE has an exclusive peek at G. Willow Wilson's new sci-fi comic series from Dark Horse Comics titled Invisible Kingdom.
The Oscars might not have been able to stick the landing but at least Black Panther won three awards.
It's not just happening inside your head, Harry: The latest attraction at the Wizarding World of Harry Potter will be Hagrid's Magical Creatures Motorbike Adventure. Because Dobby's Final Moments wouldn't be as fun. (Too soon? I know, I know, I'm a monster.)
The 2018 Nebula Award finalists have been announced: So many amazing contenders! I am Team Murderbot all the way.
It's another great week for exciting new releases: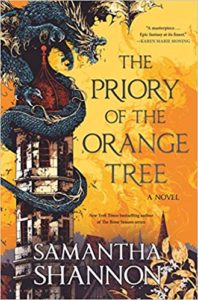 The Priory of the Orange Tree by Samantha Shannon
Four Dead Queens by Astrid Scholte
Rise of the Dragons by Angie Sage
The Raven Tower by Ann Leckie
We Set the Dark on Fire by Tehlor Kay Mejia
The Big Crush by David J. Schow
The Very Best of the Best: 35 Years of The Year's Best Science Fiction by Gardner Dozois
Captain Marvel: Liberation Run by Tess Sharpe
Season 2 of The Haunting of Hill House will take on The Turn of the Screw. Here's a list of other literary haunted houses the show could tackle.
And speaking of haunted houses: I would like to apologize in advance for today's review, because the book doesn't come out until September. But it is my new obsession, and Jenn said I could talk about whatever I want, so here we are. Really, you need this much advance notice so you can prepare, because it's going to BLOW YOUR MINDS.
Gideon the Ninth by Tamsyn Muir
So as I just said, yes, I am OBSESSED with this book. I received an advance copy, and I've read it three times now. It's like nothing I've ever read before! It's so unusual that I am not sure I can explain it in less than 50,000 words, but I'm going to try. Here goes:
Gideon the Ninth is a swordswoman who has lived in servitude to the Ninth House her whole life. The realm of the Ninth House is a bleak one, gray, dusty, and dark, and filled with animated skeleton slaves and reanimated corpses. Gideon's nemesis is Harrowhark Nonagesimus, Reverend Daughter of the Ninth House and necromancer. Harrow's favorite hobbies are using bone magic to perform a multitude of things, and tormenting Gideon.
At the beginning of the book, Gideon gets caught trying to get off the planet, having only packed her sword and dirty magazines. Harrow makes Gideon a deal: The Emperor has issued a summons to each heir of the Nine Houses. The heir, accompanied by their cavalier, is to compete in a deadly trial of wits and skill. The winner will be made immortal. The rest will die. Harrow promises Gideon that if she accompanies her to the First House, she will give Gideon her freedom. If they win, that is. If they don't win, they'll be dead, so the deal won't really matter, will it?
Gideon agrees, because she's tired of hanging around in Deathland, and so they take a shuttle to the First House, a giant, decaying structure. Here they meet the necromancer and cavalier for each of the other houses. Teacher, their host and guide, shows them to their quarters, and explains the simple rules. You must solve the puzzles of the house to win. And don't open any door you haven't been given permission to open. That's it. Sounds easy, right? Except no one knows what the puzzles might be, the building is filled with haunted souls and monsters, and someone (or something) has started murdering the heirs. Will sworn enemies Harrow and Gideon succeed in working together without being killed – or killing each other?
This is the wildest, funniest, most inventive fantasy book I think I have ever read. If I had to guess, I would say the five most frequently used words are 'blood', 'bones', 'skeleton', 'sword', and 'death'. It's like an undead Westing Game. It's like Skeletor's wet dream. I could clearly imagine every vivid second of this book! And it's also sweet, and scary, and gross. Romance! Duels! Swimming pools! GAH. I am truly not doing it justice. You will just have to trust me, and mark it down now. You'll thank me later, I promise.
This is the first book in a series, and as Jenn said about her book last week, the ending wraps up very nicely and ties up all the major plot threads while leaving the door open for further adventures. There are going to be two more books in the trilogy. I CANNOT WAIT. Tamsyn Muir is a mad genius. I want to get this book tattooed on my face.
TL;DR: Lesbian necromancers and swordswomen in a spooky-ass space house. You're welcome.
And that's a wrap! You can find all of the books recommended in this newsletter on a handy Goodreads shelf. (I don't have the keys to the Goodreads account, but I'm sure Jenn will add Gideon when she gets back.) If you're interested in more science fiction and fantasy talk, you can catch Jenn and Sharifah on the SFF Yeah! podcast. If you want to check out more of my bookish enthusiasm, you can find me on All the Books! and All the Backlist!, or sharing tons of pictures of my cats and books on Instagram at @franzencomesalive. Be excellent to each other!