Hi Kid Lit Friends!
Happy new book Tuesday! There are SO MANY new releases today that it feels like a first-Tuesday-of-the-month! As always, if I've read a book and loved it, I marked it with a 
. Please note that all descriptions from Goodreads.
---
Sponsored by Story Monsters Ink magazine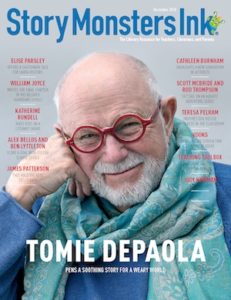 The award-winning literary resource for teachers, librarians, and parents. Story Monsters Ink® offers the latest news on popular and debut books, celebrity and indie author profiles, book reviews, reading lists, monthly columns by bestselling author James Patterson and Scholastic Book Clubs president Judy Newman, and more! It's a monster of a magazine, filled with great reads for growing minds.
---
Picture Books New Releases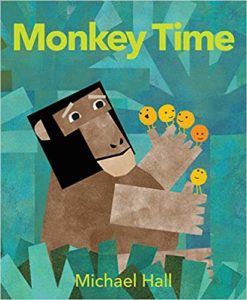 Monkey Time by Michael Hall
Meet monkey. Monkey is very curious about the brightly colored—and very tasty-looking—minutes on the minute tree in his forest. But can he catch one before it disappears? Playful, educational, and entertaining, this brightly illustrated book reinforces simple counting skills while introducing children to basic concepts about time, how time passes, and how time is measured. With illustrations full of engaging animals and a call-and-response text, and loads of rhythm, repetition, and humor, this is a great choice for family and story-time sharing.
 Bird Watch by Christie Matheson
There are treasures hiding in the trees! Can you find them? From the author of the acclaimed and bestselling Tap the Magic Tree, this stunning picture book merges basic math concepts with elements of a treasure hunt. With different species of birds and other forest animals hiding in the trees and bushes, there is something new to discover on every page. Patience is rewarded as readers learn to count backward from ten, meet new birds, and learn about the diverse ecosystem of the forest. Beautiful watercolor-and-collage art, a playful counting text, and a search-and-find theme will inspire children and parents to return to Bird Watch again and again.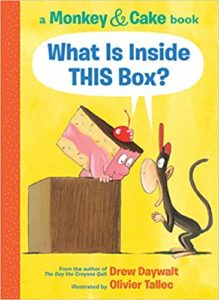 What Is Inside THIS Box? by Drew Daywalt, illustrated by Olivier Tallec
In this book, Monkey and Cake cannot agree what's inside Monkey's mysterious box. Is it a kitty? Is it a dinosaur? How will they find out — and what do you think is inside? With Daywalt's signature quirky style, the relatable humor of Elephant and Piggie, and the wise friendship of Frog and Toad, Monkey and Cake invites readers to laugh along and let their imaginations soar.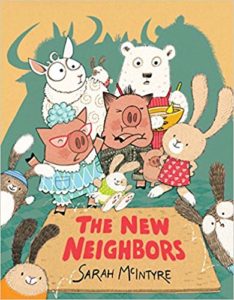 The New Neighbors by Sarah McIntyre
The bunnies upstairs are thrilled to find out that rats have moved into the first-floor apartment. But when other neighbors discover the news, excitement soon turns to jitters, panic, and worse! As the residents descend the stairs to investigate, the rats prepare a yummy dessert. Will all of the animals make the rats leave, or can fear be conquered with delicious, homemade cake?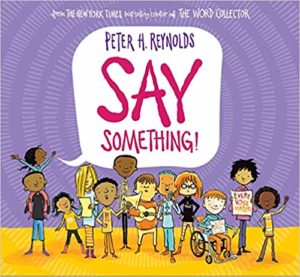 Say Something! by Peter H. Reynolds
In this empowering new picture book, beloved author Peter H. Reynolds explores the many ways that a single voice can make a difference. Each of us, each and every day, have the chance to say something: with our actions, our words, and our voices. Perfect for kid activists everywhere, this timely story reminds readers of the undeniable importance and power of their voice. There are so many ways to tell the world who you are… what you are thinking… and what you believe. And how you'll make it better. The time is now: SAY SOMETHING!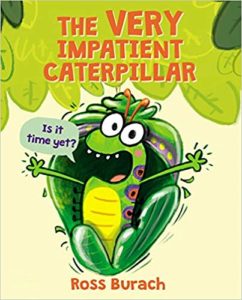 The Very Impatient Caterpillar by Ross Burach
HEY! What are you guys doing?
We're going to metamorphosize.
Meta-WHAT-now?
Transform into butterflies.
Right. Right. I knew that…
WAIT?! You're telling me I can become a BUTTERFLY?
Yes.
With wings?
Yes.
Wait for ME!!
Ross Burach's hilarious, tongue-in-cheek exploration of metamorphosis will make you flutter with glee, while also providing real facts about how caterpillars transform into butterflies.
Chapter Book New Releases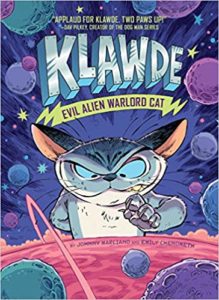 Klawde: Evil Alien Warlord Cat! by Johnny Marciano and Emily Chenoweth, illustrated by Robb Mommaerts
Klawde had everything. Sharp claws. Fine fur. And, being the High Commander of the planet Lyttyrboks, an entire world of warlike cats at his command. But when he is stripped of his feline throne, he is sentenced to the worst possible punishment: exile to a small planet in a quiet corner of the universe… named Earth. Raj had everything. A cool apartment in Brooklyn. Three friends who lived in his building. But when his mom gets a job in Elba, Oregon, and he is forced to move, all of that changes. It's now the beginning of summer, he has no friends, and he has joined a nature camp. It's only when his doorbell rings and he meets a furball of a cat that Raj begins to think maybe his luck is turning around…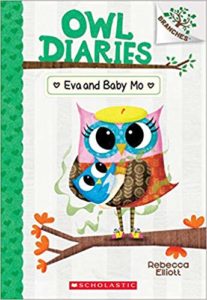 Owl Diaries: Eva and Baby Mo by Rebecca Elliott
Eva is excited to babysit her little brother, Mo. She and her friends prepare bug candy snacks, a puppet show, and a song to sing him to sleep. They are ready for ANYTHING! But soon, Eva discovers that taking care of a little baby is a BIG job. Can she put baby Mo to sleep before Mom and Dad get home?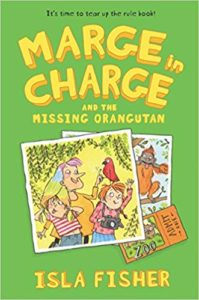 Marge in Charge and the Missing Orangutan by Isla Fisher
Marge, the rainbow-haired babysitter, returns! This tiny duchess has a trip planned for Jakey and Jemima Button—and she's going to break a lot of rules along the way. In these three hilarious stories, a trip to the zoo with Marge seems like a perfect adventure. But it might turn out to be a perfect disaster! When Jakey's tooth goes missing, a train gets stopped by a ferocious beast, and a favorite orangutan can't be found, it seems as if everything will be ruined. But if there's one thing Jakey and Jemima know, it's that even disasters are fun when Marge is in charge!
Middle Grade New Releases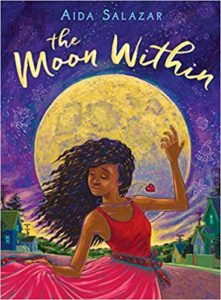 The Moon Within by Aida Salazar
Celi Rivera's life swirls with questions. About her changing body. Her first attraction to a boy. And her best friend's exploration of what it means to be genderfluid. But most of all, her mother's insistence she have a moon ceremony when her first period arrives. It's an ancestral Mexica ritual that Mima and her community have reclaimed, but Celi promises she will NOT be participating. Can she find the power within herself to take a stand for who she wants to be?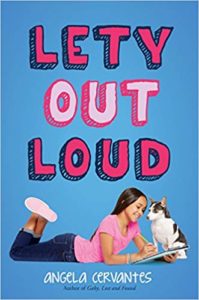 Lety Out Loud by Angela Cervantes
Lety Muñoz's first language is Spanish, and she likes to take her time putting her words together. She loves volunteering at the Furry Friends Animal Shelter because the dogs and cats there don't care if she can't always find the right word. When the shelter needs a volunteer to write animal profiles, Lety jumps at the chance. But grumpy classmate Hunter also wants to write profiles — so now they have to work as a team. Hunter's not much of a team player, though. He devises a secret competition to decide who will be the official shelter scribe. Lety reluctantly agrees, but she's worried that if the shelter finds out about the contest, they'll kick her out of the volunteer program. Then she'll never be able to adopt Spike, her favorite dog at the shelter!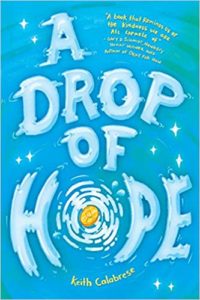 A Drop of Hope by Keith Calabrese
Times are tough. Jobs are scarce and miracles are in short supply. But something strange is happening in If Only, Ohio. An old well has suddenly, impossibly, begun to grant wishes. And three sixth graders are the only ones who know why. Ernest Wilmette believes a good deed makes magic happen. Ryan Hardy thinks they should just mind their own business. Lizzy MacComber believes in facts, not fairy tales. Of course, you don't have to believe in wishes to make one. As more wishes are made, the well's true secret gets harder and harder to keep. Ernest, Ryan, and Lizzy know they can't fix the world. But in their own little corner of it, they can give everyone a little hope… one wish at a time.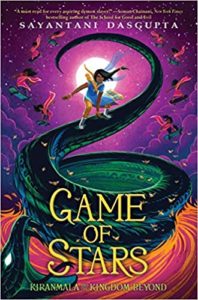 Game of Stars by Sayantani DasGupta
When the Demon Queen shows up in her bedroom, smelling of acid and surrounded by evil-looking bees, twelve-year-old Kiranmala is uninterested. After all, it's been weeks since she last heard from her friends in the Kingdom Beyond, the alternate dimension where she was born as an Indian princess. But after a call to action over an interdimensional television station and a visit with some all-seeing birds, Kiran decides that she has to once again return to her homeland, where society is fraying, a terrible game show reigns supreme, and friends and foes alike are in danger.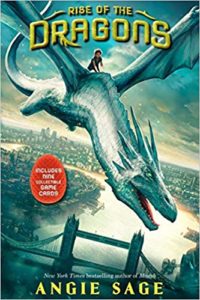 Rise of the Dragons by Angie Sage
Once our world was full of dragons who lived in harmony with humans. But after a group of rogue dragons, the Raptors, tried to take over Earth, all dragons were banished to another realm. Most humans forgot about the dragons, claiming they never existed. Eleven-year-old Sirin knows the truth — she grew up with stories passed down through the generations. However, when her mother falls ill, even Sirin has trouble believing in magic . . . until she sees a mysterious streak of silver in the night sky. Sirin becomes the first child to "lock" with a dragon in centuries — forming a deep friendship unlike anything she's ever imagined. But Sirin learns that not all dragons returned with good intentions, and soon she finds herself at the center of a battle between the dragons who want to protect the humans . . . and those who want to destroy them.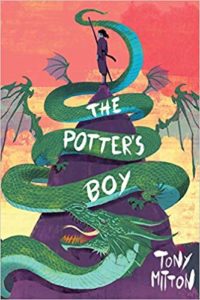 The Potter's Boy by Tony Mitton
Ryo was born the son of a potter, a fate that he is unsure of once a mysterious wanderer and trained fighter comes to his small village and protects them from a band of thieves. Inspired by the events, Ryo embarks on both a hero's quest and a quest to be a hero. Through his adventures, Ryo trains in the art of both fighting and mindfulness under the elusive Hermit of Cold Mountain. On his journey, he learns the art of stillness, the body's relationship to nature, and the art of controlling one's emotions in order to find his path in life. But when tragedy strikes the group, and the way of life that Ryo knows, he must use what he's learned to do what is right for himself and his future.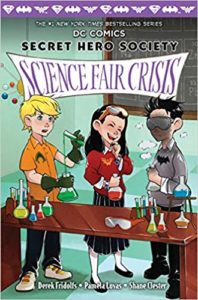 DR Comics Secret Hero Society: Science Fair Crisis by Derek Fridolfs, Pamela Lovas, Shane Clester
Clark Kent (Superman), Bruce Wayne (Batman), and Diana Prince (Wonder Woman) are starting a new school year at Justice Prep. This semester, everyone is focusing on their science projects: Principal James Gordon announced that the winner of the upcoming science fair gets an all-inclusive trip to the new S.T.A.R. Laboratories space facility. As the fair draws closer, the students receive a text message from a mysterious, untraceable number saying: "if you help me, I can help YOU win the science fair!" Just who is behind this mystery number, and what do they have to do with the science fair? It's up to Clark, Diana, and Bruce's Junior Detectives Club to find out!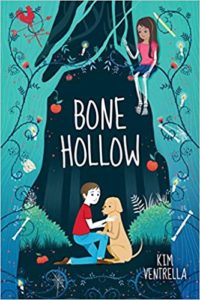 Bone Hollow by Kim Ventrella
Gabe knows it was foolish to save that chicken. Yet Gabe also knows that his guardian, Ms. Cleo, loves the chicken more than him. After falling off the roof, Gabe wakes up to find his neighbors staring at him tearfully. It's almost as if they think he's dead. But Gabe's NOT dead. He feels fine! So why does everyone scream in terror when he shows up to his own funeral? Gabe flees with his dog, Ollie. So when a mysterious girl named Wynne offers to let Gabe stay at her cozy house, he gratefully accepts and makes a mind-blowing discovery. Wynne is Death and has been for thousands of years. Even more shocking . . . she's convinced that Gabe is destined to replace her.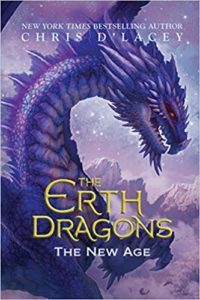 The Erth Dragons: The New Age by Chris D'Lacey
From Erth to the dragon homeworld, Ki:mera, everything has been forever changed by the meeting of dragons and humans. Their fates have become inextricably intertwined — and their story will transform the very fabric of time. Ren, the human boy, now has unprecedented powers. With his control of a magical horse, his abilities scare even the Wearle's most formidable dragons. Yet the dragons fear the rise of the dark dragon Graven even more, and rumors run rampant that the dragons who came first may have known more than anyone realized.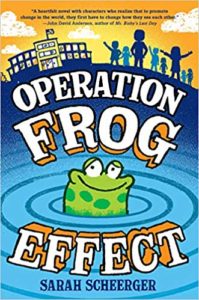 Operation Frog Effect by Sarah Scheerger
Everyone makes mistakes. But what happens when your mistake hurts someone else? Told in eight perspectives–including one in graphic novel form, Operation Frog Effect celebrates standing up and standing together, and tells the unforgettable story of how eight very different kids take responsibility for their actions and unite for a cause they all believe in.
Graphic Novel New Releases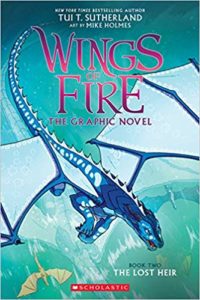 Wings of Fire: The Graphic Novel The Lost Heir by Tui T. Sutherland, art by Mike Holmes
The lost heir to the SeaWing throne is going home at last. She can't believe it's finally happening. Tsunami and her fellow dragonets of destiny are journeying under the water to the great SeaWing Kingdom. Stolen as an egg from the royal hatchery, Tsunami is eager to meet her future subjects and reunite with her mother, Queen Coral. But Tsunami's triumphant return doesn't go quite the way she'd imagined. Queen Coral welcomes her with open wings, but a mysterious assassin has been killing off the queen's heirs for years, and Tsunami may be the next target. The dragonets came to the SeaWings for protection, but this ocean hides secrets, betrayal — and perhaps even death.
Nonfiction New Releases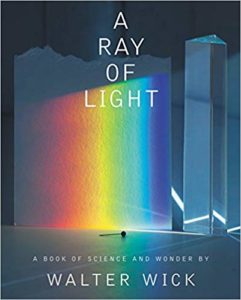 A Ray of Light by Walter Wick
The wonder of light has fascinated readers for ages. Walter Wick's mesmerizing photographs paired with simple yet fascinating text and scientific observations help readers understand the secrets and complexity of light. You will learn what light is made of and how it fits alongside everything else in the world. Walter introduces readers into the mystery behind incandescence, light waves, the color spectrum, and iridescence as well as how we perceive light in our world and beyond. Walter Wick demonstrates that science and art both offer ways to observe the world around us.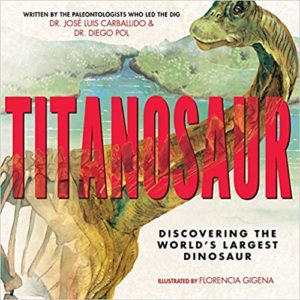 Titanosaur: Discovering the World's Largest Dinosaur by Dr. Jose Luis Carballido and Dr. Diego Pol, illustrated by Florencia Gigena
This book tells the story of the discovery of this new dinosaur from the mouths of the paleontologists who led the dig! From its discovery by a local herder, to the organization and completion of the excavation, this riveting story will have readers on the edge of their seats, and the beautifully painted illustrations will mesmerize. The final spread will open up into a gatefold showing a photograph of the full Titanosaur skeleton on display at the museum. Chock-full of back matter like a glossary and extra information and photographs from the dig, and an inside jacket poster of the Titanosaur, kids of all ages will devour this book.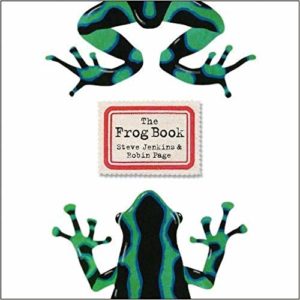 The Frog Book by Steve Jenkins & Robin Page
Long legs, sticky tongues, big round eyes, and other dazzling features—what's not to love about frogs? Caldecott Honor–winning team Steve Jenkins and Robin Page explore one of the world's most diverse—and most threatened—animals. With more than 5,000 different frog species on the planet, in every color of the rainbow and a vast number of vivid patterns, no creatures are more fascinating to learn about or look at. Jenkins and Page present a stunning array of these intriguing amphibians and the many amazing adaptations they have made to survive.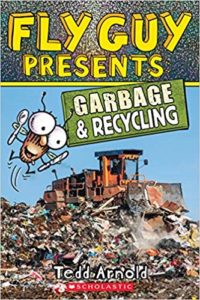 Fly Guy Presents Garbage and Recycling by Tedd Arnold
Fly Guy and Buzz visit a landfill to discover where their garbage goes. They learn all about garbage trucks, trash sorting, bacteria, and how landfills can be more environmentally friendly. They also visit a recycling plant to learn about how recycling programs get started, the recycling cycle, and what happens when trash isn't properly disposed of. There are even tips for how readers can help keep our planet healthy!
I would love to know what you are reading this week! Find me on Twitter at @KarinaYanGlaser, on Instagram at @KarinaIsReadingAndWriting, or email me at karina@bookriot.com.
Until next time!
Karina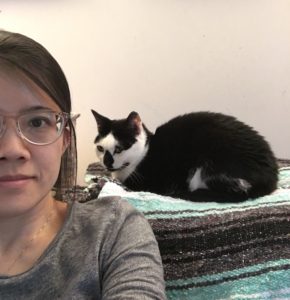 Annabelle is overseeing newsletter today.

*If this e-mail was forwarded to you, follow this link to subscribe to "The Kids Are All Right" newsletter and other fabulous Book Riot newsletters for your own customized e-mail delivery. Thank you!*