Hello and happy Friday, Fair Folk and Fremen! Today we've got some reading lists, a superhero with bipolar disorder, a queer classic, a review of A Big Ship At the Edge of the Universe by Alex White, and more.
---
This newsletter is sponsored by Flatiron Books.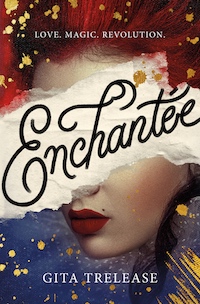 After her parents die, Camille must find a way to provide for her sister by transforming scraps of metal into money. But soon she begins to pursue a more dangerous mark: the court of Louis XVI and Marie Antoinette. Camille transforms herself into a baroness and is swept up into life at Versailles. She meets a handsome young inventor, and begins to believe that love and liberty may both be possible. But magic has costs, and when revolution erupts, Camille must choose—before Paris burns.
---
Love you some magic and modernity? Here's a great round-up of fantasy with modern elements.
Here's a nice piece with the writer from The Unstoppable Wasp, on Nadia Van Dyne coping with bipolar disorder.
I'm super excited that Hadriana in All My Dreams (which I loved) made it into the on-going QUILTBAG+ Speculative Classics column on Tor.com!
Speculatively-related, the 2019 Read Harder includes a task to read a book of mythology or folklore, and here are some suggestions.
I talked about female time-travelers on Tuesday, and if you need more here's a round-up.
With great power comes great responsibility, and here are eight books about magic wielders grappling with that!
Everyone is very hype about this bot's writing ability; while I will grant you that the quoted Lord of the Rings-inspired scene is passable (barely) in terms of just basic writing, I can't help but side-eye the assertion that anyone would mistake it for Tolkien's writing.
Anyway! On to today's review, which is a 10-lb plot in a 5-lb book, in a very satisfying way.
A Big Ship at the Edge of the Universe by Alex White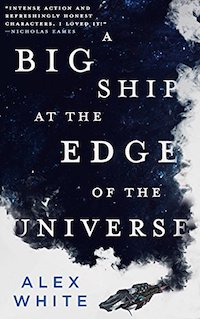 Do you need some big, explosion-y fun with a diverse found-family crew of an outer-space starship trying to save the galaxy? Have I got a book for you. I have been describing this book as what might happen if you took some Murderbot and some Firefly and some Fast & Furious and added magic and upped the inclusivity, and I stand by it. (There's a lot going on, y'all.)
Our two narrators couldn't be more different. Nilah is an intergalactically famous race car driver with a literal magic touch, poised to become a champion and loving the limelight; Elizabeth, a.k.a. Boots, is the veteran of a horrible interplanetary conflict, is currently a con-artist, and faces constant prejudice because she's one of the few humans who doesn't have any magic at all (Muggles being rare in this 'verse). When one of Nilah's competitors buys a treasure map from Boots that gets him killed and Nilah accused of the murder, their paths cross, people start getting shot, and then more people start to die. What exactly is it about the fabled warship Harrow that someone is trying to keep secret? Boots, Nilah, and the crew of the Capricious might get killed anyway, so they might as well try to find out.
I really enjoyed this; White writes action well, and gleefully combines space opera and magic. I love the idea of a mechanic-mage almost as much as I love cranky, crochety, scarred, magic-less Boots, who grumped her way right into my heart. White has also clearly considered the ramifications of his world-building, exploring the injustices and inequities that might exist as well as the joys and treasures. Nilah's journey from a pampered, albeit hard-working, diva to a member of the crew was a nice counterpoint to Boots, who is trying her mightiest to stay an outsider. The Big Bad is very big and very bad indeed, and it's easy to root for these big-hearted, all too human characters.
While this is the first book in a series, the ending wraps up very nicely; White ties up all the major plot threads while leaving the door open for further adventures. The bonus here is that Book 2, A Bad Deal For the Whole Galaxy, is already out! Book 3 is slated for 2020, so don't barge through them too fast.
And that's a wrap! You can find all of the books recommended in this newsletter on a handy Goodreads shelf. If you're interested in more science fiction and fantasy talk, you can catch me and my co-host Sharifah on the SFF Yeah! podcast. For many many more book recommendations you can find me on the Get Booked podcast with the inimitable Amanda, or on Twitter as jennIRL.
Your fellow booknerd,
Jenn