Hola, Audiophiles!
Well, I've managed to stay healthy for two weeks in a row now, so I'm feeling pretty proud of myself! I'm back to eating solid foods, being able to taste said food, and of course: audiobooking! Can't tell you how great it is to throw on my latest listen and not almost instantly give way to fatigue. It also helps that my latest listens have been pretty damn riveting.
Let's talk about that, shall we?
---
Sponsored by Princeton University Press Audio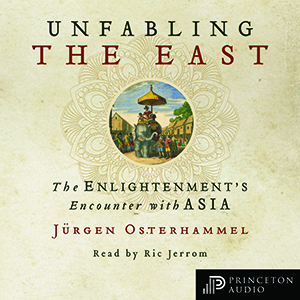 During the long eighteenth century, Europe's travelers, scholars, and intellectuals looked to Asia in a spirit of puzzlement, irony, and openness. In this panoramic and colorful book, Jürgen Osterhammel tells the story of the European Enlightenment's nuanced encounter with the great civilizations of the East, from the Ottoman Empire and India to China and Japan. Start Listening Now!
---
 Latest Listen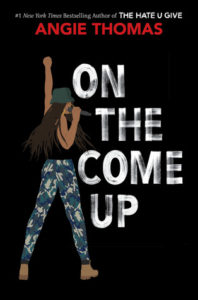 So after all the indecision from last week, I ended up going with On the Come Up by Angie Thomas. Wow. Just wow. Miss Thomas took a good, long look at Sophomore Novel Syndrome, chucked up the deuces, and went about her badass, chart-topping writer way. I know this is a mouthful because The Hate U Give was brilliant but I think… I might… like this one… even… more!?
We need to talk about the narrator here, Bahni Turpin, who just does Angie Thomas' characters so right. I loved her in The Hate U Give but the life she breathes into Bri in On the Come Up gave me chills more than a few times. The teenage angst, the raw emotion, the inspired delivery of Bri's raps, even the know-it-all, hothead attitude that sometimes makes you want to shake Bri until you remember that teens are gonna teen. Turpin masters every other characters' angle with ease too: there's contrast without gimmick, dialect without schtick. If you see her name in an audiobook, consider yourself in good hands.
Side note: I definitely walked around last week rapping to myself, "You can't stop me on the come up! You can't stop me! Nope! Nope!"
Listens on Deck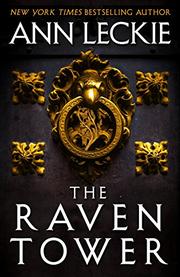 I just started listening to Anne Leckie's The Raven Tower which is out on 2/26 from Hachette Audio. While I'm only about a quarter in, this listen has made me go, "Wait – que!?" at least a dozen times, which I suppose I should have expected when the author has won the Hugo, Nebula, and Arthur C. Clarke Awards.
So much is happening! The god known as the Raven has protected the kingdom of Iraden for centuries. Perched atop a tower in the port city of Vastai, he speaks through a living bird called the Instrument and rules via a human ruler of his choosing known as the Raven's Lease. The Lease is a powerful position no doubt, but it comes with a little caveat; see, when the Raven's Instrument dies, so must the Lease; it's the Lease's blood sacrifice that feeds the Raven's power.
In theory all of this blood sacrifice stuff should keep things in order, but something wicked this way comes in the form of a throne usurper. The Raven's power is waning, Iraden's borders are being tested by shady invaders, and those invaders have made pacts with other gods to disrupt the peace and prosperity in Vastai. The true heir Mawat must try and retake the throne, but things keep getting twistier as secrets from a dark history unfold.
There's also the fact that I'm *pretty* sure the narrator here is a rock. Like an actual rock, a boulder, but the rock is also a god. So many questions! Stay tuned.
From the Internets
Acts of Distraction – The Washington Post suggests three great audiobooks to distract you from reality, because that is a much nicer way of saying, "Read These Books to Forget About the Garbage Fire!!!!!" These listens do all sound pretty riveting: a little murder, a little culture clash, and a crash course on Native American history/counternarrative to Bury My Heart at Wounded Knee.
Over at the Riot
Audie Riot Rundown – I know I mentioned the Audies last week, but the buzz keeps on growing! The full list of nominees across all twenty four categories can be a little overwhelming; Rioter Romeo has highlighted a few finalists from each category to get you a little more in the know.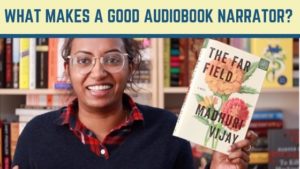 Narrator Chat – Last week on the Book Riot YouTube channel, Rincey talked about audiobook narrators and what makes a good one (or a bad one!). I totally felt what she said about the fine line that is inflection (or for me: accents!!): it takes a very specific skill to know how to deploy each deftly without a whole lot of distracting overkill! Also, someone in the comments mentioned Bahni Turpin and so here I am again, cosigning so hard on her greatness!
Narrator Faves – Apparently this is a good week to talk narrator faves! Here's a great post about one Rioter's narrator hall of fame with examples of some of their best work for each. This is a seriously fantastic list with many names that I recognized, and a few that I hadn't realized I was already a fan of! And yes, Bahni Turpin sure did make the list because #duh.
---
That's all I got today! Shoot me an email at vanessa@riotnewmedia.com with audiobook feedback & questions or find me on Twitter and the gram @buenosdiazsd. Sign up for the In The Club newsletter, peep the Read Harder podcast, and watch me booktube every Friday too!
Stay bad & bookish, my friends.
Vanessa