Hola, Audiophiles!
I already quoted the opening lines to Madonna's Like A Virgin in this week's In the Club but I'm about to do it again! I really did make it through the wilderness! Somehow I made it through!
I am so relieved to be rid of the swine flu, I could cry. I want to hug every person I see in the street and slip them goodie bags of Emergen-C, zinc, and oregano oil. Thank you all for sticking by me while I went on about that mess for nine whole weeks! I think I've finally–like for real this time–turned the corner and am ready to get back to my regular, healthy, not-dependent-on-steroids-and-an-inhaler self.
So! Let's audio!
---
Sponsored by Princeton University Press Audio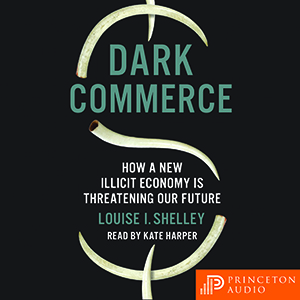 Though mankind has traded tangible goods for millennia, recent technology has changed the fundamentals of trade, in both legitimate and illegal economies. In the past three decades, the most advanced forms of illicit trade have broken with all historical precedents and, as Dark Commerce shows, now operate as if on steroids, tied to computers and social media. In this new world of illicit commerce, which benefits states and diverse participants, trade is impersonal and anonymized, and vast profits are made in short periods with limited accountability to sellers, intermediaries, and purchasers. Start Listening Now!
---
Latest Listen
The honest truth? Swine flu made me too sick even for audiobooks. I spent most of that dark period falling in and out of sleep, coughing up a lung, and wondering what series of life choices I'd made to bring such prolonged exposure to the plague upon myself. Pretty sure I caught myself singing, "Nobody knows the trouble I've seen…" at least once and mos def looked up local curanderas to chase away the evil spirits. Dios mio, it was… dramatic.
Before the 102 degree fevers though, I'd been listening to Jewell Parker Rhodes' Ghost Boys on audio as research for the Read Harder podcast. This story of a young boy who dies when he's shot by a police officer and comes back as a ghost got me square in the feel box, especially when that boy ends up meeting other ghost boys like him and one of them is Emmett Till. This Walter Award winner (hellooo Read Harder task #22!) is a beautiful and heartbreaking history lesson and a must-listen for young readers and adults trying to make sense of so much tragedy. The audio messed me up, fam, but in the best and most necessary way.
Listens on Deck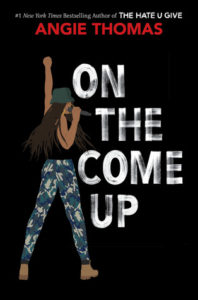 I have been trying to pick my nest listen for a solid two days and am facing major analysis paralysis over here! I'm thinking it's either going to be Angie Thomas' much anticipated On the Come Up or Lyndsay Faye's The Paragon Hotel. Who to spend time with first? Do I follow along while young Bri tries to make it as an MC in spite of so many impossible obstacles, or do I embark on a journey with Alice "Nobody" from Prohibition-era Harlem to Portland's Paragon Hotel? DECISIONS!! Oh, what's that? I can listen to one, and then… the other? Oh yeah. Good point.
From the Internets
Get the Audie Started – If you haven't heard of the The Audies, it's time you get hip to these awesome awards celebrating the best in spoken word entertainment. Since audiobooks are quickly becoming the fastest growing segment in publishing, this year is shaping up to become the biggest year ever for audiobookin'!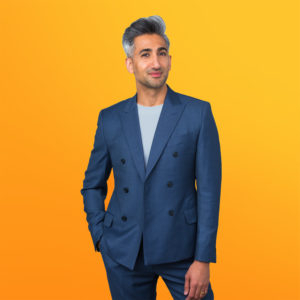 This year, the award show is getting a makeover of sorts and Queer Eye's adorable Tan France (who will soon narrate his own Naturally Tan: A Memoir) is set to host! A panel of industry personalities will serve as judges for the Audiobook of the Year category, whose nominees include Sally Field, Megan Mullally, Nick Offerman, Leslie Odom, Jr., Emma Thompson, Rosario Dawson, Joanne Froggatt, Amber Tamblyn, Joe Biden and tons more.
Black History Listens – Bustle recently shared this list of audiobooks to listen to this Black History Month. I cosign all of these fantastic titles, which do everything from educate to illuminate and hilariate. Yeah… that last one isn't a word but seriously? Born A Crime will manage to make you cry-laugh while teaching you a lot you probs didn't know about South African apartheid.
The Dreamwork of Audio Team Work – I've often wondered whether authors and narrators see themselves as part of a team, especially when a particular narrator is tapped to narrate multiple of an author's works. This piece from the Washington Post speaks to the bond that apparently does often exist between authors and audiobook narrators.
Over at the Riot
For Those Listening Slumps – Whether you're bored, overwhelmed with choices, or crying in a corner from body aches and fevers like I was, sometimes a reading – and listening- slump is unavoidable. It's ok, take a breather; this list of podcasts make excellent company while you find your way back to ze books.
---
That's all I got today! Shoot me an email at vanessa@riotnewmedia.com with audiobook feedback & questions or find me on Twitter and the gram @buenosdiazsd. Sign up for the In The Club newsletter, peep the Read Harder podcast, and watch me booktube every Friday too!
Stay bad & bookish, my friends.
Vanessa