Today's Riot Rundown is sponsored by 99 Percent Mine by Sally Thorne, published by William Morrow.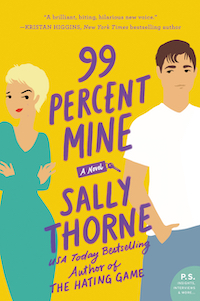 From the author of The Hating Game comes a new romantic comedy about two twins struggling over an inheritance, and the sexy best friend who gets in the middle.
Darcy Barrett met her dream man when she was eight years old, and the rest of the male population has been a letdown ever since. No one measures up to Tom Valeska whose only flaw is that her twin brother, Jamie, saw him first, and claimed him forever as his best friend.
Tom's off limits and loyal to Jamie 99%, and for Darcy, one percent of him used to be enough.
But this time around, she's switching things up…