Hey, kid lit fans!
Whew, there are a LOT of new releases today! We've got picture book, chapter books, middle grade books, and nonfiction books all ready to flood your TBR piles. Check these out and let me know which look good to you. As usual, if there is a book I have read and loved, I'll mark it with a
.
*Please note that all book descriptions are from Goodreads.
---
Sponsored by Simon & Schuster Childrens Publishing
In this gorgeously illustrated picture book, the universally loved song "All You Need Is Love" by John Lennon and Paul McCartney comes vividly to life, showing that if we follow the music we will see there is indeed love all around us.
---
Picture Books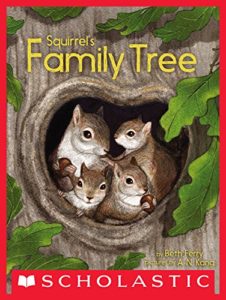 Squirrel's Family Tree by Beth Ferry, illustrated by Oliver Tallex
What makes an oak tree an oak tree and what makes a squirrel a squirrel? In Squirrel's Family Tree, things aren't always what they seem. As squirrel searches for, finds, and hides her acorn treasures beneath the shadows of the great oak trees in the forest, little does she know the role she plays in creating the very environment she forages in.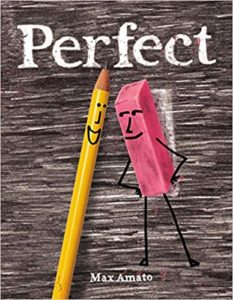 Perfect by Max Amato
In this funny and light-hearted picture book, a fussy eraser tries to keep the pages clean by erasing the scribbles of a mischievous pencil. But before long, the eraser discovers what can happen when two opposing forces come together to have fun. With humor and a keen eye for play, Max Amato crafts a delightful story that reveals the joys of collaborative imagination.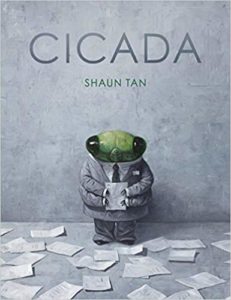 Cicada by Shaun Tan
Cicada tells the story of a hardworking little cicada who is completely unappreciated for what he does. But in the end, just when you think he's given up, he makes a transformation into something ineffably beautiful. A metaphor for growing up? A bit of inspiration for the unappreciated striver in all of us? Yes, yes, and more.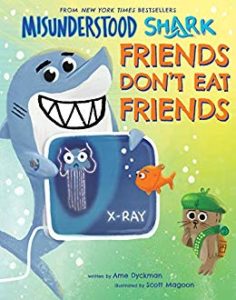 Misunderstood Shark: Friends Don't Eat Friends by Ame Dyckman, illustrated by Scott Magoon
Bob is already irate that Shark has eaten him, but when Shark doesn't admit to eating him, Bob is so mad he declares that the ocean isn't big enough for both of them! Friends Don't Eat Friends is exploding with over-the-top humor and awesome marine facts! Join Shark and the gang for another story and find out if Shark learns his lesson about friendship, or if he really is just misunderstood–again!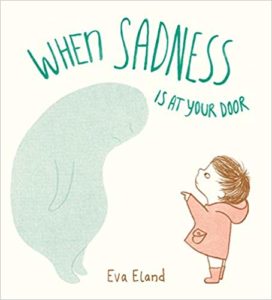 When Sadness is at Your Door by Eva Eland
In When Sadness Is at Your Door, Eva Eland brilliantly approaches this feeling as if it is a visitor. She gives it a shape and a face, and encourages the reader to give it a name, all of which helps to demystify it and distinguish it from ourselves. She suggests activities to do with it, like sitting quietly, drawing, and going outside for a walk. The beauty of this approach is in the respect the book has for the feeling, and the absence of a narrative that encourages the reader to "get over" it or indicates that it's "bad," both of which are anxiety-producing notions.
Chapter Books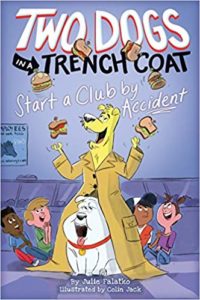 Two Dogs in a Trench Coat Start a Club by Accident by Julie Falatko, illustrated by Colin Jack
Sassy and Waldo love school! Everything smells like meat and dirty socks! And they love being able to help Stewart. When Stewart has to stay late after school for a Junior Office Supply Enthusiasts meeting, Sassy and Waldo are left alone to raid the cafeteria's refrigerator. As Sassy and Waldo's after school antics escalate, hilarity ensues as the two dogs start a club…by accident.
The Big Idea Gang: Everybody Needs a Buddy by James Preller
When third-graders Deon, Kym, Lizzy, and Connor formed the Big Idea Gang, their mission was simply to oust the old mascot in favor of something cooler. But sales from the new mascot paraphernalia have led to extra cash for the PTA, and you can bet this gang has big ideas about how to spend it. A playground pirate ship! An author visit! New basketball hoops! There are lots of ways they can think of to improve their school; but what about a way to make it a kinder, more inclusive place?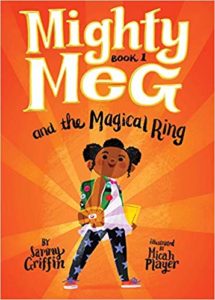 Mighty Meg and the Magical Ring by Sammy Griffin, illustrated by Micah Player
Meg's life is turned upside down when a magical ring gives her superpowers! But Meg isn't the only one who changes. Strange things start happening in her once-normal town, and now Meg must use her brand-new superpowers to keep everyone safe.
Can Meg master her new powers and find the courage to be the hero her town needs?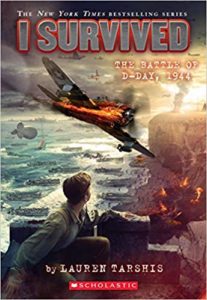 I Survived: The Battle of D-Day, 1944 by Lauren Tarshis
In commemoration of the 75th anniversary of D-Day, Lauren Tarshis shines a spotlight on the story of the Normandy landings, the largest seaborne invasion in history and foundation for the Allied victory in World War II.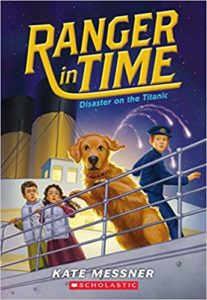 Ranger in Time: Disaster on the Titanic by Kate Messner
Everyone says the Titanic is unsinkable, and Patrick Murphy believes this most of all. He grew up near the shipyard where the magnificent ship was built and officially started working there when he turned thirteen. He's even been chosen to be part of the crew during the Titanic's maiden voyage! But one night, the ship hits an iceberg and starts to take on water. It's a race against time for Ranger and his friends to help get as many passengers — including themselves — off the ship before it's too late.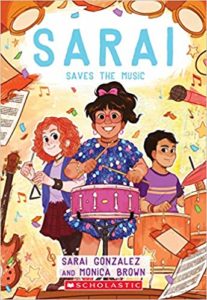 Sarai Saves the Music by Sarai Gonzalez and Monica Brown
They're cutting funding at Sarai's school and her band program is the first to go. That is totally not okay with Sarai. She decides to organize a benefit concert to raise money! When she and her bandmates promote the concert on their video channel, it catches the attention of Sarai's favorite singer, Sparkles Sanchez! Can Sarai save the music?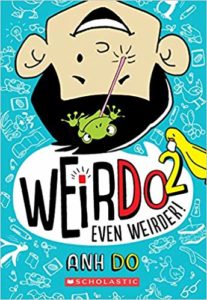 Even Weirder (Weirdo2) by Anh Do
Weir's back and even weirder! But it's not just Weir who's weird, it's his whole family. Not even their pet bird is normal! How will he keep cool with a school trip to the zoo coming up AND the birthday party of his biggest crush?! It won't be easy . . . but it will be funny!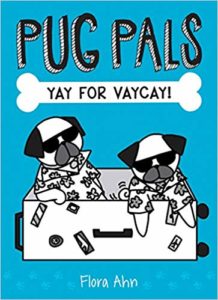 Pug Pals: Yay for Vacay! by Flora Ahn
Sunny and Rosy's human is going on vacation and it's NO DOGS ALLOWED. But they don't mind — they're headed to Grandma and Grandpa's house for unlimited snuggles and as many pug snacks as they can eat. But when a mystery animal destroys Grandma's garden, the pugs get blamed. It's all paws on deck to clear their names. If they don't, their pugtastic vacay will be ruined!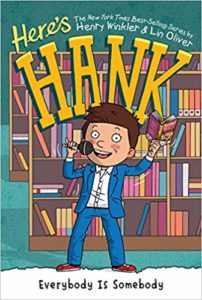 Here's Hank: Everybody is Somebody by Henry Winkler and Lin Oliver
When a well-known author of a beloved book series visits Hank's school, he and his two best friends get the chance to be her guide for the day and introduce her at an assembly. But Hank, embarrassed by his struggles with reading, tries to hide the fact that he's never actually finished reading the author's books–or any book, for that matter! So Hank gets creative and makes up his own version of the story. But will everyone be able to tell fact from fiction?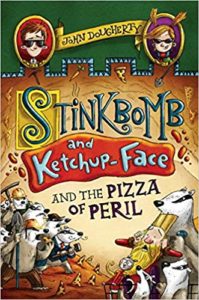 Stinkbomb and Ketchup-Face and the Pizza Peril by John Dougherty
The rascally BADgers have escaped from jail again and they made an amazing discovery–a pizza mine! They love eating it, of course, and selling it to make money to fund their villainous plots. But there's a big problem: the Loose Pebbles library is tipping over without all that pizza to hold it up. And if it tips any farther, the entire island of Great Kerfuffle will flip over into the ocean!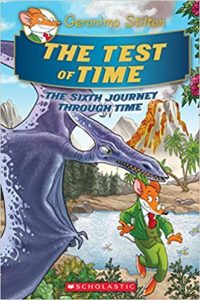 The Test of Time: The Sixth Journey Through Time by Geronimo Stilton
I, Geronimo Stilton, found myself traveling through time once again! While testing his latest time machine, Professor von Volt accidently brought some history into the present. My friends and I climb into the new time machine to take them back in time. But we aren't sure the new machine works perfectly! Can we return everyone to their proper place in time and make it back in one piece?
Middle Grade Books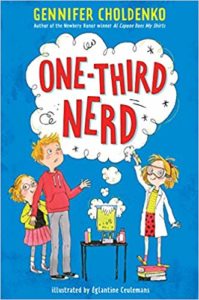 One-Third Nerd by Gennifer Choldenko
Fifth grade is not for amateurs, according to Liam. Luckily, he knows that being more than one-third nerd is not cool. Liam lives in the Bay area near San Francisco with his mom and two younger sisters. And then there's Cupcake, their lovable German shepherd, who guards their basement apartment. Recently, Cupcake has a problem–she's peeing in the house. The kids need to make enough money to take her to the vet before their landlord upstairs finds out. And Mom and Dad have said if Cupcake doesn't stop, they will find her a new home. But the kids will never let Cupcake go. Can they save her?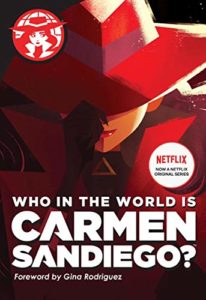 Who in the World is Carmen Sandiego?
A skilled thief on a mysterious mission, Carmen Sandiego is endlessly pursued by ACME and Interpol. But the woman in the red fedora is always one step ahead! In this novelization, based on the Netflix animated series, Carmen shares her own backstory for the first time ever. Now, it's time to find out…. Who in the world is Carmen Sandiego.
The Ice Garden by Guy Jones
Jess's imagination has always been her best friend. She's trained it to feel as real as it possibly can, especially in the stories she writes for Davie — the young boy in a coma who is her only friend. But nothing is as real as the world she'll find. One night, tired of peeking at the other children beyond her curtained house, she sneaks out to explore the empty playground she's longed to visit. Beyond, she discovers a garden made entirely of ice. But Jess soon discovers that she's not alone. And her presence there could be destroying its very existence.
The End of the World and Beyond by Avi
Convicted of thievery and transported from England to America, Oliver Cromwell Pitts, shackled to his fellow prisoners, endures inedible food, filthy conditions, and deadly storms on his voyage across the Atlantic. But the hazardous shipboard journey is nothing compared to the peril that waits for him on the colonial shores.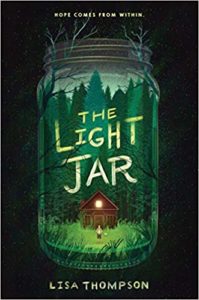 The Light Jar by Lisa Thompson
Nate and his mother are running away. Fleeing from an emotionally abusive situation, they hide out in an abandoned cottage in the middle of a forest. Though it's old and run-down, at least it's a place of their own. Then Nate's mother heads off for groceries and doesn't return. Has she run into trouble, or simply abandoned him? He is left alone and afraid, with the dark closing in on him. Will Nate find the bravery he needs to face down his fears, survive on his own, and ultimately illuminate his future?
Freya and Zoose by Emily Butler, illustrated by Jennifer Thermes
Freya has always craved–and feared–adventure. Traipsing all over the world is simply not what dignified rockhopper penguins do. But when she hears about Captain Salomon August Andrée's hot-air balloon expedition to the North Pole, Freya packs her copy of Hints to Lady Travellers and hops on board. Only moments after leaving land, Freya discovers a fellow stowaway! Meet Zoose, the scrappy, uncouth mouse whose endless wisecracks and despicable manners make him a less-than-ideal travel companion.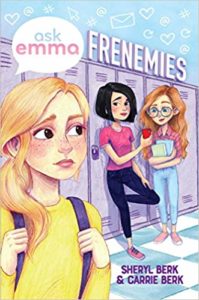 Ask Emma: Frenemies by Sheryl Berk and Carrie Berk
Emma Woods is used to speaking her mind. She does it every day on her blog, Ask Emma. When her classmates at Austen Middle have a problem, Emma has an opinion on how to fix it. So when she learns her crush, Jackson Knight, is going to Washington, DC, to attend the National Student Congress, Emma is upset that she wasn't picked as a representative. When Principal Bates tells Emma the NSC needs students who are calm, cool, and collected—and neutral—Emma vows to be just that for forty-eight hours to prove to Mrs. Bates that she can do it.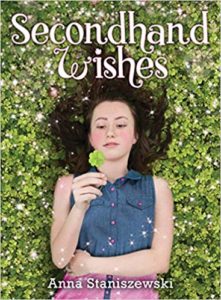 Secondhand Wishes by Anna Staniszewski
Lexi has to keep the universe in balance. If she does enough good things, like being on time, then the bad things, like her little brother needing more surgery, won't happen. It doesn't always work, but she has to keep trying. Just in case. On an extra bad day, Lexi finds a bag of four wishing stones in the antique shop in town, and wishes that her BFF Cassa and the new girl would stop talking to each other. That night, Cassa calls Lexi, crying over the end of her friendship with Marina. The wishes work!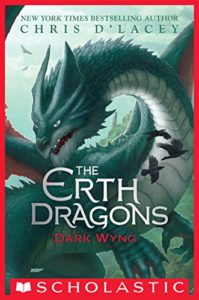 The Erth Dragons: Dark Wyng by Chris D'Lacey
The dragon Wearle is in turmoil: A human boy named Ren has bonded with a pair of baby dragons, and their connection has given him shocking and extraordinary new powers. Though some of the dragons suspect he is plotting against the Wearle, his dragon allies will do anything to save him. But Ren has an agenda of his own.
Nonfiction Books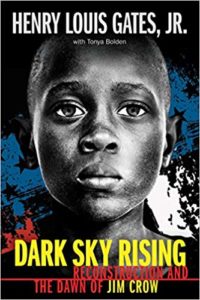 Dark Sky Rising: Reconstruction and the Dawn of Jim Crow by Henry Louis Gates, Jr. with Tonya Bolden
This is a story about America during and after Reconstruction, one of history's most pivotal and misunderstood chapters. In a stirring account of emancipation, the struggle for citizenship and national reunion, and the advent of racial segregation, the renowned Harvard scholar delivers a book that is illuminating and timely. Real-life accounts drive the narrative, spanning the half century between the Civil War and Birth of a Nation.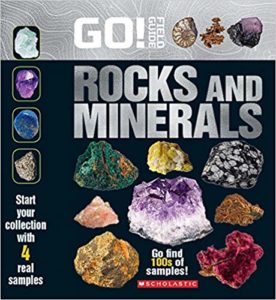 Go! Field Guide: Rocks and Minerals
The Go! Field Guide: Rocks and Minerals kicks off Scholastic's definitive new field guide series. With 160 pages of color photos and facts, and a durable format that's ready to take out into the world, these field guides will get kids off their screens and exploring outside. Rocks and Minerals helps young researchers get started by learning the tools of the trade and setting expectations.
Graphic Novels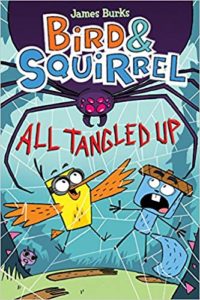 Bird & Squirrel: All Tangled Up by James Burks
When Red has to go spend the night helping Grandmole, Bird and Squirrel are put in charge of taking care of Squirrel's daughter, Birdie. But Birdie wants to go with her mom because staying home is so BORING! So Bird convinces Squirrel (despite his better judgment) to have some fun while Red is gone. And as far as Bird is concerned, nothing is more fun than setting off in search of the most elusive creature of the forest: Bigfoot!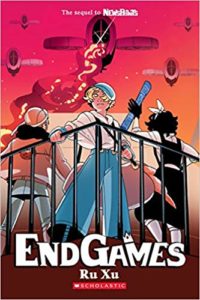 End Games by Ru Xu
Blue arrives in the capital city of Altalus, where she is determined to find her friend Crow, the boy who was created to be a flying war machine, and Jack, the engineer who built him. But soon she is inadvertently kidnapped by Snow and Red, twins from the enemy side of their ten-year war. They set off on a dangerous adventure that brings them to the front lines of the war, and eventually realize that they must work together to help end it.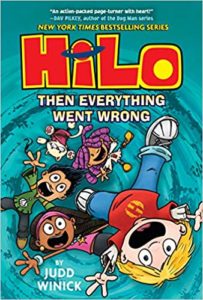 HiLo Then Everything Went Wrong by Judd Winick
MORE ACTION! MORE FUN! MORE LAUGHS! MORE ROBOTS! What REALLY happened in Hilo's world before he came to Earth? D.J. and our favorite space boy, Hilo, take a DANGEROUS trip to Hilo's home planet to find out! But everything Hilo thinks he knows about his past is about to be turned inside out and UPSIDE DOWN! Hilo was supposed to save everyone…but what happens if it's Hilo that needs saving?! Is ANYONE who we think they are? Can Hilo and his friends figure out how all the pieces fit…before it's too late?!
I would love to know what you are reading this week! Find me on Twitter at @KarinaYanGlaser, on Instagram at @KarinaIsReadingAndWriting, or email me at karina@bookriot.com.
Until next time!
Karina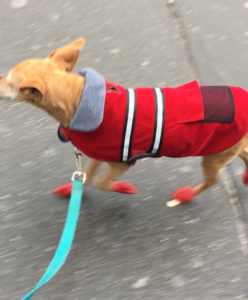 Ginger Pye's rainy day outfit 🙂
*If this e-mail was forwarded to you, follow this link to subscribe to "The Kids Are All Right" newsletter and other fabulous Book Riot newsletters for your own customized e-mail delivery. Thank you!*