Hi friends,
I'm writing this newsletter on January 21. New York City is currently experiencing a polar vortex; it's six degrees outside with a windchill of negative thirteen. Brr!
Of course with this chilly weather I had to pull out my favorite wintry books, which are a lot of fun to read curled up under a heavy blanket with a cup of hot chocolate at hand. I may not be a fan of being cold, but I sure do love reading books about snow and blizzards from the comfort of my couch!
Here are some of my favorite books featuring snow, or in the case of the middle grade books, where snow plays a big part in the setting and story. What are yours?
*Please note all book descriptions come from Goodreads!*
---
Sponsored by our Unusual Suspects giveaway of $100 to the bookstore of your choice!
We're giving away $100 to the bookstore of your choice! Enter to win by signing up for Unusual Suspects, our mystery/thriller newsletter about new releases, book recommendations, book deals, and more. Enter here.
---
Picture Books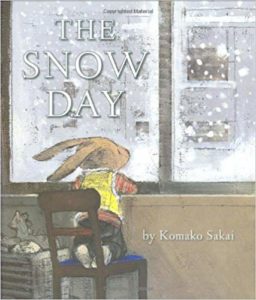 The Snow Day by Komako Sakai
A young rabbit wakes up to wonderful news: A snow day! School is canceled, and the day that follows is rich with the magic and delight of the falling snow. And yet there is longing too, as the young rabbit and his mother wait for news of his father, grounded on a plane in a faraway city…. The news that his father will be home tomorrow gives the book a peaceful, comforting, and perfect ending.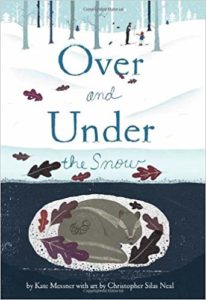 Over and Under the Snow by Kate Messner, illustrated by Christopher Silas Neal
Over the snow, the world is hushed and white. But under the snow is a secret world of squirrels and snowshoe hares, bears and bullfrogs, and many other animals who live through the winter, safe and warm. Over and Under the Snow takes readers on a cross country ski trip through the winter woods to discover the secret world of animals living under the snow.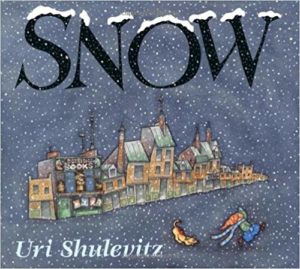 Snow by Uri Shulevitz
No one thinks one or two snowflakes will amount to anything. Not the man with the hat or the lady with the umbrella. Not even the television or the radio forecasters. But one boy and his dog have faith that the snow will amount to something spectacular, and when flakes start to swirl down on the city, they are also the only ones who know how to truly enjoy it.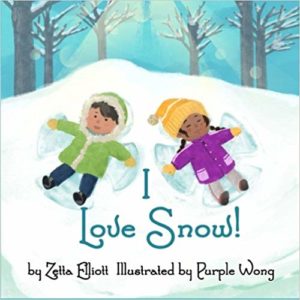 I Love Snow! by Zetta Elliott, illustrated by Purple Wong
I love snow! spinning, swirling, swooshing snow crunch beneath my boots snow tickling my tongue snow I love snow! This short poem uses rhythm and repetition to describe the fun activities a fresh snowfall permits. Too much snow can sometimes cause problems, and in time it turns to dirty gray slush. But in the end, nothing can diminish a child's love of snow!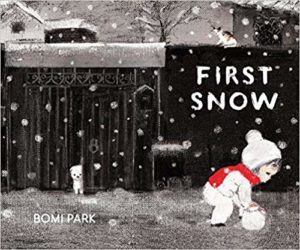 First Snow by Bomi Park
A young girl wakes up to the year's first snowy day. From her initial glimpse out the window to her poignant adventures—rolling a snowman, making snow angels—the girl's quiet quests are ones all young readers will recognize. Simple, muted text and exquisite, evocative art conjure the excitement of a day spent exploring the wonder of snow—and the magic that, sometimes literally, such a day brings. As subtly joyful as a snow day itself, this book will find its home in the hearts of young adventurers everywhere.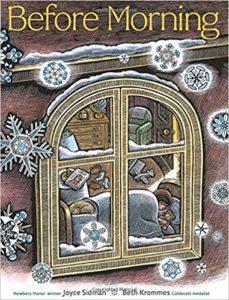 Before Morning by Joyce Sidman, illustrated by Beth Krommes
There are planes to fly and buses to catch, but a child uses the power of words, in the form of an invocation, to persuade fate to bring her family a snow day — a day slow and unhurried enough to spend at home together.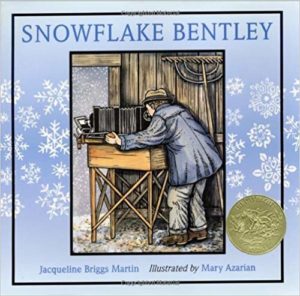 Snowflake Bentley by Jacqueline Briggs Martin, illustrated by Mary Azarian
From the time he was a small boy in Vermont, Wilson Bentley saw snowflakes as small miracles. And he determined that one day his camera would capture for others the wonder of the tiny crystal. Bentley's enthusiasm for photographing snowflakes was often misunderstood in his time, but his patience and determination revealed two important truths: no two snowflakes are alike; and each one is startlingly beautiful. His story is gracefully told and brought to life in lovely woodcuts, giving children insight into a soul who had not only a scientist's vision and perseverance but a clear passion for the wonders of nature.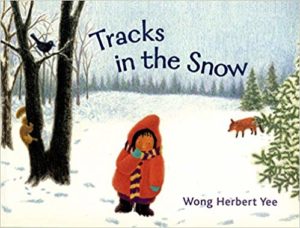 Tracks in the Snow by Wong Herbert Yee
Just outside my window,
There are tracks in the snow.
Who made the tracks? Where do they go?
A little girl follows tracks outside her window after a fresh snowfall, only to realize that the tracks in the snow are her own from the day before―and that they lead her home. This diminutive and sweet picture book is as cozy as a cup of hot chocolate.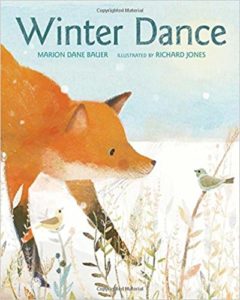 Winter Dance by Marion Dane Bauer, illustrated by Richard Jones
Snow is coming, and it's time to get ready! The squirrel gathers nuts, the geese soar south, and the snowshoe hare puts on its new white coat. But what should the fox do? Each animal advises the fox that its own plan is best, but the fox thinks otherwise—yet it's not until he meets a golden-eyed friend that he finds the perfect way to celebrate the snowfall.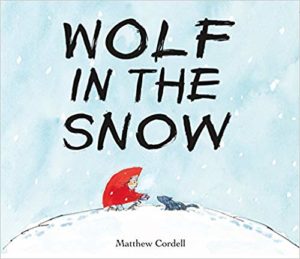 Wolf in the Snow by Matthew Cordell
A girl is lost in a snowstorm. A wolf cub is lost, too. How will they find their way home?
Paintings rich with feeling tell this satisfying story of friendship and trust. Here is a book set on a wintry night that will spark imaginations and warm hearts.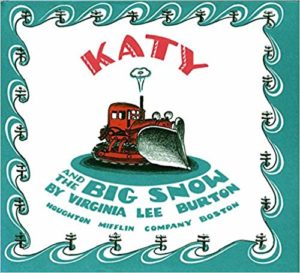 Katy and the Big Snow by Virginia Lee Burton
Katy, a brave and untiring tractor, who pushes a bulldozer in the summer and a snowplow in the winter, makes it possible for the townspeople to do their jobs.
Middle Grade Books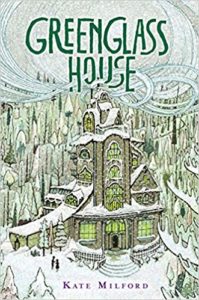 Greenglass House by Kate Milford
It's wintertime at Greenglass House. The creaky smuggler's inn is always quiet during this season, and twelve-year-old Milo, the innkeepers' adopted son, plans to spend his holidays relaxing. But on the first icy night of vacation, out of nowhere, the guest bell rings. Then rings again. And again. Soon Milo's home is bursting with odd, secretive guests, each one bearing a strange story that is somehow connected to the rambling old house. As objects go missing and tempers flare, Milo and Meddy, the cook's daughter, must decipher clues and untangle the web of deepening mysteries to discover the truth about Greenglass House—and themselves.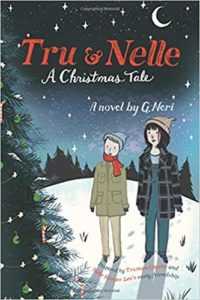 Tru and Nelle: A Christmas Tale by G. Neri
Young Truman Capote thought life in New York City was going to be perfect, but things didn't work out as planned. In fact, Tru is downright miserable. So he decides to run away to Monroeville, Alabama, and the only friend he's ever had, Nelle Harper Lee. But things don't go well there, either. Bad things seem to happen wherever he goes. The only explanation: he must be cursed. Christmas is coming, and Tru's only wish is to be happy. But it'll take a miracle for that to come true. Luckily, a special feast brings the miracle he's hoping for.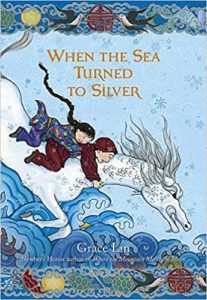 When the Sea Turned to Silver by Grace Lin
Pinmei's gentle, loving grandmother always has the most exciting tales for her granddaughter and the other villagers. However, the peace is shattered one night when soldiers of the Emperor arrive and kidnap the storyteller. Everyone knows that the Emperor wants something called the Luminous Stone That Lights the Night. Determined to have her grandmother returned, Pinmei embarks on a journey to find the Luminous Stone alongside her friend Yishan, a mysterious boy who seems to have his own secrets to hide. Together, the two must face obstacles usually found only in legends to find the Luminous Stone and save Pinmei's grandmother–before it's too late.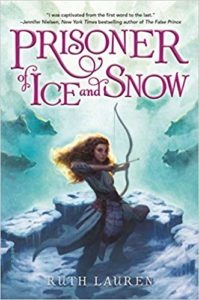 Prisoner of Ice and Snow by Ruth Lauren
When thirteen-year-old Valor is sent to jail, she couldn't be happier. Demidova's prison for criminal children is exactly where she wants to be. Valor's twin sister, Sasha, is serving a life sentence for stealing from the royal family, and Valor is going to help her escape . . . from the inside. Never mind that no one has escaped the prison in centuries. Valor has a master plan and resources most people could only dream about. But she didn't count on having to outsmart both the guards and her fellow prisoners. If Valor's plan is to succeed, she'll need to make some unlikely allies. And if the plan fails, she and Sasha could end up with fates worse than prison.
It's awards season!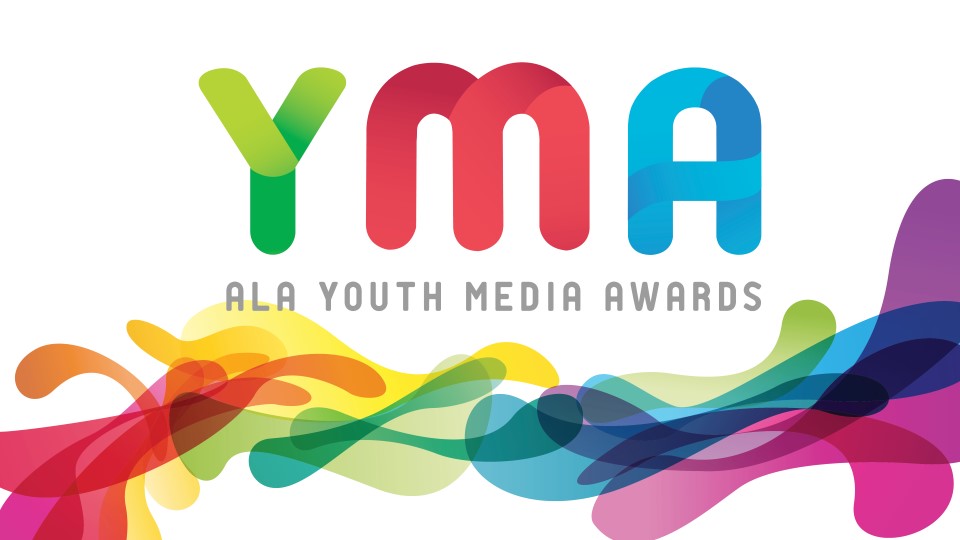 The American Library Association's Youth Media Awards (most notably, the Caldecott and Newbery Awards) are being announced on Monday, January 28th, starting at 8:00am Pacific Time. You can watch the announcements live here! I'll also be talking about the award winning books on next Sunday's newsletter.
I would love to know what you are reading this week! Find me on Twitter at @KarinaYanGlaser, on Instagram at @KarinaIsReadingAndWriting, or email me at karina@bookriot.com.
Until next time!
Karina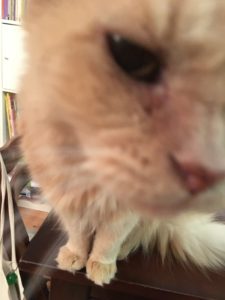 Nala wants me to feed her!
*If this e-mail was forwarded to you, follow this link to subscribe to "The Kids Are All Right" newsletter and other fabulous Book Riot newsletters for your own customized e-mail delivery. Thank you!*