Hola, Audiophiles!
Happy Thursday! I can't tell you how happy I am to report that my coughing is at a very bare minimum at last and that my sinuses are juuuuust about ready to cooperate too. Eureka!!! I am so ready to ditch the inhaler and cough drops (you do not want to know how many bags of them I've gone through… ay ay ay) and to live life without having to map out my nearest tissue box and hand sanitizer.
I've also finally begun to read and listen at my usual pace and have been devouring some pretty amazing titles. I'll share some of those with you here as well as the latest audio buzz on the Riot and interwebs at large.
Let's audio!
---
Sponsored by Princeton University Press Audio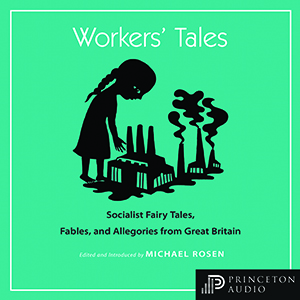 In the late nineteenth and early twentieth centuries, unique tales inspired by traditional literary forms appeared frequently in socialist-leaning British periodicals. Based on familiar genres—the fairy tale, fable, allegory, parable, and moral tale—and penned by a range of lesser-known and celebrated authors, these stories were meant to entertain readers of all ages—and some challenged the conventional values promoted in children's literature for the middle class. In Workers' Tales, acclaimed critic and author Michael Rosen brings together more than forty of the best and most enduring examples of these stories in one beautiful volume. Start Listening Now!
---
Latest Listens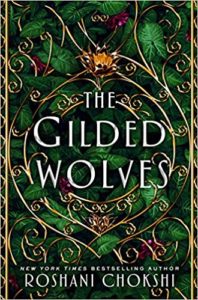 Last week I mentioned that I was going to listen to Roshani Chokshi's The Gilded Wolves and son of a biscuit-eating bulldog, is it good!! I just can't get enough of the lush, descriptive details of this dark, glamorous, and mysterious world–the clothing, the decadent gardens, the gorgeous structures adorned with fabricated eye candy. The magical twists work so well with the whole beauty + art & innovation vibe of Belle Epoque Paris. And to top it all off, the characters aren't all white!!! Talk about wanting to hop into the pages of a book.
I will say one thing, and this isn't shade towards narrators: I think I might not super love it when narrators do accents. Is that weird? Like, duh, these characters should all be speaking in French since the book takes place in Paris, and obvi that means you're getting English narration with a French accent in an audiobook that's published in English. For whatever reason though, my brain doesn't love the accent thing. I think if the person narrating were actually French, I'd buy it. I dunno. The further into the book I get, the more some of the accents sound a little comical and overdone. Does anyone else have this issue?! Or am I being too judgy? Either way, read this book!
Also–Diane Setterfield's Once Upon A River was just all kinds of myth/folklore and awesome. I started that one in print and finished it on audio when the sinus infection took up residence in my face–both versions were perfect for curling up with on a sick day (read: daysss) spent in bed.
Listens on Deck
I have a crazy week ahead of me and I'm traveling to Winter Institute next week, so I don't know how much actual reading & listening I'll get to. I'm thinking of doing a short businessy book, like Gaby Dunn's Bad with Money: The Imperfect Art of Getting Your Financial Sh*t Together. I've never listened to the Bad with Money podcast but it comes highly recommended as being funny AF, accessible, and not at all stuffy or pretentious. While I've definitely made huge progress in money matters over the years, I'm still not where I want to be and could use a good talking to, ya know?
From the Internets
Inspire the Mind through the Ears: It's still January, so there is still a lot of resolution-solution type of content out there that you're either cheering for or sick of now. Resolutions and new year hooplah aside, this list of audiobooks for us creative types from My Modern Met is pretty great for goal setting, tidying up, and plain ol' inspiration.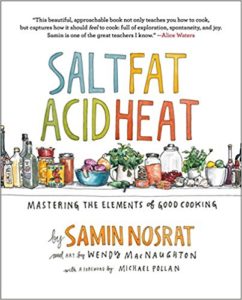 And Anotha One – Libro.fm's recent blog post on resolution listens isn't quite like others I've seen and that's why I'm sharing it here. It features just five titles and yeah, there's a little bit o' personal finance and organizational life stuff in there. It's overall a lot less self-help and strategy-minded and includes both Samin Nosrat's Salt, Fat, Acid, Heat (you may have heard of it) and Rick Steves' Travel As a Political Act. So much yes to both of those – more food and travel!
Over at the Riot
Flimflam and Poppycock – I recommend this post on tips for reading more purely because of its A+ word usage. It also gives a shout out to our beloved audiobooks and gives other suggestions for fitting in more book time.
The Audio to Print Conundrum – We've all all been there, right? We start a book or series on audio and then switch to print, or vice versa, and suddenly things… don't… make sense? It's like, wait that's how that name is spelled? Wait, who's that guy? Has he been here all along? What book is this?! Rioter Alex shares their experience flipping from print to audio and how it's easier to do in some books/series than others.
---
That's all I got today! Shoot me an email at vanessa@riotnewmedia.com with audiobook feedback & questions or find me on Twitter and the gram @buenosdiazsd. Sign up for the In The Club newsletter, peep the Read Harder podcast, and watch me booktube every Friday too!
Stay bad & bookish, my friends.
Vanessa