Hello and happy Friday, hobgoblins and harbingers! Today I've got some winter reads for you, beer pairings, a vampire quiz, a review of Slayer by Kiersten White, and more.
---
This newsletter is sponsored by Disney Publishing Worldwide.
The gripping sequel to New York Times best-selling authors Amie Kaufman and Meagan Spooner's romantic sci-fi adventure, Unearthed. Trapped aboard the Undying's ancient spaceship and reeling from what they've learned there, scavenger Mia and academic Jules are plunged into a desperate race to warn their home planet of the danger humanity's greed has unleashed. From the mountains of Spain to the streets of Prague, the sequel to Unearthed is a white-knuckle ride that will send readers hurtling back to earth, and leave them breathless until the last page.
---
Correction: Jade War's publication date has been pushed back to July 23, LE SIGH. Please to update your calendars accordingly!
What do people eat in the future? This piece on sci-fi's obsession with, or lack of thought on, food is an interesting one and goes from Star Trek to The Broken Earth trilogy.
For my beer-lovers: Alex has new winter pairings of SF/F with brews, and they are mouth-watering.
Speaking of winter, here's a round-up of SF/F to warm up your January, and it's got titles I hadn't heard of!
It's been almost a year since Ursula Le Guin passed away, and this lengthy (and worth it) interview with Charles Vess about the process of collaborating with her on the illustrated Books of Earthsea is a lovely memoriam.
Whether or not you read according to your Hogwarts house, this round-up of paranormal and fantasy romance from 2018 is :chef_kiss:.
Which famous vampire are you? We've got a quiz, and I am apparently the little girl from Let the Right One In, run for your lives.
And speaking of vampires!
Slayer (Slayer #1) by Kiersten White
Trigger warning: mentions of child abuse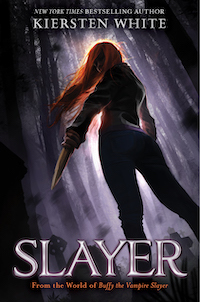 I have been eagerly awaiting this new series, and I am happy to report that Slayer is a fun, world-expanding, page-turning addition to the Buffyverse. White is clearly a huge fan, and her take on a slayer origin story has a lot going for it.
The story picks up after the events of the Season 7 finale and is part of the same continuity as the comics (as per White's Twitter, I am not current on those and cannot verify), and this piece answers a lot of questions about how this fits into the broader multi-media storyline. I can assure you that familiarity with the TV show alone is plenty, and not strictly necessary at that. Our heroine, Nina, is the quiet, overlooked twin while her sister Artemis has all the combat training, physical skills, and confidence. Raised by Watcher parents, they're holed up in a castle in Ireland laying low and trying to figure out what happens now that the Watcher Council has been decimated, magic has been banished from the world, and rogue Slayers and demons are both roaming freely. Nina has been training as a medic and dreaming of ways that the Council and the Slayers could heal, instead of just stabbing/staking everything they come across — and as far as she is concerned, Buffy is the worst of the lot.
When an incident with a hellhound reveals that Nina is actually a Potential now coming into her Slayer powers, her entire life is turned upside down. Her mother has been keeping huge secrets, her relationship with her sister is falling apart, and she's helping a friend hide a demon in a shed. Her life, in other words, has become Very Complicated. As the plot unfolds, Nina finds herself part of a much bigger schism within the Watcher ranks, and her enemies might be closer to her than her friends.
White excels at capturing the confused, angsty teenage voice here, as well as the heart of what made Buffy so special to me: being a teenager is hell already. How do you figure out who you are when the world is telling you one thing, your family is telling you another, and a voice inside you is telling you something completely different? Nina's growth from angry, resentful, and confused to determined and strong was a joy to follow. Throw in lots of action, an underground supernatural fighting ring, demons galore, and a nicely played twist at the end, and you've got Slayer.
And that's a wrap! You can find all of the books recommended in this newsletter on a handy Goodreads shelf. If you're interested in more science fiction and fantasy talk, you can catch me and my co-host Sharifah on the SFF Yeah! podcast. For many many more book recommendations you can find me on the Get Booked podcast with the inimitable Amanda, or on Twitter as jennIRL.
Your fellow booknerd,
Jenn