Hello and happy Tuesday, shapeshifters and Silurians! Today we're looking at the first round of book news for the year including a beetle named after a dragon and a new book from Cixin Liu, plus new releases to get excited about and the most anticipated sequels of 2019.
---
This newsletter is sponsored by The NOVL.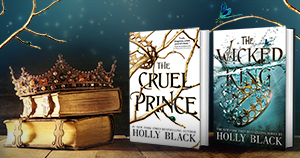 After the shocking revelations and betrayals in The Cruel Prince, Jude continues to navigate the Faerie world as a mortal. Unable to trust her family and dangerously drawn to the cruel prince of Elfhame, Cardan, Jude will do anything to hold on to the power she's fought for.
---
Let's get newsy with it:
Continuing the "most anticipated" trend, we've got two roundups for just fantasy.
And here's Tor.com's most anticipated. Y'all, there's a lot of anticipation going around.
Three new beetles got named after the Game of Thrones dragons! This is exactly the kind of scientific content I would like to see in the world.
Vulture is tracking 2019 fantasy adaptations for you, very kind and useful of them.
And IN VERY EXCITING BOOK NEWS we're getting a stand-alone Cixin Liu novel in October!
Speaking of adaptations, here's a look at Joe Hill's NOS4A2 casting (TERRIFYING).
And here's a cover reveal for Tamsyn Muir's Gideon the Ninth, which is a queer swords-and-necromancers story that I am going to be keeping an eye out for!
Some new releases to keep an eye out for: 
The Kingdom of Copper (The Daevabad Trilogy #2) by S.A. Chakraborty
In an Absent Dream (Wayward Children #4) by Seanan McGuire
The Winter of the Witch (Winternight #3) by Katherine Arden
The Girl King by Mimi Yu
And some ebook deals to take advantage of:
The Witches of New York by Ami McKay (reviewed here) is only $1.99.
Parable of the Sower by Octavia Butler is $1.20.
The Lathe of Heaven by Ursula Le Guin (a personal favorite among her works) is $2.49.
And now, for the promised Most Anticipated Sequels of 2019 (through June, because I had to stop somewhere):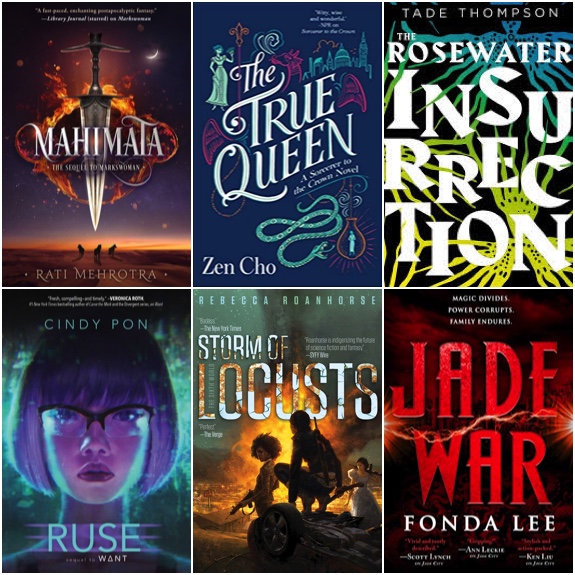 Mahimata (Asiana #2) by Rati Mehrotra (Mar 5)
I loved Markswoman (reviewed here) a ton: a future Asia in which warrior women wield supernatural daggers, aliens have left dangerous artifacts strewn about the continent, and a power struggle has sent our heroine on the run.
The True Queen by Zen Cho (Mar 12)
Y'all, we have been waiting for this sequel to Sorcerer to the Crown for actual years, and I am going to literally throw a party when I get my hands on this book. And we get new characters, sisters Muna and Sakti, who must make the journey to England to talk to the Sorceress Royal (#TeamPrunella)!
The Rosewater Insurrection (Wormwood #2) by Tade Thompson (Mar 12)
You might remember me saying during our SFF Yeah! book club episode about Rosewater that I was desperately hoping the sequel would be told from Aminat's point of view. Well I GOT MY WISH! :fires confetti cannon:
Ruse (Want #2) by Cindy Pon (Mar 12)
Want (reviewed here) was a favorite in last year's reads — I love a near-future heist. And now the gang's nemesis is out for blood, Zhou has been estranged from his friends for months, and aaahhhh what will happen to my fictional babies!
Storm of Locusts (The Sixth World #2) by Rebecca Roanhorse (Apr 23)
Trail of Lightning ended with a little closure for Maggie, although not exactly a triumphant ending. Storm of Locusts includes a cult, the return of Kai, an excursion out of Dinétah, and promises to be just as high-stakes, bloody, and nerve-wracking as the first.
Jade War (The Green Bone Saga #2) by Fonda Lee (May 7)
Jade City (reviewed here) was, as I said, an Asian Godfather with superpowers, and in this sequel the clan war is going international. Foreign governments and organizations want jade for themselves, and suddenly the Kaul clan isn't just fighting for supremacy in Kekon — they're fighting for the future of all Green Bones.
Wolf Rain (Psy-Changeling Trinity #3) by Nalini Singh (June 4)
I mentioned in my review that Singh's new series was a great jumping-on point to the world of the Psy-Changeling, and I am stoked for the next installment! According to the synopsis, we're finally going to see what it means for Silence to be broken — and it's not all going to be good.
Hexarchate Stories by Yoon Ha Lee (June 25)
Cue inarticulate flailing about how much I love The Machineries of Empire trilogy and HOW EXCITED I AM for some further visits to that dark, bloody, fascinating world! Also this is the perfect excuse to finally reread the trilogy, now I know what I'm doing in May.
And that's a wrap! You can find all of the books recommended in this newsletter on a handy Goodreads shelf. If you're interested in more science fiction and fantasy talk, you can catch me and my co-host Sharifah on the SFF Yeah! podcast. For many many more book recommendations you can find me on the Get Booked podcast with the inimitable Amanda, or on Twitter as jennIRL.
Your fellow booknerd,
Jenn