Hola, Audiophiles!
Happy New Year! It's the first newsletter of the year but also of the month. You know what that means: time for new books!! It was so hard to pick just ten to highlight today! 2019 is going to be a great year in books, I tell ya.
Let's get to the listens, shall we?
---
Sponsored by Princeton University Press Audio.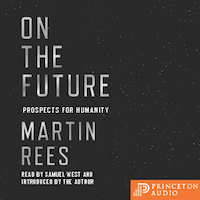 Humanity has reached a critical moment. Our world is unsettled and rapidly changing, and we face existential risks over the next century. Various outcomes—good and bad—are possible. Yet our approach to the future is characterized by short-term thinking, polarizing debates, alarmist rhetoric, and pessimism. In this short, exhilarating book, renowned scientist and bestselling author Martin Rees argues that humanity's prospects depend on our taking a very different approach to planning for tomorrow. Start Listening Now!
---
New Releases
Publisher's description in quotes, release dates in parentheses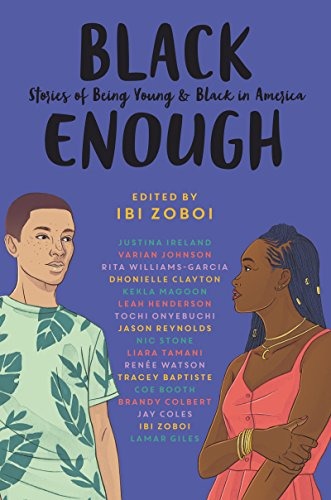 Black Enough edited by Ibi Zoboi, narrated by various  (January 8)
After listening to Pride on audio this year, author Ibi Zoboi earned herself a seat in my I'll Read Anything You Write or Breathe On list. That obvi includes this new collection of stories about what it's like to be young and black in America. This contributor list is ev-uh-ree-thing. Ready? Justina Ireland, Rita Williams-Garcia, Jason Reynolds, Nic Stone, of course Ibi Zoboi and lots more. Get this now.
The Paragon Hotel by Lindsay Faye, narrated by January LaVoy (January 8)
Guys, did you read Jane Steele?? I will read anything by the woman who reimagined Jane Eyre as a serial killer and it sounds like Miss Faye has spun word gold again. In this historical thriller set in 1921, "Nobody" Alice James is on a cross-country train fleeing for her life after a not-entirely-above-board drug & drink deal goes awry. She needs to get TF out of New York and decides Oregon is where she should go to escape the people who want her dead.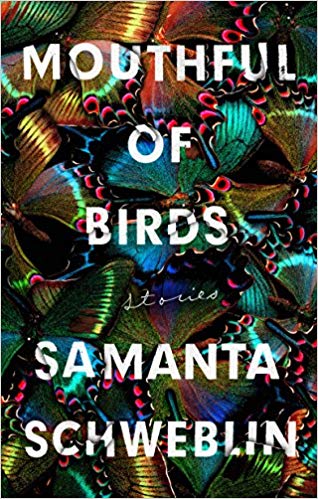 Mouthful of Birds: Stories by Samanta Scwhweblin, narrated by Various (January 8)
Ok, I know we're talking audio here but THIS COVER, YO. Kind of want it as a background for my phone?? Too bad my baby nephew nabbed that lifetime appointment. But  digress. "Unearthly and unexpected, the stories in Mouthful of Birds burrow their way into your psyche and don't let go… Schweblin's stories have the feel of a sleepless night, where every shadow and bump in the dark take on huge implications, leaving your pulse racing, and the line between the real and the strange blur." Ummm si, por favor.
Sugar Run by Mesha Maren, narrated by Hillary Huber (January 8)
Jodi McCarty was seventeen years old in 1989 when she was sentenced to life in prison. Eighteen years later she's been released and is smacked by the shock of knowing not what in the hell she's to do next. "Not yet able to return to her lost home in the Appalachian Mountains, she heads south in search of someone she left behind, as a way of finally making amends. There, she meets and falls in love with Miranda, a troubled young mother living in a motel room with her children. Together they head toward what they hope will be a fresh start. But what do you do with your past—and with a town and a family that refuses to forget, or to change?" This sounds like it'll break my heart and you know what? It can go on ahead.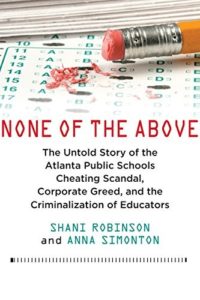 None of the Above: The Untold Story of the Atlanta Public Schools Cheating Scandal, Corporate Greed, and the Criminalization of Educators by Shani Robinson and Anna Simonton, narrated by Lisa Renee Pitts  (January 15)
This like required reading these days; we can't fix a broken system if we don't confront its enormous failures head on. I confess I knew nothing of the events in this book until recently. That needs to change.
"In March of 2013, 35 black educators in Atlanta Public Schools were charged with racketeering and conspiracy – the same charges used to bring down the American mafia – for allegedly changing students' answers on standardized tests. The youngest of the accused, Shani Robinson had taught for only three years and was a new mother when she was wrongfully convicted and faced up to 20 years in prison. In None of the Above, Robinson and journalist Anna Simonton explore how racist policies and practices cheated generations of black children out of opportunities long before some teachers tampered with tests."
The Gilded Wolves by Roshani Choksi, narrated by Laurie Catherine Winkel & P. J. Ochlan (January 15)
Treasure-hunter and wealthy hotelier Séverin Montagnet-Alarie is your guy if you're looking for the skinny on secrets in Belle Epoque Paris. When an all-powerful society called the Order of Babel enlists his help for their agenda, Séverin can't really say no.
"To find the ancient artifact the Order seeks, Séverin will need help from a band of experts: an engineer with a debt to pay; a historian who can't yet go home; a dancer with a sinister past; and a brother in all but blood who might care too much. Together, they'll have to use their wits and knowledge to hunt the artifact through the dark and glittering heart of Paris. What they find might change the world, but only if they can stay alive."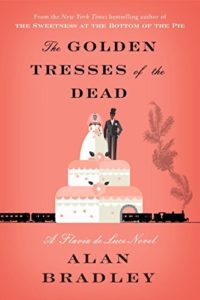 The Golden Tresses of the Dead by Alan Bradley, narrated by Jane Entwistle (January 22)
It is with both geekish excitement and extreme sadness that I tell you the tenth and final installment in Alan Bradley's Flavia de Luce series will release this month. Porqueeeee??? I will however be pleased as punch to read about Flavia and Dogger's adventures in the world of professional sleuthing, especially since their first case involves the discovery of a human finger in a wedding cake. Did I mention the wedding is her sister Feely's?
If you haven't discovered these books yet, do yourself and start with The Sweetness at the Bottom of the Pie. Get to know my most beloved literary character in all her Harriet the Spy + Sherlock + Marie Curie-esque glory.
Kingdom of Copper by S.A. Chakraborty, narrated by Soneela Nanani (January 22)
S.A. Chakraborty is back with the sequel to The City of Brass, "conjuring a world where djinn summon flames with the snap of a finger and waters run deep with old magic; where blood can be dangerous as any spell and a clever con artist from Cairo will alter the fate of a kingdom."
All the Lives We Ever Lived: Seeking Solace in Virginia Woolf by Katherine Smyth, narrated by Brittany Pressley (January 29)
"Katharine Smyth was a student at Oxford when she first read Virginia Woolf's modernist masterpiece To the Lighthouse in the comfort of an English sitting room and in the companionable silence she shared with her father. After his death – a calamity that claimed her favorite person – she returned to that beloved novel as a way of wrestling with his memory and understanding her own grief." This debut moves between Smyth's New England home and the English locales that Woolf called home as Smyth discovers To the Lighthouse in a uniquely personal way. Sounds like a lovely reminder of literature's ability to help us see our own condition more clearly.
Notes on a Nervous Planet by Matt Haig, narrated by the author (January 29)
"When Matt Haig developed panic disorder, anxiety, and depression as an adult, it took him a long time to work out the ways the external world could impact his mental health in both positive and negative ways. Notes on a Nervous Planet collects his observations, taking a look at how the various social, commercial and technological "advancements" that have created the world we now live in can actually hinder our happiness." Now tell me this doesn't sound like a book we all need in our lives right now??
From the Internets
All in a Day's Work – Whether you like your audiobooks on the brief side or are looking for quickie reads o smash those reading goals, this Bustle list of 15 super short audiobooks you can listen to in a day may be of some interest to you.
Over at the Riot
Look at this Show-Off – Just before we sat down to record the first episode of the 2019 Read Harder podcast (!!!), my super awesome co-host Tirzah Price shared how audiobooks helped her read more books this year than she ever has before. She's far from alone here: Rioter Nikki Demarco smashed her reading goals this year and audiobooks were a part of that journey.
---
Tis all for today! Shoot me an email at vanessa@riotnewmedia.com with audiobook feedback & questions or find me on Twitter and the gram @buenosdiazsd. Sign up for the In The Club newsletter, peep the Read Harder podcast, and watch me booktube every Friday too!
Stay bad & bookish, my friends.
Vanessa