Today's Riot Rundown is sponsored by Dirty Little Secret by Jennifer Ryan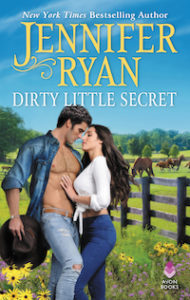 John Cordero groomed his step-son Noah to take over his Montana ranch one day, but when John unexpectedly dies, he leaves half the ranch to Roxy, his daughter Noah never knew about.
Inheriting a ranch from her estranged father means Roxy now shares a home with infuriating, challenging, and oh-so-tempting Noah. But the secrets don't end there – John also owned the notorious Wild Rose Ranch, a brothel in Nevada, where Roxy grew up, and made it part of her inheritance.
As their strictly business relationship starts to turn to true love, Roxy wonders what will happen when Noah discovers her dirty little secret?