This edition of Today in Books is sponsored by P Is for Pterodactyl by Raj Haldar and Chris Carpenter.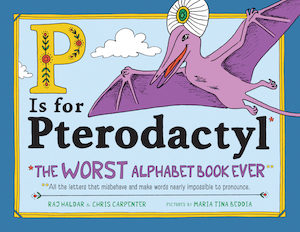 ---
The Ebooks And Audiobooks Most Checked Out From Overdrive
Overdrive, a digital distributor used by many libraries in the U.S., released the books most read in 2018 in eBook and audiobook. Unsurprising were some novels that had been adapted to film recently and, of course, Harry Potter. Big congrats to Celeste Ng for the win, though! Check out the lists here.
Netflix Gets Witchy-er
Chilling Adventures of Sabrina has been renewed for season 3 with an order of 16 more episodes. Don't worry about how long you'll have to wait for that season because the 2nd will be dropping April 5, 2019.
Don't Be This Guy
Darin Webb was sentenced to two years in prison for embezzling over $3.4 million from the literary agency Donadio & Olson. "Somehow running undetected for years, Webb's actions nearly bankrupted bestselling author Chuck Palahniuk, and ultimately destroyed Donadio & Olson, which officially filed for Chapter 7 protections on December 3."