Hello and happy Tuesday, necromancers and Necromongers! There's not a bunch of book news today, December being the deadest of dead times in publishing, but there is a ton of adaptations and trailer news, a very special lightsaber auction, some deals and squeals, and a review of Zero Sum Game by S.L. Huang.
---
This newsletter is sponsored by BBC Books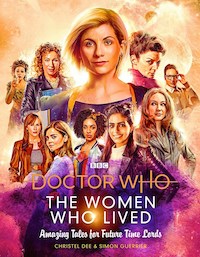 .
Meet the women who run the Whoniverse! Featuring historical women such as Agatha Christie and Queen Victoria alongside fan favourites like Rose Tyler and Missy, The Women Who Lived tells the stories of women throughout space and time.
---
Here's that news I mentioned:
More-more Best Of — we picked our favorite queer books of 2018 and a few of them are magically-inclined as well.
Someone decided to turn a Herman Melville short story into a space series!? (Really!)
Brian K. Vaughan has inked a TV deal, and I am SO CURIOUS as to what specifically from his extensive oeuvre will get adapted, BOY DO I HAVE FEELINGS ABOUT THIS.
The Avengers: Endgame trailer is out. I desperately need to know what happened to Cap's beard.
The Game of Thrones Season 8 trailer is also out!
And so is the new full-length trailer for Captain Marvel, whew.
At the time of writing, I still am girding myself to watch the Watership Down trailer.
And for all you graphic novel fans, Umbrella Academy's first trailer is up, featuring Mary J. Blige the time-traveling assassin.
Jordan Peele's The Twilight Zone reboot attached a ton of new names including John Cho, bestill my heart.
And last but not least, Luke Skywalker's lightsaber is up for auction, if you have a hoard you need to spend.
New releases to look for:
The Disasters by MK England ("The Breakfast Club meets Guardians of the Galaxy" is a killer tagline)
A Bad Deal for the Whole Galaxy by Alex White (I keep hearing about this series, and this is #2)
And those aforementioned deals:
Hocus Pocus and the All-New Sequel by A.W. Jantha and Matt Griffin is $1.99, in case you were waiting for a good excuse to snap that up.
Mechanica by Betsy Cornwell, a magical alt-history, slightly steampunk Cinderella retelling that I loved, is $2.99.
Are you ready to go on one hell of a wild ride? Then proceed!
Zero Sum Game by S.L. Huang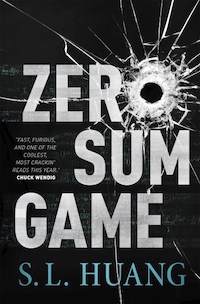 I mentioned last week that I was in a reading slump, and Zero Sum Game busted me right out of it. This action-thriller features high stakes, warring government agencies, math-related superpowers, and a main character who's shot to the top of my personal favorites list.
Cas Russell is so good at math that she can dodge bullets, take down a room of soldiers twice her size, steal cars in seconds, calculate police response times on the fly, you name it. She's a "finder" — for the right fee, she'll retrieve whatever you want, and this time she's retrieving a person being held by a Colombian cartel. Just another day on the job for her, until she runs into an ally undercover, and the person she's been hired to rescue is involved in something much, much bigger than drug smuggling. Along with an unlikely crew, Cas finds herself taking on an organization that might have someone even more super-powered than her.
I loved the layers to this book. The plot was beautifully paced, the action sequences were stellar (unsurprising, as Huang is a working stuntwoman among other things), and the found family/misfit crew supporting characters were a delight. While the main plot of Zero Sum Game was relatively wrapped up, the real cliffhanger here involves Cat's own backstory. Cas's struggles with her powers throughout the novel start to draw the curtain back, and then there's the ending … Let's just say I now have a Mighty Need to know everything about her.
Is there anything I didn't like? I really don't think so. It's a pleasure to have another STEM-powered heroine, especially one of color, to root for, and Huang is an immensely entertaining writer. This is the first in a five-book series that Tor is republishing; I'm sorely tempted to go used-book hunting for older editions, since #2 (Null Set) isn't due out until July.
And that's a wrap! You can find all of the books recommended in this newsletter on a handy Goodreads shelf. If you're interested in more science fiction and fantasy talk, you can catch me and my co-host Sharifah on the SFF Yeah! podcast. For many many more book recommendations you can find me on the Get Booked podcast with the inimitable Amanda, or on Twitter as jennIRL.
Keep what you kill,
Jenn