Hello and happy Tuesday, demon-hunters and Daredevils. Today we've got the first of what will probably be many rounds of nerdy gift guides, some new book news and adaptations, a couple excellent e-book deals, a review of Empire of Sand by Tasha Suri, and more!
---
Today's newsletter is sponsored by sponsored by our $250 All the Books Barnes and Noble gift card giveaway!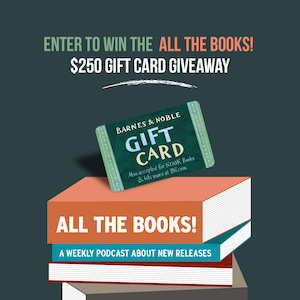 Enter to win a $250 gift card to Barnes and Noble in support of our All the Books! podcast. Click here for more info.
---
In gift, adaptation, and book news:
Let's kick off December with the first nerdy gift guide to appear in my inbox! The honor goes to Unbound Worlds.
We here at Book Riot also have a gift guide, which includes but is not limited to SF/F stuff.
Not to be outdone, here is PW's (scroll down for the SF/F section), which includes An Ocean of Minutes by Thea Lim (reviewed here) and Trail of Lightning by Rebecca Roanhorse (reviewed here).
Also also in gift news, here is lots of amazing Tamora Pierce/Tortall swag.
We're getting another installment in the world of The Machineries of Empire from Yoon Ha Lee! It's a short story collection called Hexarchate Stories, but it won't be out til June 2019 (:weeps:).
Netflix is cancelling Daredevil, but I'm doing fine because Runaways will be back on December 21.
Meanwhile, Blade Runner is getting an anime series. Dare I hope that the showrunners have read the original, Do Androids Dream of Electric Sheep? by Philip K. Dick, and we'll get some specifics from that? Anyway I confess I am interested.
V.E. Schwab's got another adaptation deal, this time for her novel City of Ghosts!
And it's probably not a sea monster that caused some mysterious quakes … but could it be an orogene?!?! BRB, have to stuff my copy of The Fifth Season into my go-bag.
Some new releases for this week to keep an eye on:
Queen of Air and Darkness by Cassandra Clare
Of Blood and Bone (Chronicles of the One #2) by Nora Roberts
And here are two great ebook deals:
Wintersong by S. Jae Jones (reviewed here), $2.99
Under the Pendulum Sun by Jeanette Ng, $1.99
And today in reviews, we've got a young woman on an epic quest — always a good time!
Empire of Sand (The Books of Ambha #1) by Tasha Suri
Looking for a high fantasy to fill that Dreamblood Duology and/or The City of Brass and/or The Grace of Kings and/or Kushiel's Legacy-shaped hole in your life? Look no further — Empire of Sand is a page-turner and an enthralling start to a new series.
Mehr is the illegitimate but pampered daughter of an imperial governor, raised in luxury and seclusion but with relatively little power, influence, or choice. Her mother, exiled from her daughters since Mehr was a little girl, is part of a tribe persecuted for their beliefs and their magic. Between avoiding her stepmother's ire (basically impossible) and hanging on to what little she remembers of her mother and her culture, Mehr tries to live as best she can. When she discovers she inherited powers along with her mother's blood, she draws the attention of the Emperor and is offered a choice that's no choice at all — bring down the wrath of the Emperor on herself and her family, or marry an intimidating, aloof mystic and use her newly discovered powers for others' dark purposes. And the choices she must make only get more complicated from there…
Suri has written an epic, high-stakes fantasy here, one that revolves around a question often implicit but less often directly addressed: what does choice mean in the grips of compulsion and coercion? The world-building, inspired in part by Mughal India, is immersive and lush — which is a weird word to use about a desert empire, but it really does feel vibrant and rich. The colors and textures of Mehr's world practically sparkle on the page. There are demons, battles, and politics aplenty, plus a gorgeously complicated storyline about love and family.
Perhaps my favorite thing about this book is that it stands beautifully by itself — Suri sets everything up for more adventures, but the main plot is brought to an immensely satisfying close. While I can't wait to see what's next for these characters, I'm relieved that I will not have to wail and gnash my teeth for however long it takes til Book 2 comes out. So for all the high fantasy enthusiasts out there, particularly those looking for #ownvoices South Asian-inspired stories, treat yo'self to this one.
And that's a wrap! You can find all of the books recommended in this newsletter on a handy Goodreads shelf. If you're interested in more science fiction and fantasy talk, you can catch me and my co-host Sharifah on the SFF Yeah! podcast. For many many more book recommendations you can find me on the Get Booked podcast with the inimitable Amanda, or on Twitter as jennIRL.
Stay frosty,
Jenn