Happy Friday, Yetis and Yridians! Today I've got more best-ofs, fandom ugly sweaters, Harry Potter doodles, warrior women, a review of Firefly #1 by Greg Pak and Dan McCaid, and more.
---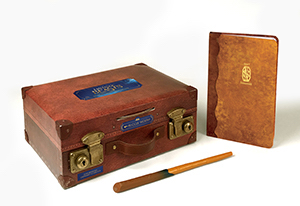 This newsletter is sponsored by Running Press, publisher of Fantastic Beasts: The Magizoologist's Discovery Case.
This deluxe enchanted replica of Newt Scamander's case, field notebook, and wand pen is loaded with interactive special features to make any fan of Wizarding World feel like a master Magizoologist.
---
It is still too early for this, but Kirkus's Best of 2018 list is up and the Fiction list includes a ton of speculative/genre titles, including personal faves How Long 'Til Black Future Month? by NK Jemisin, Severance by Ling Ma (reviewed here), and State Tectonics by Malka Older (which is high on my TBR).
Today's review is for a comic, so it feels suitable that I have some other comic links for you! Here's a pull list for characters outside the gender binary (must read Eth's Skin ASAP!), and here's a look at the FTL, Y'ALL anthology (which pubs 12/25) and whose premise I adore.
Also comics-related, G. Willow Wilson is going to be writing for Wonder Woman (!!!!) and we've got an interview.
And speaking of interviews, I keep forgetting to link to this one with Tamora Pierce about writing fantasy; it's really, really good.
This list of SFF books inspired by neglected histories is GREAT, super highly recommend.
Barnes & Noble did a post on the 50 best SF/F debuts, and the list is way better than I was expecting.
Inktober is over but these wonderful Harry Potter doodles are still here for you.
Get prepared for the inevitable ugly sweater party right now, because there are both Game of Throne and Star Trek options!!!!
Strap in, y'all, because it's time to talk about Firefly!
Firefly #1, written by Greg Pak, art by Dan McCaid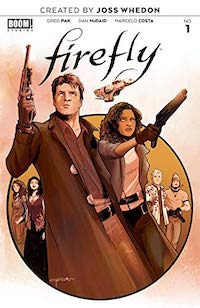 You may have noticed I'm a fan of Pak's work — I started reading his work with The Totally Awesome Hulk — and so when I heard that he was writing the new Firefly comic, there was no way I wasn't going to pick it up. (Team Zoe!) For those of you who don't have a local comics shop and/or aren't generally reading in issues, you can always wait for the collection.
The gang's back together again for business as usual: parts are falling off Serenity, they're short on cash, and they've taken a job that might not be on the up and up. Issue 1 includes two timelines: a "present" (set before the events of the movie Serenity) in which the crew is being pursued by a mysterious attacker, and Mal and Zoe's past during the Unification War. Several flashbacks make it clear that Mal suffers from PTSD, and that their pursuers very likely have something to do with the war. In the meantime, the crew is guarding a caravan of pilgrims from bandits, and there is more to these pilgrims than meets the eye.
Pak nails the group dynamics: the casual banter, the push and pull between Inara and Mal, the uncanniness of River, the team's fierce loyalty to each other (well, except for Jayne). There are several laugh-out-loud moments (Jayne's bar fight was a personal favorite), which balances out the gravitas of the darker material. There's plenty of foreboding to go around, and while I look forward to the exploration of the Unification War and the repercussions for Mal and Zoe, I'm glad to see that lightness intact.
McCaid gives his own spin on the characters, inspired by the original actors, and his color choices play beautifully off each other. Mal's war memories are vividly red against the blue tones of the contemporary storyline, and the space sequences have some lovely depth and layers.
It's too early to know if Pak will bring some much-needed character diversity to this series (a universe this Asian-influenced should have Asian characters!), but I've got my fingers crossed. And in the meantime, if you're a die-hard browncoat you'll want to read this run. If you're new to the Firefly-verse, this is not the place to start; go watch the TV series, and then come back. It's only 14 episodes, we'll wait.
Bonus: You can hear Greg Pak talk about the stories he likes to tell on this episode of our Recommended podcast.
And that's a wrap! You can find all of the books recommended in this newsletter on a handy Goodreads shelf. If you're interested in more science fiction and fantasy talk, you can catch me and my co-host Sharifah on the SFF Yeah! podcast. For many many more book recommendations you can find me on the Get Booked podcast with the inimitable Amanda, or on Twitter as jennIRL.
Keep flying,
Jenn