We've made it to Friday, friends and frenemies! Good job all around. Today I have some podcasty goodness, space opera, Game of Thrones read-alikes, vampires, a review of Moon of the Crusted Snow, and more.
---
This newsletter is sponsored by Fierce Reads and Archenemies by Marissa Meyer.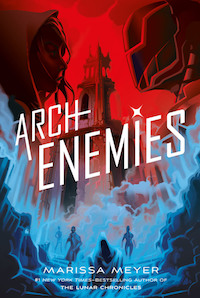 They are the world's best hope . . . but each other's worst nightmare. In this second installment of the bestselling Renegades trilogy, Nova, Adrian, and the rest of their crew are faced with escalating crime in Gatlon City, while covert weapons and conflicting missions have Nova and Adrian questioning not only their beliefs about justice, but also the feelings they have for each other. The line between good and evil has been blurred, but what's clear to them both is that too much power could mean the end of their city—and the world—as they know it.
---
Follow-up from last week's spotlight on SF/F artists! Reader Angela wrote in: "I'd suggest Richard Anderson's cover art! He did Kings of the Wyld, Emperor's Blade, Dinosaur Lords, etc."
Staff favorite Becky Chambers was on the Recommended podcast last week talking about her love for Ursula K. Le Guin, and you should definitely give it a listen.
Also in podcasting, Sharifah and I talked about our favorite opening and closing lines on SFF Yeah!, along with some Dracula and Discworld news.
Moar space opera! Here are 25 of Silvana's favorites, including many of mine.
While we continue to wait forever for the newest installment in A Song of Ice and Fire, here are some read-alikes to tide you over. Note: this does not include my personal favorite read-alike, The Acacia series by David Anthony Durham, but I will not hold it against Grace.
Guess who's back? Back again! Vampires are back, tell a friend. (Sorry not sorry.)
Which sci-fi hero are you? Our quiz will tell you! I got Binti and I am 100% fine with that.
Speaking of Binti! Here's a solid list of #ownvoices SF/F, with a caveat that there is some debate around Rebecca Roanhorse and Trail of Lightning.
Related to today's review, here are some reading lists from the apocalypse.
And now for the actual review! We've got a genre-bender of a book with a very different spin on the end of the world.
Moon of the Crusted Snow by Waubgeshig Rice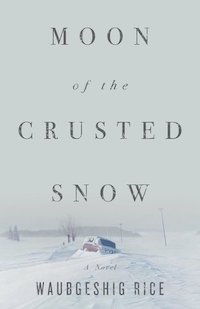 On a far-northern Anishinaabe reserve, winter is coming — and the satellite TV has gone out. Then cell service, then the power. At first, the community is unconcerned; this far north, things happen. But when there's no word from the outside world and everything stays off, panic starts to set in. And when news finally does arrive? It's not good. Following the young couple Evan and Nicole, Moon of the Crusted Snow imagines what a First Nations community might do if the world was ending.
Survivalist takes on the collapse of the modern world aren't uncommon (see also Alyssa Cole's Off the Grid series, or Gold Fame Citrus by Claire Vaye Watkins) but I haven't read that many, and this is certainly the first I've read by an Indigenous author. Rice's vision includes the tension, hoarding, and community panic you might expect, but also the folklore and skills of a community that has seen the end of their world more than once, and lived to tell their tales. While he doesn't delve into the exact causes of the collapse, it makes perfect sense: the reserve wouldn't be able to find out easily, and how much does it actually matter? What matters is what you choose to do when the lights go out — and what those around you choose.
In addition to being a new spin on the tech-pocalypse, it's also an eerie, slightly fabulist novel. It's a slow burn; Rice takes care to build the small town, its residents, and the general atmosphere before slowly cranking up the tension and the pace. It worked beautifully on me. The crunch of snow underfoot, the crack of a gunshot, the flash of teeth; these are the images that haunt me after devouring this book. And devour it I did: I read the entire book over the course of two long train rides on Monday. If you want a thoughtful, uncanny, snow-bound read that will have you battening your hatches for winter and rethinking what apocalypse means, pick this one up ASAP.
And that's a wrap! You can find all of the books recommended in this newsletter on a handy Goodreads shelf. If you're interested in more science fiction and fantasy talk, you can catch me and my co-host Sharifah on the SFF Yeah! podcast. For many many more book recommendations you can find me on the Get Booked podcast with the inimitable Amanda, or on Twitter as jennIRL.
Your fellow booknerd,
Jenn