Hello mystery fans! I have a lyrical crime novel, a nonfiction about psychopaths, and a bunch of new releases for you this week!
---
Today's Unusual Suspects is sponsored by In Too Deep by Lynn H. Blackburn and Revell Books, a Division of Baker Publishing Group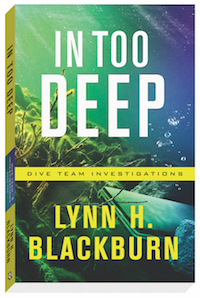 How do you choose between loyalty and the truth? When the Carrington County Sheriff's Office dive team is called in to recover a body from a submerged car, they aren't prepared to find an encrypted laptop–or an unsettling connection between investigator Adam Campbell and the dead accountant. Adam turns to his friend Dr. Sabrina Fleming to recover the files from the laptop. But the deeper they dig, the deadlier the investigation becomes. When evidence implicates members of Adam's own family, he and Sabrina will have to risk everything to solve the case. The truth could set hundreds free–but someone is willing to do whatever it takes to silence anyone who threatens to reveal their secrets.
---
Not A Word Out Of Place!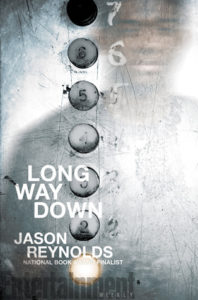 Long Way Down by Jason Reynolds: A lyrical, imaginative, crime novel with a gut-punch. Reynolds takes a tragedy we've become far too accustomed to hearing about, and spins a story in a unique and very effective way. Fifteen-year-old Will's brother Shawn was just murdered, and Will grew up where everyone knows there are 3 rules: No crying; No snitching; You always seek revenge. He's managed the first two and is now on an elevator with a gun, ready to accomplish number 3. But this is kind of like Boyz N the Hood meets A Christmas Carol because that short elevator ride down is going to have a different person connected to Shawn, or him, get on at every floor. This has won a ton of awards and came with a lot of hype, and it delivered! It's written in verse but please don't be afraid if you don't like poetry, this is very accessible and readable–it's just written in a way that makes the story sound lyrical. And the audiobook is narrated by Jason Reynolds which is *chef's kiss.*
Well This Was Interesting And Scary In A Way I Didn't Imagine (TW in some way for everything)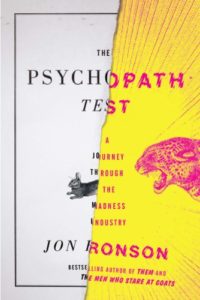 The Psychopath Test by Jon Ronson: I've read about so many fictional psychopaths that I thought it was definitely time to finally read this nonfiction book where Ronson seeks out to learn about, and meets with a bunch of, psychopaths. The book has a bit of everything including history of psychiatry (UK), experiments done over the years, Ronson meeting with psychopaths, his meeting with Scientologists, a look at children being wrongly diagnosed with mental illnesses and so much more. For me, the terrifying bit wasn't the "Is your neighbor a serial killer?" But the thought of what happens when CEOs, politicians, people in prominent positions that are driving our economy/society are actual psychopaths?! Because psychopaths aren't necessarily killers/violent but the checklist suddenly made a lot of things *gestures wildly at news * become clearer–including how anyone can believe for instance that a mass shooting was a government hoax. It was also fascinating, and pretty scary, to see Ronson keep falling for psychopath's tricks to convince him they weren't psychopaths. Totally recommend the audiobook if you're a listener.
Recent Releases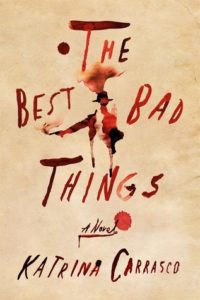 The Best Bad Things by Katrina Carrasco (TBR: historical mystery–I'm kind of obsessed with the cover.)
Lost Lake (Detective Gemma Monroe #3) by Emily Littlejohn (Currently Reading: Procedural, 3 campers report the 4th person missing…)
Little White Lies (Debutantes #1) by Jennifer Lynn Barnes (TBR: YA mystery that sounds like it'd be an awesome Freeform show.)
An Elderly Lady is Up to No Good by Helene Tursten, Marlaine Delargy (Translator) (TBR: Swedish short story mysteries all centering Maud, an 88-year-old "woman with no family, no friends, and…no qualms about a little murder.")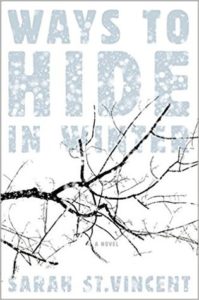 Ways to Hide in Winter by Sarah St. Vincent (TBR: Suspense set in an isolated corner of Pennsylvania's Blue Ridge Mountains.)
The Feral Detective by Jonathan Lethem (TBR: Detective novel with an odd pairing searching for a missing woman.)
Harvest of Secrets (Wine Country Mysteries #9) by Ellen Crosby (Cozy mystery series)
Lark! The Herald Angels Sing (Meg Langslow #24) by Donna Andrews (Cozy mystery series)
An Unexplained Death: The True Story of a Body at the Belvedere by Mikita Brottman (TBR: True crime) (TW suicide)
A Dangerous Duet by Karen Odden (Historical mystery)
Browse all the books recommended in Unusual Suspects previous newsletters on this shelf. And here's an Unusual Suspects Pinterest board.
Until next time, keep investigating! And in the meantime, come talk books with me on Twitter, Instagram, and Litsy–you can find me under Jamie Canaves.
If a mystery fan forwarded this newsletter to you and you'd like your very own you can sign up here.