Hi Kid Lit friends!
Happy election day! I hope you have had the chance to vote or have it in your plans today. Need to find out your polling place? Find it here. Want to know what is on your ballot? Look it up here. For a list of resources to learn more about the issues and candidates, check this out. My voting day plan is this: write and do some illustrations in the morning and then go to my polling place to vote and then head to the library to return books.
And now… new books! It's the first Tuesday of the month, so there are lots of exciting releases today. Check these out and let me know what looks interesting to you!
*Please note that all book descriptions are from Goodreads. If I had a chance to read the book and loved it, I will mark it with a 
.
---
Sponsored by Caracal, an imprint of Lion Forge.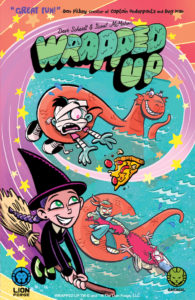 Your favorite mummy, Milo, just can't catch a break! No matter how much he tries to stay out of trouble, trouble finds him! Snacks go missing during a camping trip, his dad gets pulled into a dangerous martial tournament, and his best friend somehow ends up in Wizard Prison! Under any circumstances, Milo always comes through to save the day! (Usually.) Wrapped Up Vol. 2 by Dave Scheidt and illustrated by Scoot McMahon includes backstories drawn by Yehudi Mercado, Mason Dickerson, Sean Mac, Aaron Pittman, and Shan Murphy. Find it in stores now from Caracal, an imprint of Lion Forge!
---
Picture Book New Releases
 Don't Touch My Hair by Sharee Miller
It seems that wherever Aria goes, someone wants to touch her hair. In the street, strangers reach for her fluffy curls; and even under the sea, in the jungle, and in space, she's chased by a mermaid, monkeys, and poked by aliens…until, finally, Aria has had enough!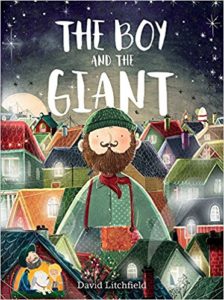 The Boy and the Giant by David Litchfield
There is a Secret Giant in Gableview who has hands the size of tabletops, legs as long as drainpipes, and feet as big as rowing boats. But little Billy thinks the Giant is just a tall tale that his grandad likes to tell. According to Grandad, the Giant keeps the bears away when they go camping and rescues Billy's favorite kite when it gets tangled up in the tallest tree. Grandad swears the Giant is real, but Billy's not buying it. Why has he never seen the giant before? Why does the Giant stay hidden? Grandad knows why: People are afraid of things that look different. When Billy suddenly finds himself face-to-face with the Giant, he runs away in fear—and hurts the Giant's feelings. But now he's got an opportunity to make it up to him, and, just maybe, to be friends with the nicest guy in town.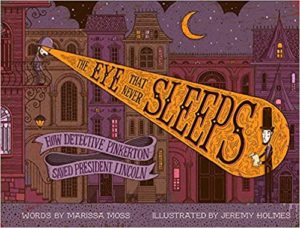 The Eye That Never Sleeps: How Detective Pinkerton Saved President Lincoln by Marissa Moss, illustrated by Jeremy Holmes
From award-winning author Marissa Moss comes the first children's book about Allan Pinkerton, one of America's greatest detectives. Everyone knows the story of Abraham Lincoln, but few know anything about the spy who saved him! Allan Pinkerton's life changed when he helped the Chicago Police Department track down a group of counterfeiters. From there, he became the first police detective in Chicago and established the country's most successful detective agency. He went on to solve more than 300 murders and recover millions of dollars in stolen money. However, his greatest contribution was protecting Abraham Lincoln on the way to his 1861 inauguration. Though assassins attempted to murder Lincoln en route, Pinkerton foiled their plot and brought the president safely to the capital.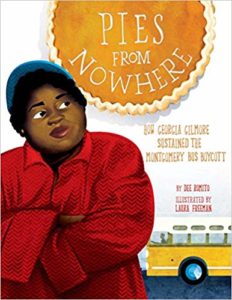 Pies from Nowhere: How Georgia Gilmore Sustained the Montgomery Bus Boycott by Dee Romito, illustrated by Laura Freeman
Georgia Gilmore was a cook at the National Lunch Company in Montgomery, Alabama. When the bus boycotts broke out in Montgomery after Rosa Parks was arrested, Georgia knew just what to do. She organized a group of women who cooked and baked to fund-raise for gas and cars to help sustain the boycott. Called the Club from Nowhere, Georgia was the only person who knew who baked and bought the food, and she said the money came from "nowhere" to anyone who asked. When Martin Luther King Jr. was arrested for his role in the boycott, Georgia testified on his behalf, and her home became a meeting place for civil rights leaders.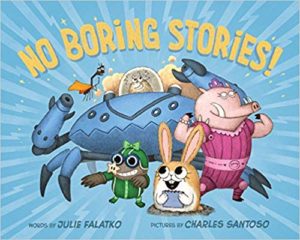 No Boring Stories! by Julie Falatko, illustrated by Charles Santoso
The unpopular animals have had enough. They want to be in a picture book! Stories about mommy-loving kitties and cuddly bunnies at bedtime are boring. Wouldn't you rather hear about yeti crabs in robo suits and fierce babirusa princesses who fight giant grape monsters?! This group of misfits has a unique story to tell, but they'll never finish writing it if their over-eager bunny neighbor won't GO AWAY!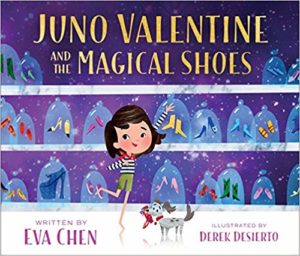 Juno Valentine and the Magical Shoes by Eva Chen, illustrated by Derek Desierto
Juno Valentine's favorite shoes don't light up. They don't have wheels. They are, to be perfectly honest, the tiniest bit boring. But they're still her favorite muddy-puddle-jumping, everyday-is-an-adventure shoes. One day, when they go missing, Juno discovers something amazing: a magical room filled with every kind of shoe she could possibly imagine! Juno embarks on an epic journey through time and space, stepping into the shoes of female icons from Frida Kahlo and Cleopatra to Lady Gaga and Serena Williams. Each pair of shoes Juno tries brings a brand new adventure―and a step towards understanding that her very own shoes might be the best shoes of all.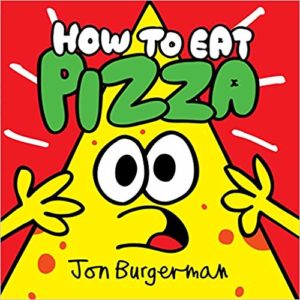 How to Eat Pizza by Jon Burgerman
How do you eat pizza? Do you pick the biggest slice? Add hot pepper flakes? Use your hands? Do you know how your pizza slice feels about that? He thinks it's disgusting. There are so many other things you could eat — that aren't him. Listen up. He's got ideas.
Chapter Book New Releases
Ellie, Engineer: The Next Level by Jackson Pearce
After Ellie's first elevator build goes terribly wrong, her parents decide her "punishment" is to assist an elderly neighbor, Mrs. Curran, around the house. Ellie and her friends Kit and Toby are really only supposed to help with little things, but Ellie can't turn down the opportunity to use her engineering skills here and there where she sees a need–because that's what engineers do! It's no fun, though, when Mrs. Curran always gives Toby the credit for all the ingenious projects, and acts like Kit and Ellie were just helping him. . . . Can Ellie come up with another great build to elevate Mrs. Curran's ideas about this girl engineer?
Middle Grade New Releases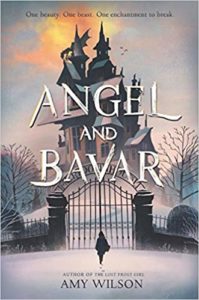 Angel and Bavar by Amy Wilson
After the death of her parents, Angel has a lot to get used to: a new home, a new family, a new school. The last thing she's interested in is making new friends. Until she meets Bavar, a strange boy who slips through the shadows, a boy who might understand her nightmares. But Bavar doesn't want to let anyone in. Everyone—and everything—in his enchanted house is already urging him to step up and protect the world from a magical rift and the fearsome monsters traveling through it, a responsibility he wishes he could ignore.
Henry & Eva and the Castle on the Cliff by Andrea Portes
Prominent Environmentalist and Oceanographer Die in Boating Accident
This is the headline that changes Henry and Eva's lives. Their parents, environmentalist William Billings and his oceanographer wife Margo, disappear mysteriously at sea. But for Henry and Eva, things are about to go from bad to worse. Their jerk-face uncle (nicknamed Claude the Clod) and his awful girlfriend (Terri the Terrible) have moved into their big house on the cliff to "take care of them," but Eva has her doubts about their intentions. And when some spooky visitors appear with a message, they realize that their parents' deaths might not have been as cut and dry as everyone thinks. It's up to Henry and Eva to discover the truth—but can they do it before the Clod catches them?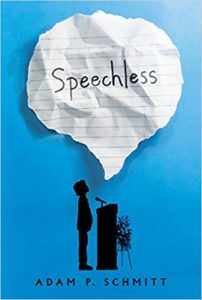 Speechless by Adam P. Schmitt
As if being stuffed into last year's dress pants at his cousin's wake weren't uncomfortable enough, thirteen-year-old Jimmy has just learned from his mother that he has to say a few words at the funeral the next day. Why him? What could he possibly say about his cousin, who ruined everything they did? He can't recall one birthday party, family gathering, or school event with Patrick that didn't result in injury or destruction. As Jimmy attempts to navigate the odd social norms of the wake, he draws on humor, heartfelt concern, and a good deal of angst while racking his brain and his memory for a decent and meaningful memory to share. But it's not until faced with a microphone that the realization finally hits him: it's not the words that are spoken that matter the most, but those that are truly heard.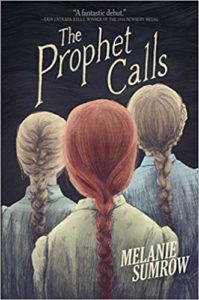 The Prophet Calls by Melanie Sumrow
Born into a polygamous community in the foothills of New Mexico, Gentry Forrester feels lucky to live among God's chosen, apart from the outside world and its "evils." On her thirteenth birthday, Gentry receives a new violin from her father and, more than anything, she wants to play at the Santa Fe Music Festival with her brother, Tanner. But then the Prophet calls from prison and announces he has outlawed music in their community and now forbids women to leave. Determined to play, Gentry and Tanner sneak out. But once they return, the Prophet exercises control from prison, and it has devastating consequences for Gentry and her family.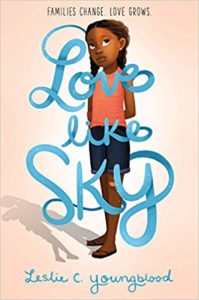 Love Like Sky by Leslie C. Youngblood
G-baby and her younger sister, Peaches, are still getting used to their "blended-up" family. They live with Mama and Frank out in the suburbs, and they haven't seen their real daddy much since he married Millicent. When Peaches gets sick, suddenly Mama and Daddy are arguing like they did before the divorce and even the doctors at the hospital don't know how to help Peaches get better. It's up to G-baby to put things right. She knows Peaches can be strong again if she can only see that their family's love for her really is like sky.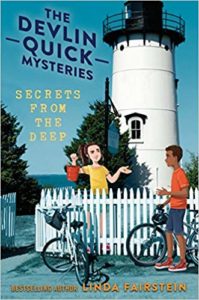 The Devlin Quick Mysteries: Secrets from the Deep by Linda Fairstein
It's the end of summer, and Devlin Quick is invited to join her best friend Booker's family on vacation at their summer home in Martha's Vineyard. Booker has a science project for school: to take a daily bucket of water from the Vineyard Sound and submit a sample to an oceanographic DNA lab. From that, they can actually tell you what species of fish have been in those waters: striped bass, blues…and sharks! But Devlin comes up with something else in her bucket from the days when pirates hid treasures along New England coastline. With access to the crime DNA lab back in NYC (courtesy of her mother), Dev is going to solve the mystery of this treasure…and figure out all of the secrets Martha's Vineyard is hiding.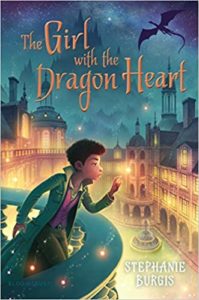 The Girl with the Dragon Heart by Stephanie Burgis
Silke has always been good at spinning the truth and storytelling. So good that, just years after arriving in the kingdom as a penniless orphan, she has found her way to working for the most splendid chocolate makers in the city as a master promoter. Although Silke loves her work at the Chocolate Heart, she's certain it's not going to last, and what Silke wants more than anything is somewhere to call home–somewhere safe. But when your best friend is a dragon-turned-hot-tempered-girl, trouble is always right around the corner.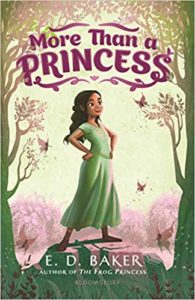 More Than a Princess by E.D. Baker
One day, as Aislin is venturing through the woods, she is alarmed to hear a band of humans coming through. How did they get past the guarded magical passageway that leads to her hidden kingdom? Mistaken for a human herself, Aislin is captured, and soon realizes she's in even bigger trouble–she's being used as a pawn to help the king of this nearby kingdom, Morrain, find a secret passageway to the warring land of Scarmander, so he can capture his enemies by surprise. Aislin must find a way to break free, while also minding the beautiful human princess and ladies-in-waiting she now shares a castle with, who are all too ready to point out her differences. Thankfully, Aislin's inner strength goes beyond her magical qualities. And with a few loyal friends by her side, she's ready to stand up for herself and her kingdom once and for all.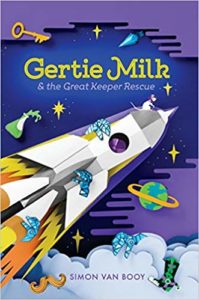 Gertie Milk and the Great Keeper Rescue by Simon van Booy
Ever since Gertie Milk arrived on Skuldark, the mysterious island home of all lost objects, she's felt like something was missing. According to Kolt, her mentor and fellow Keeper of Lost Things, the island used to be filled with Keepers tasked with returning missing items throughout history. But now the only three left are Gertie, Kolt, and, Robot Rabbit Boy–a bumbling but lovable Series 7 Artificial Intelligence Forever Friend.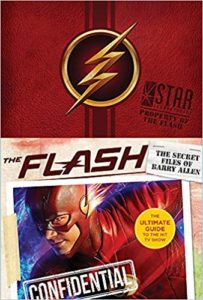 The Flash: The Secret Files of Barry Allen
As Central City's guardian speedster, Barry Allen has experienced—and survived—a lot. Everything you need to know about The Flash, including all of his top-secret notes, is compiled in this ultimate guidebook. Sneak a peek at the classified S.T.A.R. Labs dossiers on everyone in Central City (human and metahuman), view case notes, and read, in Barry's own words, exclusive details about his life before and after the accident.
Are You Ready to Hatch an Unusual Chicken? by Kelly Jones
Twelve-year-old Sophie Brown is finally settling into her new home and her new role as keeper of some highly unusual chickens–chickens with secret superpowers! But the arrival of two new magical chickens for her flock and some unusual eggs to be incubated and hatched (what will their superpowers be?), plus an impending inspection from the Unusual Poultry Committee (who even knew this existed?) has Sophie feeling pretty stressed out. Her older cousin, Lupe, is coming to stay with her family, which is great–but will Lupe like chickens too? And on top of it all, Sophie's first day at her new school is rapidly approaching!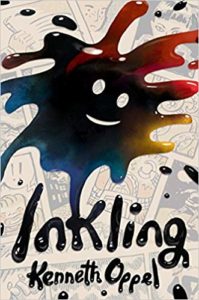 Inkling by Kenneth Oppel
The Rylance family is stuck. Dad's got writer's block. Ethan promised to illustrate a group project at school–even though he can't draw. Sarah's still pining for a puppy. And they all miss Mom. So much more than they can say. Enter Inkling. Inkling begins life in Mr. Rylance's sketchbook. But one night the ink of his drawings runs together–and then leaps off the page! This small burst of creativity is about to change everything. It's not until Inkling goes missing that this family has to face the larger questions of what they–and Inkling–truly need.
Nonfiction New Releases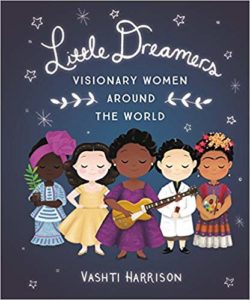 Little Dreamers: Visionary Women Around the World by Vashti Harrison
Featuring the true stories of 40 women creators, ranging from writers to inventors, artists to scientists, Little Dreamers: Visionary Women Around the World inspires as it educates. Readers will meet trailblazing women like Mary Blair, an American modernist painter who had a major influence on how color was used in early animated films, actor/inventor Hedy Lamar, environmental activist Wangari Maathai, architect Zaha Hadid, filmmaker Maya Deren, and physicist Chien-Shiung Wu. Some names are known, some are not, but all of the women had a lasting effect on the fields they worked in.
Backlist Book Recommendations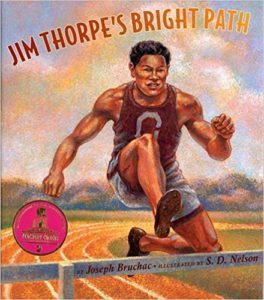 Picture Book Recommendation: Jim Thorpe's Bright Path by Joseph Bruchac, illustrated by S.D. Nelson
A biography of Native American athlete Jim Thorpe, focusing on how his boyhood education set the stage for his athletic achievements which gained him international fame and Olympic gold medals.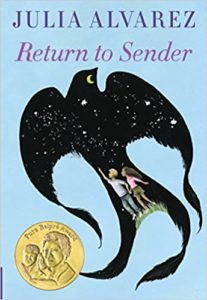 Middle Grade Book Recommendation: Return to Sender by Julia Alvarez
After Tyler's father is injured in a tractor accident, his family is forced to hire migrant Mexican workers to help save their Vermont farm from foreclosure. Tyler isn't sure what to make of these workers. Are they undocumented? And what about the three daughters, particularly Mari, the oldest, who is proud of her Mexican heritage but also increasingly connected to her American life. Her family lives in constant fear of being discovered by the authorities and sent back to the poverty they left behind in Mexico. Can Tyler and Mari find a way to be friends despite their differences?
Project Book Recommendation: The Best of Making Things: A Hand Book of Creative Discovery by Ann Sayre Wiseman
This classic educational and creative text features 125 projects, carefully selected by the author to "develop natural curiosity and self-esteem," and to demonstrate "simple and important concepts that have shaped the cultures of the world." So when a child asks, "What can I do?" you can reply, "Make things! Paper from laundry lint! A bird feeder from clothes hangers! Chocolate pudding finger paintings! Beautiful fish & potato prints! A cardboard box loom that teaches weaving and math! A simple pattern to sew shirts, pants, or dresses!"
That's it for me – I have to get back to reading! I would love to know what you are reading this week! Find me on Twitter at @KarinaYanGlaser, on Instagram at @KarinaIsReadingAndWriting, or email me at karina@bookriot.com.
Until next week!
Karina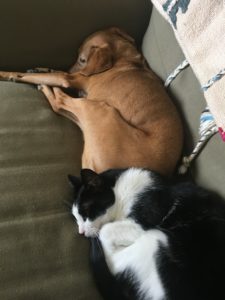 *If this e-mail was forwarded to you, follow this link to subscribe to "The Kids Are All Right" newsletter and other fabulous Book Riot newsletters for your own customized e-mail delivery. Thank you!*