Greetings, gals and ghouls! Welcome to In The Club, a newsletter of resources to keep your book group well-met and well-read.
It's Halloween at last and my favorite month is drawing to a close! I've so enjoyed spending the whole month watching Hocus Pocus on repeat, devouring witchy reads, and busting out my "Brujeria Supplies" tote to freak out passersby. Now if only the orange monster in on oval lair in the house of white stone on Pennsylvania Avenue would leave us alone… that'd be swell.
Also, now all I can think about it this guy from Looney Tunes.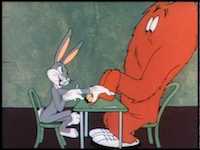 Enough of that mess. Let's talk audiobooks, America's favorite read, crime awards and more.
Onward!
---
This newsletter is sponsored by Mariner Books.
"The edge of the stories in Nana Kwame Adjei-Brenyah's debut collection Friday Black is razor sharp, ready to cut deep. This book is dark and captivating and essential. This book is a call to arms and it is a condemnation. Adjei-Brenyah offers powerful prose as parable. The writing in this outstanding collection will make you hurt and demand your hope. Read this book. Marvel at the intelligence of each of these stories and what they reveal about racism, capitalism, complacency and their insidious reach."—Roxane Gay
---
Audiophile Favorites – I know I'm generally the one with the recommendations here but PLOOOOT TWIIIIIST! We recently asked you to tell us about great audiobooks for book club.
That's right folks: I managed to sneak in a Golden Girls reference yet again. Also, here are some of your fantastic suggestions.
Volume Up in this Club! – Speaking of audiobooks: if you've been clubbing with me for a bit now, you know I heart the idea of integrating audiobooks in book group. Need help getting started? Check out this piece on six ways to host an audiobook club.
Book Club Bonus

: While there are thousands of new/new-to-you titles to listen to out there, give some thought to listening to a book you've read in print previously. Hearing it narrated – especially if it's by the author – can add a whole new layer of meaning, nuance, and oftentimes hilarity. I have done this with Trevor Noah's

Born a Crime

and David Sedaris'

Calypso.

Holy crap, yo. Hearing their stories in their voices hit me smack in the feels and almost made me wet myself at least 5 times, even though I'd already read them once before.
To Read a Mockingbird – The people have spoken! The voting results for The Great American Read are in and Harper Lee's To Kill A Mockingbird took the top spot.
Book Club Bonus

: We all know America's favorite read is pretty much a staple in high school classrooms – but should it be? Give it a read in book club and see if you feel any differently about it now than you did when you first tackled it, or share your impressions as a first time reader. I for one think it might be high time to move on from the white savior thing, ya know? Discuss some more contemporary reads that you might suggest in its stead. There. Are. Lots.

Related: The top 50 and top 10 finalists for The Great American Read were woefully lacking in diversity, a non-surprising but still disappointing side affect of the whiteness of the Western canon. Another book club tip: research overlooked reads and come up with suggestions for new entries into the canon. Go.
Book Clubs All the Way Down – Looking for a book club? Already in one but need a replacement because Karen didn't read the damn book and watched the movie instead AGAIN? Consider joining Life's Library, a new book club by John Green and his longtime friend Rosianna Halse Rojas.
Book Club Bonus

: My indie recently read Claire Fuller's

Swimming Lessons

for book club and promoted it on social media. Fuller then reached out to thanks us for picking her book and offered to provide and/or answer any questions for our book group. Before you select your next read, try contacting the author and see if they'd be willing to participate similarly. I've been so pleasantly surprised at how receptive many authors are to communicating with their readers. Show them some love and maybe get them chatting about the books they've written.
Bringing Books to a Knife Fight – Sort of. Except the knives are daggers and the fight is an award ceremony. Two lessons here: 1) My bookish metaphors don't always work out. 2) The Crime Writers' Association Dagger Awards have been announced.
Book Club Bonus:

As a lover of mystery books, I love me the Dagger Awards but lawd! #daggerssowhite. I'm thrilled to see Attica Locke take the Ian Fleming Steel Dagger but the nominees overall were not at all diverse. Read Attica Locke and give her her flowers, but also look for other persons of color writing mystery. Need some suggestions? Walter Mosley, Kellye Garrett, Alexia Gordon, Vaseem Khan, Maria Angelica Bosco, Kareem Abdul-Jabbar, Sujata Massey… I could go on.
Trans People Won't Be Erased – We love and support our trans brothers and sisters. Full stop. Here is a piece from Rioter Christina on 15 trans, non-binary, and gender non-conforming writers to get to know right now.
Book Club Bonus

: Please, please support the work of trans, non-binary, and gender non-conforming writers and then consider writing them a letter from your book group. Thank them for their books and remind them that they are seen and valued, in spite of so many efforts from nefarious parties to make them feel otherwise. Then call every damn elected official you need to to voice your opposition for the attempted erasure of the trans community. And of course VOTE.
---
Thanks for hanging with me today! You can find me on both the Twitter and the gram @buenosdiazsd. Shoot me an email at vanessa@riotnewmedia.com if you want to say hola or if you have any book club questions, and sign up for the Audiobooks newsletter to get more bookish content by yours truly.
Stay bad & bookish, my friends.
Vanessa
More Resources:
– Our Book Group In A Box guide
– List your group on the Book Group Resources page