Hey Kid Lit friends!
With the midterm elections in America coming up, I thought I would collect some new children's books about advocacy and elections so our young people have the opportunity to learn how important their voice is from an early age. As usual, all book descriptions are from Goodreads.
---
Sponsored by Shadow Mountain Publishing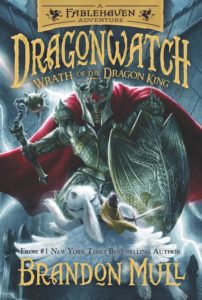 The dragons have declared war! After a humiliating defeat at the hands of Kendra and Seth, Celebrant, King of Dragons, prepares to unleash his fury and take control of his native preserve. Two of the seven dragon sanctuaries have already fallen. Will Wyrmroost be next? One thing is certain – dragons are deadly foes, and one wrong move could bring swift defeat. It will take more than Kendra, Seth, and their current allies have ever given to endure the wrath of the Dragon King.
---
Board Books & Picture Books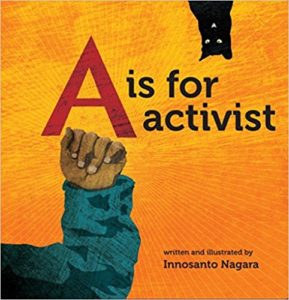 A is for Activist by Innosanto Nagara
A is for Activist is an ABC board book written and illustrated for the next generation of progressives: families who want their kids to grow up in a space that is unapologetic about activism, environmental justice, civil rights, LGBTQ rights, and everything else that activists believe in and fight for.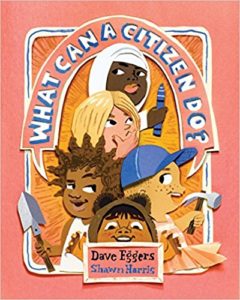 What Can a Citizen Do? by Dave Eggers, illustrated by Shawn Harris
Across the course of several seemingly unrelated but ultimately connected actions by different children, we watch how kids turn a lonely island into a community—and watch a journey from what the world should be to what the world could be.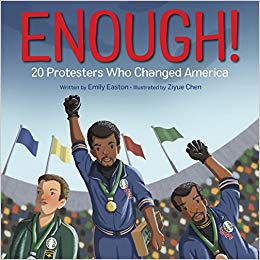 Enough! 20 Protesters Who Changed America by Emily Easton, illustrated by Ziyue Chen
America has been molded and shaped by those who have taken a stand and said they have had enough. In this dynamic picture book, stand alongside the nation's most iconic civil and human rights leaders, whose brave actions rewrote history. Join Samuel Adams as he masterminds the Boston Tea Party, Ruby Bridges on her march to school, Colin Kaepernick as he takes a knee, and the multitude of other American activists whose peaceful protests have ushered in lasting change.
For Middle Grade Readers
What's the Big Deal About Elections by Ruby Shamir, illustrated by Matt Faulkner
Did you know that Election Day is on Tuesday because that was the best day for farmers to vote? Or that George Washington was our only elected president who ran unopposed? Or that Native Americans were only given the right to vote in 1924? It's all true! We hear a lot about political campaigns on the news, but there's tons to know about elections beyond the politics of each race. Who gets to vote? Who gets to run? What do elected officials do once they're in office–and what do candidates do if they lose? Why do people fight so hard for the right to vote? In this kid-friendly, fact-filled book, young readers will find out how Americans choose their leaders, local and federal, and why elections should matter to them, even if they can't vote (yet)!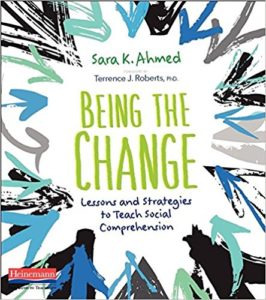 Being the Change by Sara K. Ahmed
Being the Change is based on the idea that people can develop skills and habits to serve them in the comprehension of social issues. Sara K. Ahmed identifies and unpacks the skills of social comprehension, providing teachers with tools and activities that help students make sense of themselves and the world as they navigate relevant topics in today's society. Each chapter includes clear, transferrable lessons and practical strategies that help students learn about a targeted social comprehension concept. From exploring identity and diversity to understanding and addressing biases and microaggressions, Sara demonstrates how to address real issues honestly in the classroom while honoring and empowering students.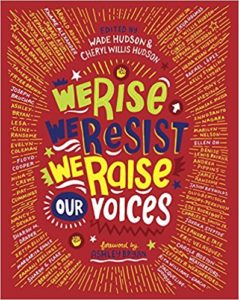 We Rise, We Resist, We Raise Our Voices edited by Wade Hudson and Cheryl Willis Hudson
Fifty of the foremost diverse children's authors and illustrators–including Jason Reynolds, Jacqueline Woodson, and Kwame Alexander–share answers to the question, "In this divisive world, what shall we tell our children?" in this beautiful, full-color keepsake collection, published in partnership with Just Us Books. What do we tell our children when the world seems bleak, and prejudice and racism run rampant? With 96 lavishly designed pages of original art and prose, fifty diverse creators lend voice to young activists.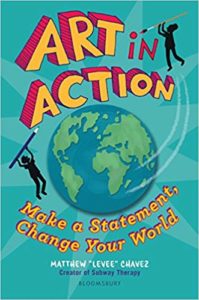 Art in Action: Make a Statement, Change Your World by Matthew "Levee" Chavez
In the days leading up to and following the 2016 U.S. Presidential Election, artist Matthew "Levee" Chavez arrived at the Union Square subway station and passed out blank sticky notes, urging New Yorkers to express themselves. As the notes were posted to the wall, a colorful and moving collage emerged that reflected the city's rich and diverse personal responses to a divisive moment in history. In that moment, art and activism united a community. In this DIY guide, Chavez shows young readers how to create their very own art projects with a purpose.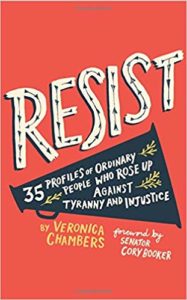 Resist: 35 Profiles of Ordinary People Who Rose Up Against Tyranny and Injustice by Veronica Chambers
Before they were activists, they were just like you and me. From Frederick Douglass to Malala Yousafzai, Joan of Arc to John Lewis, Susan B. Anthony to Janet Mock—these remarkable figures show us what it means to take a stand and say no to injustice, even when it would be far easier to stay quiet.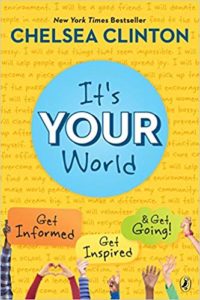 It's Your World: Get Informed, Get Inspired, and Get Going! by Chelsea Clinton
With an eye toward empowering and inspiring kids, Chelsea Clinton explores some of the biggest challenges facing our world today. Using data, charts and stories she unpacks challenges related to Poverty, Climate Change, Gender Equality, Health, Endangered Species and talks about what's being done to make a difference in each area–particularly by kids and teenagers. With lots of suggestions and ideas for action, Chelsea Clinton shares her passion for helping others and shows readers that the world belongs to every single one of us, and every one of us counts–no matter how young.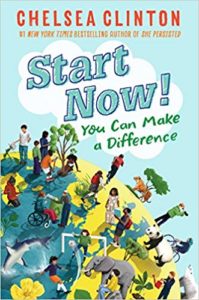 Start Now! You Can Make a Difference by Chelsea Clinton
With information on problems both large and small, Chelsea Clinton breaks down the concepts of health, hunger, climate change, endangered species and bullying, so that readers can understand the world around them, and how they can make a difference in their own lives, as well as in their communities and the world at large. With comic drawings to illustrate Clinton's words, photographs of real live kids who are making a difference today, and lists of ways to get involved, this book is the perfect introduction to young activists who want to make the world a better place.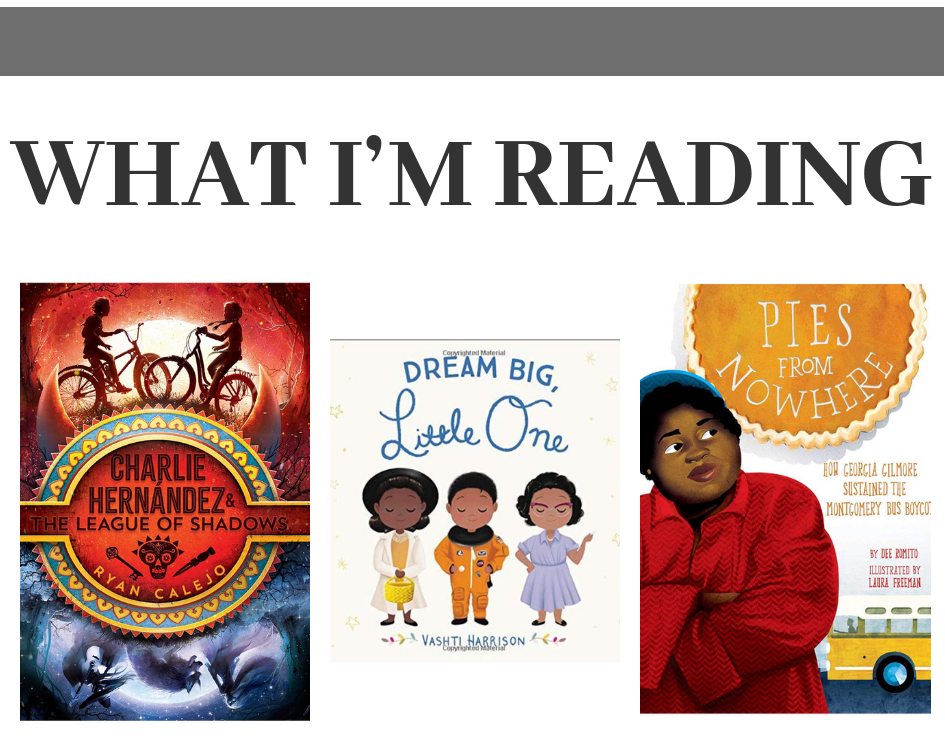 There have been so many great books out this fall!
Charlie Hernández and The League of Shadows by debut novelist Ryan Calejo (Aladdin, 10/23) is about Charlie, who loves his abuela's stories. He especially the monsters and ghouls who have spent the last five hundred years haunting the imaginations of children all across the Iberian Peninsula, as well as Central and South America. But when Charlie begins to experience freaky bodily manifestations—ones all too similar to those described by his grandma in his favorite legend—he is suddenly swept up in a world where the mythical beings he's spent his entire life hearing about seem to be walking straight out of the pages of Hispanic folklore and into his life.
Dream Big, Little One by Vashti Harrison is the board book version of Little Leaders: Bold Women in Black History. The vibrant illustrations will surely interest the youngest readers.
Pies from Nowhere: How Georgia Gilmore Sustained the Montgomery Bus Boycott by Dee Romito, illustrated by Laura Freeman (little bee books, 11/6), is the story of a hidden figure of history who played a critical role in the civil rights movement and used her passion for baking to help the Montgomery Bus Boycott achieve its goal.
Around the web…
Kid Lit Activism Continues with Focus on November 6, via Publisher's Weekly
Children's Classics Are Not Universal Worldwide, via Book Riot
Giveaway!
Don't forget to enter our giveaway for a custom book stamp for your personal library! Click here to enter.
I would love to know what you are reading this week! Find me on Twitter at @KarinaYanGlaser, on Instagram at @KarinaIsReadingAndWriting, or email me at karina@bookriot.com.
Until next time!
Karina
*If this e-mail was forwarded to you, follow this link to subscribe to "The Kids Are All Right" newsletter and other fabulous Book Riot newsletters for your own customized e-mail delivery. Thank you!*