Happy Tuesday, book lovers! It's time for another round of "Welp, There Goes My TBR." I'm looking forward to getting my hands on Gmorning, Gnight! by Lin-Manuel Miranda and Jonny Sun, and Everything's Trash, But It's Okay by Phoebe Robinson. And there's a new Katie O'Neill – it's called Aquicorn Cove! And a new Barbara Kingsolver.
---
Sponsored by Epic Reads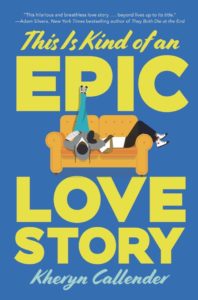 Nathan Bird doesn't believe in happy endings. An ultimate film buff and aspiring screenwriter, Nate's seen the demise of too many relationships to believe that happy endings exist in real life. Playing it safe to avoid a broken heart has been his MO ever since his father died and left his mom to unravel—but this strategy is not without fault. His best-friend-turned-girlfriend-turned-best-friend-again, Florence, is set on making sure Nate finds someone else. And someone does come along: Oliver James Hernández, his childhood best friend. Can Nate find the courage to pursue his own happily ever after and tell Ollie his true feelings?
---
TL;DR: Sooooo many amazing books out today! I'm going to share a few below, and you can hear about more exciting new reads on this week's episode of the All the Books! Jenn and I talked talked about Heavy, The Library Book, A Very Large Expanse of Sea, and more great books.
And who is doing the Dewey's 24-Hour Readathon this weekend? I'll be running their Litsy account, so be sure to pop over and say hello!
OH! And don't forget to enter our giveaway for a custom book stamp for your personal library.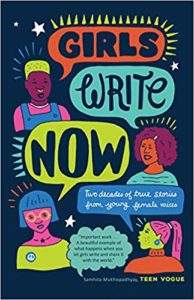 Girls Write Now: Two Decades of True Stories from Young Female Voices by Girls Write Now
Wonderful collected writings about teenage-girl life in the United States over the past twenty years, talking about love, sex, identity, family, racism, bullying, immigration, and more. Interwoven with these stories are pieces by authors such as Roxane Gay, Gloria Steinem, Alice Walker, Zadie Smith, and Chimamanda Ngozi Adichie.
Backlist bump: Here We Are: Feminism for the Real World by Kelly Jensen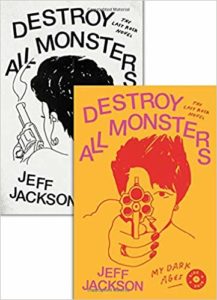 Destroy All Monsters: The Last Rock Novel by Jeff Jackson
A dark, chilling book about a rash of killings: musicians being murdered onstage during their performances. Like a 45 record, this book has two sides: you can start with the story of a young woman drawn to the mystery of the violence, or flip it over and learn more about the motivation behind the crimes. Either way, it is also a stinging commentary on the world we live in now.
Backlist bump: Mira Corpora by Jeff Jackson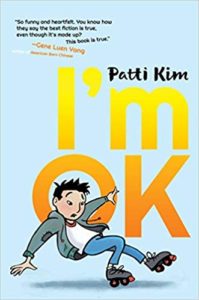 I'm Ok by Patti Kim
With Ok Lee's father gone, he and his mother are sinking under the weight of bills. His mother works three jobs already, so Ok brainstorms a way to contribute: a hair braiding business. The girls at school can't pay him much, but Ok is sure it will help at home, and hopefully be enough so that his mother won't decide to date their pastor, who has been trying to win her over. This is a charming, heartfelt story about family and responsibility.
Backlist bump: Crenshaw by Katherine Applegate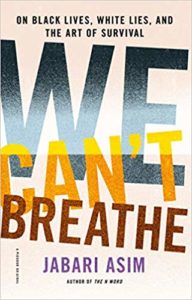 We Can't Breathe: On Black Lives, White Lies, and the Art of Survival by Jabari Asim
In eight thought-provoking essays, Asim creates a portrait of a community and culture that has resisted, survived, and succeeded despite centuries of racism, violence, and trauma in America. These essays are not about their oppression, but rather about a community telling their stories in their own voices.
Backlist bump: Between the World and Me by Ta-Nehisi Coates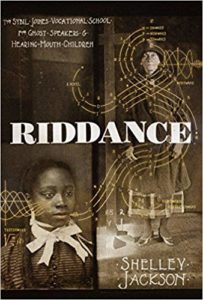 Riddance: Or: The Sybil Joines Vocational School for Ghost Speakers & Hearing-Mouth Children by Shelley Jackson
Jackson's first novel in 12 years! It's an illuminated novel about a school for children who have trouble speaking, which is run by a woman who believes in life after death. Annnnd she might be the reincarnated version of her past self, and there are a couple of strange deaths that occur on the grounds of the school. It's partly presented as research about the school, and filled with journal entries, documents, and newspaper clippings. But there's so much more going on! Its layout is designed by Zachary Thomas Dodson, who wrote Bats of the Republic, which I LOVE.
Backlist bump: Half Life by Shelley Jackson
That's it for me today – time to get back to reading! If you want to learn more about books new and old (and see lots of pictures of my cats, Millay and Steinbeck), or tell me about books you're reading, or books you think I should read (I HEART RECOMMENDATIONS!), you can find me on Twitter at MissLiberty, on Instagram at FranzenComesAlive, or Litsy under 'Liberty'!
Thanks so much for visiting me here each week! Y'all are the best.
xoxo,
Liberty