It's the second week of October and it finally feels like fall in Southern Arizona. Well. If a high of 77 really counts as "fall."
---
Sponsored by Epic Reads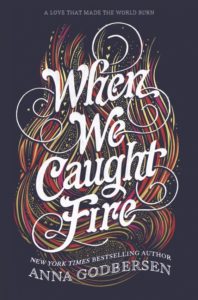 It's 1871, and Emmeline Carter is poised to take Chicago's high society by storm. Between her father's sudden rise to wealth and her recent engagement to Chicago's most eligible bachelor, Emmeline has it all. But she can't stop thinking about the life she left behind, including her childhood sweetheart, Anders Magnuson. Fiona Byrne, Emmeline's childhood best friend, is delighted by her friend's sudden rise to prominence, especially since it means Fiona is free to pursue Anders herself. But when Emmeline risks everything for one final fling with Anders, Fiona feels completely betrayed. As the summer turns to fall, the city is at a tipping point: friendships are tested, hearts are broken, and the tiniest spark might set everything ablaze.
---
New and Useful Links
THERE IS A COVER. I am so excited. Look at it. Look at them. Look at those words.
The Bawdy Bookworms have released their second monthly list of diverse romances, and I'm really looking forward to a lot of the books coming out this winter. But that's not the only thing they do over at Bawdy-central. They also have a seasonal subscription box, and it's hella fun. Not only do you get a steamy book, but you get some kind of sensual…bonus items, too. Sometimes they're battery operated, sometimes not. Full disclosure: Kim from BB sent me one to check out, and I can tell you if you're looking for something like that, or didn't know you were, it's worth checking out at least once. Want to know more from someone better with words and more fun than me? Check out Suzanne's video review.
Every response to this tweet prompt is something I want to watch, including Greg Pak's. I'll even read the romance novel inspired by it.
Corey Alexander interviewed Rebekah Weatherspoon about Rafe and I really need to read that book. (I will. Soon. I swear. Ish.)
Kinky is coming out this weekend. Are you gonna see it? I'm curious, but might wait for it to arrive on a streaming network. As far as I know, it's not book-related, but I'm sure it's definitely got some appeal for romance readers. Also, basically every single person in this movie is four-alarm hot, so no matter what the script and story turn out to be like, at least it'll be pretty?
Deals!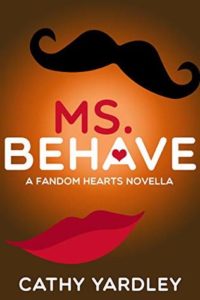 There's a new Fandom Hearts novella called Ms. Behave and it's 1.99 right now!
Looking for a new romantic suspense series to start? Kendra Elliot's A Merciful Death is 1.99.
Helen Hardt's Craving is FREE right now (and if you want the audio as an add on, you can get it for 1.99, too!)
Over on Book Riot
I never watched The Office, but even I ship Jim and Pam. Here are some books to put you in that same mood they inspired.
You all know my feelings about Jessica Avery, but seriously, this person is my person. She's in my heart and soul, and knows my mind. Her most recent expression of my hopes and dreams is for a horror sugbenre of romance. I spent a brief period of time expressing a strong desire for something dark and atmospheric that also had a central love story. Give me The Others with kissing. The first half of Crimson Peak, before things get…weird. Ok, no, I like the weirdness, but I also like certain characters not dying and leaving with the love of their life and having a HEA. I will take those immediately, thank you.
Are you still doing Riotgrams? I'm trying, I swear.
Trisha and I talked about Butterfly Swords on When in Romance and also employer/employee romances.
And we're still giving away a custom book stamp! (Psst! If for some reason you don't want one for yourself—you don't read print books, you've Kondo'd your home, etc—hey, enter and I'll take it :wink-emoji:)
Recs!
This week's Feature Creature is one who had to grow on me in romance, after spending a little too much time with Richard Zeeman in my formative paranormal years.
The Wolf Man.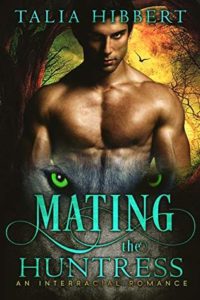 Mating the Huntress
Talia Hibbert
Talia Hibbert writes at the speed of light, so it was both an awesome surprise and no surprise at all when she revealed that she'd written a Halloween-themed paranormal romance—her first paranormal at all. The name says it all, but says nothing. In this novella, Chastity is one of a collection of siblings in a universe where the women are sworn werewolf hunters and the men are the healers. When her sister is wearing her sweatshirt and a werewolf just takes part of it instead of killing her, Chastity is curious. She becomes even more curious when a wolf in human form starts coming to her family's coffee shop…and then he asks her out. What better way to prove herself to her family and get some, right?
This is the most adorable thing that is also about people who kill monsters. And Luke is preciously supportive of Chastity's violence. So there's that. It's a quick read and a delight to experience.
Wolfsong
TJ Klune
If you want something that is not a quick read, may I present Wolfsong to you. I sort of felt like this book would never end, but I was not sad about that. TJ Klune is something else when it comes to wordmaking and he put a lot together in this story. Ox, the narrator, tells the story of growing up, his dad leaving, finding a family in the guys at the shop where he works, and then meeting another family. The family down the lane, full of beautiful, brilliant, caring people. Ox meets the youngest member, Joe, on the road home, and Joe at the ripe old age of ten can't help but latch on—because Ox smells like awesome. His words, not mine. Ox and Joe grow together, and learn together, and become better men together. And then stuff happens and they're not together. And then they're together again. It's a thing. A long thing. With lots of other stuff.
I wasn't sure if I was going to include this one because so much of the earlier part takes place when Ox is a teenager. But he grows up, and so does Joe, and all kinds of things happen for them. Also, every single supporting character is amazing.
Both of these stories are about fated mates (Mating the Huntress more so than Wolfsong), so if that's not your thing, you probably want to pass on them. But if you're curious about two authors who do it well, these are good places to start.
New and Upcoming Releases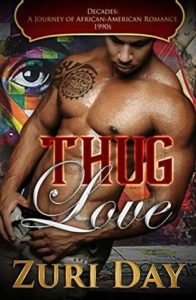 Thug Love by Zuri Day
Gridiron Heartbreaker by Melissa Blue
Band Sinister by KJ Charles (October 11)
How the Dukes Stole Christmas by Tessa Dare, Sarah MacLean, Sophie Jordan, and Joanna Shupe (October 15)
One Day in December by Josie Silver (October 16)
Night at the Opera by Stacy Henrie (October 16)
As usual, catch me on Twitter @jessisreading or Instagram @jess_is_reading, or send me an email at jessica@riotnewmedia.com if you've got feedback or just want to say hi!