Hey y'all: It's YA book news o'clock!
"What's Up in YA?" is sponsored by Lost Soul Be at Peace by Maggie Thrash.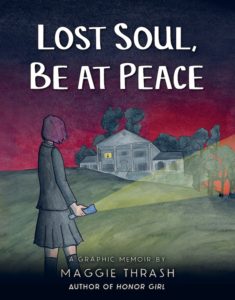 A year and a half after the summer that changed her life, Maggie Thrash wishes she could change it all back. She's trapped in a dark depression and flunking eleventh grade, befuddling her patrician mother while going unnoticed by her father, a workaholic federal judge. The only thing Maggie cares about is her cat, Tommi . . . who then disappears somewhere in the walls of her cavernous house. So her search begins — but Maggie's not even really sure what she's lost, and she has no idea what she'll find. Lost Soul, Be at Peace is the continuation of Maggie's story from her critically acclaimed memoir Honor Girl, one that brings her devastating honesty and humor to the before and after of depression.
---
Before diving into this week's YA news links, time to brag! Although the release date for The Hate U Give was bumped up to October 2, it's still a limited release. But, since I was in New York City this week, I managed to sneak time in to see it. It is even better than you're anticipating it to be. I highly recommend seeing it when it's available near you.
That out, here's what else to know this week!
Recent Book Mail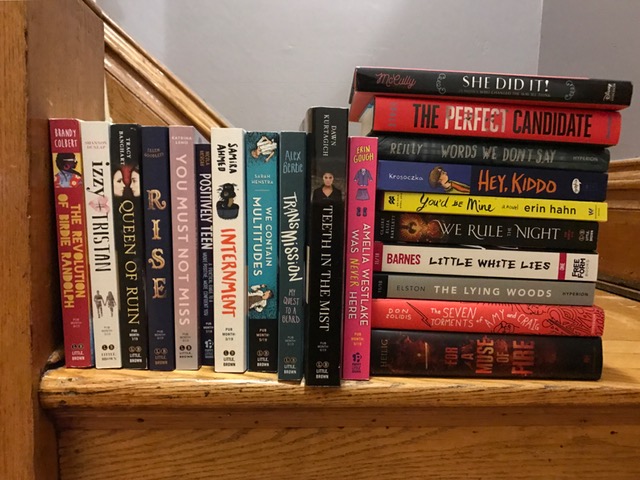 Another big book mail week! We'll go left to right, then top to bottom.
The Revolution of Birdie Randolph by Brandy Colbert (Goodreads link)
Izzy and Tristan by Shannon Dunlap
Queen of Ruin by Tracy Banghart (Goodreads link)
Rise by Ellen Goodlett (Goodreads link)
You Must Not Miss by Katrina Leno
Positively Teen by Nicola Morgan
Internment by Samira Ahmed
We Contain Multitudes by Sarah Henstra
Trans Mission: My Quest to a Beard by Alex Bertie
Teeth in the Mist by Dawn Kurtagich
Amelia Westlake Was Never Here by Erin Gough
She Did It: 21 Women Who Changed The Way We Think by Emily Arnold McCully
The Perfect Candidate by Peter Stone
Words We Don't Say by KJ Reilly
Hey, Kiddo by Jarrett J. Krosoczka
You'd Be Mine by Erin Hahn
We Rule the Night by Claire Eliza Bartlett
Little White Lies by Jennifer Lynn Barnes
The Lying Woods by Ashley Elston
The Seven Torments of Amy and Craig by Don Zolidis
For a Muse of Fire by Heidi Heilig
Cheap Reads
Grab these great YA books while they're discounted. Prices current as of Wednesday, October 10.
Silver Phoenix by Cindy Pon came out almost ten years ago. Grab it for $2.
Dear Martin by Nic Stone is worth far more than the $2 price tag.
Girl of Fire and Thorns by Rae Carson is the first in a high fantasy series and can be yours for $3.
The Falconer, The Vanishing Throne, and The Fallen Kingdom — each of the three titles in Elizabeth May's "The Falconer" series — are $1 each. Grab 'em all.
Stupid Fast by Geoff Herbach, one of my favorite YA reads, is $3.
The Gentleman's Guide to Vice and Virtue is $2.
Heather Kaczynski's Dare Mighty Things is available for $2.
Pick up Laini Taylor's award-winning Strange The Dreamer for $3.
Bryan Bliss's No Parking At The End Times is $4.
Itching for a fun werewolf book? Hemlock by Kathleen Peacock is $2.
____________________
Thanks for hanging out, and we'll see you again next week!