Hey Kid Lit friends,
Happy new release Tuesday! I've got a big list of great books for you today, and as usual if there is a book I have read and loved, I'll mark it with a
. There are too many books to read these days – I need another 15 hours in every day to keep up!
*Please note that all book descriptions are from Goodreads.
---
Sponsored by Vesuvian Books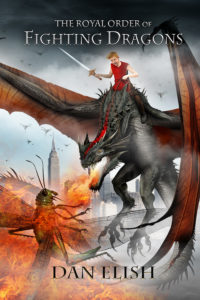 Ike Rupert Hollingsberry is haunted by the past. Complete strangers won't let him forget his famous father died on the set of The Fighting Dragons. But when he's attacked by a large locust, like the one that killed his dad, Ike is helped by the geekiest nerd of all, Elmira Hand. Killing the giant locust was only the beginning as Ike is whisked from New York to an isolated Florida compound to assume his role as the next in line to lead the Royal Order of Fighting Dragons—and learns his dad's death was a cover-up for a greater purpose.
---
Board Book New Releases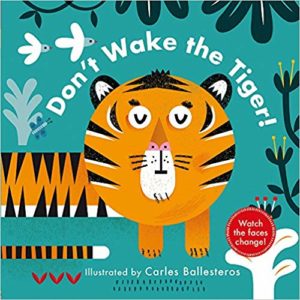 Don't Wake the Tiger! by Nathan Thomas, illustrated by Carles Ballesteros
All the animals are sleeping until—with each turn of the page—the reader wakes each of them up! First the tiger is sleeping, then the panda, the lion, and the elephant. Children will be delighted to watch each animal's eyes pop open as its facial features go from asleep to awake.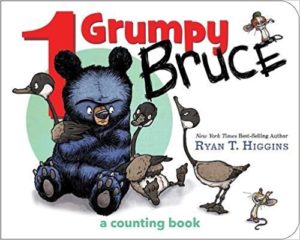 1 Grumpy Bruce by Ryan T. Higgins
1 grumpy bear
2 uninvited skunks
3 mice throwing a party
. . . and it only gets worse from there. Long-suffering Bruce once again contends with an increasingly crowded household, this time in an original board book where young ones can count the never-ending party guests. Full of fun characters and humor, 1 Grumpy Bruce is just right for our littlest readers.
Picture Book New Releases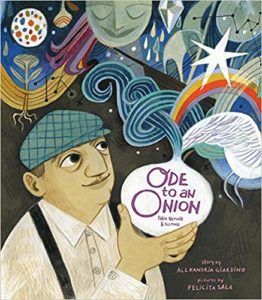 Ode to an Onion: Pablo Neruda and His Muse by Alexandria Giardino, illustrated by Felicita Sala
A poetic, beautifully illustrated picture book inspired by Ode to the Onion by Chilean poet Pablo Neruda (1904–1973). Pablo has a lunch date with his friend Matilde, who shows the moody poet her garden. Where Pablo sees conflict and sadness, Matilde sees love and hope. The story is less a biography of Neruda and his muse, Matilde Urrutia (1912–1985), and more a simple ode to a vegetable that is humble and luminous, dark and light, gloomy and glad, full of grief and full of joy—just like life.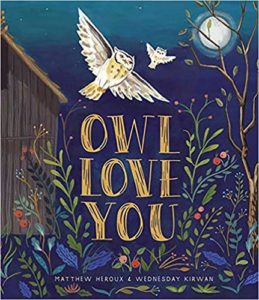 Owl Love You by Matthew Heroux and Wednesday Kirwan
The sun is setting, time to rise! At dusk, when an owl's day is just beginning, a baby owl asks questions and a mama owl offers comforting answers in this gentle, reverse bedtime book, featuring lulling, lyrical text and luminous illustrations of the nighttime world.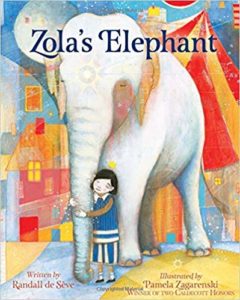 Zola's Elephant by Randall de Seve, illustrated by Pamela Zagarenski
When Zola moves into the neighborhood, her new next-door neighbor is too shy to go over and introduce herself. Plus, Zola already has a friend to play with—an elephant! What we imagine is not always true, as the little girl discovers. Luckily, she also discovers that being brave can lead to new friendships—and even richer imaginary worlds—in this heartwarming book about friendship, moving, and the power of imagination.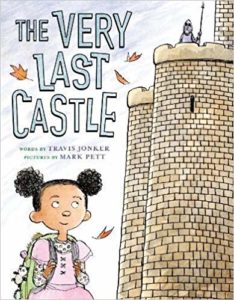 The Very Last Castle by Travis Jonker, illustrated by Mark Pett
A curious little girl watches the man who guards the last castle in town. Every time she passes by him, she tries to catch his eye. While the other townspeople fear what may be locked up inside the mysterious castle, the girl finally gets up the courage to knock on the door and find out what's really behind the gate. A story about overcoming fear of the unknown, trying new things, and reaching out to make new friends, The Very Last Castle shows that bravery comes in packages both big and small.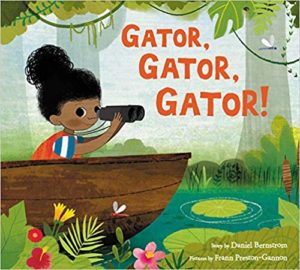 Gator, Gator, Gator! by Daniel Bernstrom, illustrated by Frann Preston-Gannon
Put on your life jacket, hop in the boat, and raise your binoculars—it's time to go on an adventure! In Daniel Bernstrom's follow-up to the critically acclaimed One Day in the Eucalyptus, Eucalyptus Tree, a fearless little girl takes off in search of a giant gator—but she's not going into that swamp alone! No way! She wants YOU, the reader, to come along. Off you go, peering through the lush landscapes, looking for that gator! But each time you think you see it? Oops! Just a fox. Or some ducks! Or a snake. Maybe you'll never find the gator, gator, gator . . .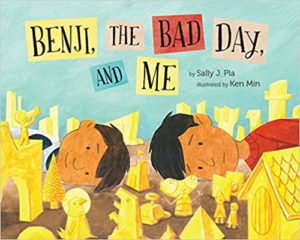 Benji, the Bad Day, and Me by Sally J. Pla, illustrated by Ken Min
Nothing seems to be going right for Sammy today. At school, he got in trouble for kicking a fence, then the cafeteria ran out of pizza for lunch. After he walks home in the pouring rain, he finds his autistic little brother Benji is having a bad day too. On days like this, Benji has a special play-box where he goes to feel cozy and safe. Sammy doesn't have a special place, and he's convinced no one cares how he feels or even notices him. But somebody is noticing, and may just have an idea on how to help Sammy feel better.
I'm Tough! by Kate McMullan, illustrated by Jim McMullan
I'm not the BIGGEST TRUCK in the parking lot . . . but when my cargo bed's PACKED and STACKED
I've got what it takes to HAUL it ALL!
You can count on me—I'll get the job done!
'Cause guess what—
I'M TOUGH!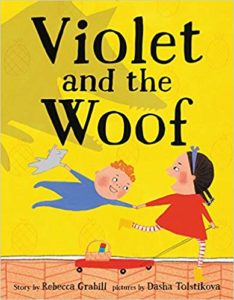 Violet and the Woof by Rebecca Grabill, illustrated by Dasha Tolstikova
Riding their building's elevator and traveling the hallways past apartment doors to bring soup to a sick neighbor, Violet and Peter encounter both real and imagined adventure—getting lost in the laundry room, running into a troll, and escaping scary noises in the nick of time, only to find that their poor sick neighbor looks . . . like a wolf! Clever, thought-provoking, and with an unforgettable ending, Violet and the Woof is a book that explores the power of imaginative storytelling and will have kids asking: "What's real?"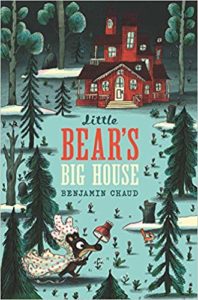 Little Bear's Big House by Benjamin Chaud
This follow-up to Benjamin Chaud's critically acclaimed The Bear's Song and its sequels is graced with richly detailed art, immersive scenes, and an irresistibly sweet story! Little Bear is embarking on his biggest adventure yet. After discovering an empty house, his wish is granted: He can play all day and stay up as late as he wants! But he also gets a big scare. There are mysterious noises downstairs—could there be monsters . . . or ghosts?! Will Little Bear be able to brave the big house all by himself? In step with the previous books in the series, Little Bear may venture far and wide, but his loving family is never far behind!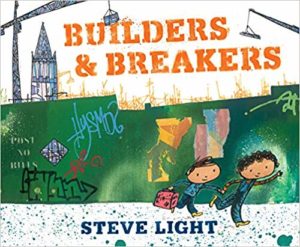 Builders and Breakers by Steve Light
When their dad forgets his lunch box on his way to the construction site, a young brother and sister set out to take it to him, and along their way witness all the noisy, exciting action of a build site in the city. With builders building, breakers breaking, and a whole host of impressive machines and vehicles hard at work, this book bursts with color and offers children plenty to enjoy. In his trademark intricate style, Steve Light captures the satisfaction of working hard to create something new — and, of course, taking a well-deserved break.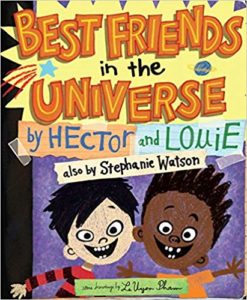 Best Friends in the Universe by Hector and Louie by Stephanie Watson, illustrations by LeUyen Pham
Louie and Hector are the best friends in the universe. Get ready to laugh out loud as the two boys fall in and out and eventually back into their best friendship ever through a series of funny secrets that neither one was supposed to reveal. Each episode is told in a journal format in four parts: "Best Friends in the Universe," "Best Friends in the Universe Forever and Ever," "Worst Friends in the Universe," and finally "Worst Secret Keepers in the Universe But Still Best Friends Forever and Ever."
We've Got the Whole World in Our Hands by Rafael Lopez
Award-winning illustrator Rafael López brings new life with his adaptation of "He's Got the Whole World in His Hands," saluting the lives of all young people. The rhythmic verse and repetitive emphasis on "we" and "our" encourages inclusive communities and the celebration of unity and diverse friendships all around the world. Come and read along and sing along as we celebrate the magic of unity. From the rivers to the mountains to the oceans and to the sea — we've got the whole world in our hands.
Chapter Book New Releases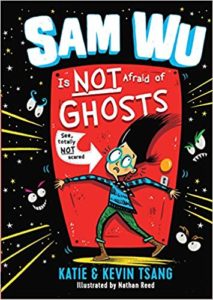 Sam Wu Is Not Afraid of Ghosts by Katie and Kevin Tsang, illustrated by Nathan Reed
After an unfortunate (and very embarrassing) incident in the Space Museum, Sam goes on a mission to prove to the school bully, and all his friends, that he's not afraid of anything—just like the heroes on his favorite show, Space Blasters. And when it looks like his house is haunted, Sam gets the chance to prove how brave he can be. A funny, touching, and charming story of ghost hunting, escaped pet snakes, and cats with attitude!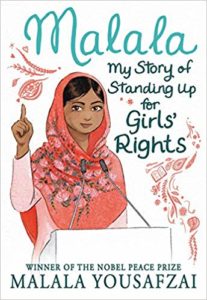 Malala: My Story of Standing Up for Girls' Rights by Malala Yousafzai
Malala's memoir of a remarkable teenage girl who risked her life for the right to go to school is now abridged and adapted for chapter book readers. Raised in a changing Pakistan by an enlightened father from a poor background and a beautiful, illiterate mother, Malala was taught to stand up for what she believes. Her story of bravery and determination in the face of extremism is more timely than ever.
Middle Grade New Releases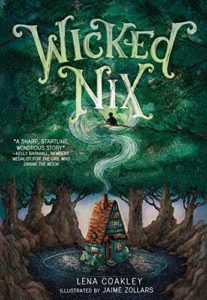 Wicked Nix by Lena Coakley, illustrated by Jaime Zollars
Mischievous woodland fairy Nix is up to no good. His beloved fairy queen has gone away, leaving him with a very important job: He must protect the forest from a most dangerous enemy—humans. When a determined invader trespasses on his territory, Nix's skills are put to the test as he invents several wicked tricks to chase the sorry fellow away. But when his efforts don't go quite according to plan, it becomes clear that this intruder—and this sprite—may not be at all what they seem.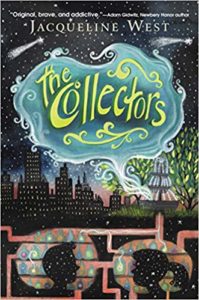 The Collectors by Jaqueline West
Van has always been an outsider. Most people don't notice him. But he notices them. And he notices the small trinkets they drop, or lose, or throw away—that's why his collection is full of treasures. Then one day, Van notices a girl stealing pennies from a fountain, and everything changes. He follows the girl, Pebble, and uncovers an underground world full of wishes and the people who collect them. Apparently not all wishes are good and even good wishes often have unintended consequences—and the Collectors have made it their duty to protect us. But they aren't the only ones who have their eyes on the world's wishes—and they may not be the good guys, after all.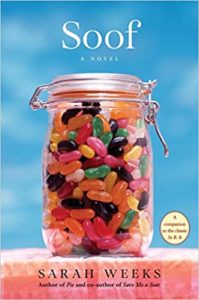 Soof by Sarah Weeks
All her life, Aurora has heard stories about Heidi and all the good luck she brought Aurora's family. Aurora, though, doesn't feel very lucky. The kids at school think she's weird. And she's starting to think her mom thinks she's weird, too. Especially compared to Heidi. On the eve of a visit from Heidi, more bad luck hits Aurora's family. There's a fire in their attic, destroying a good part of their house. And, even worse, Aurora's beloved dog goes missing. Aurora and her family have always believed in soof — Heidi's mom's word for love. But sometimes even when soof is right there in front of you, you still need to find it — and that's exactly what Aurora is going to do.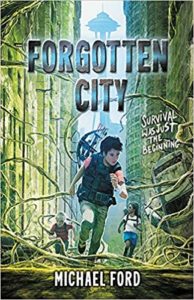 Forgotten City by Michael Ford
Thirteen years ago, the world ended. A deadly chemical called Waste began to spread across the globe, leaving devastation in its wake. Millions died. Cities fell into chaos. Anything the Waste didn't kill, it mutated into threatening new forms. Kobi has always believed he and his dad were the only survivors. But when his dad goes missing, Kobi follows his trail—and discovers a conspiracy even deadlier than the Waste itself.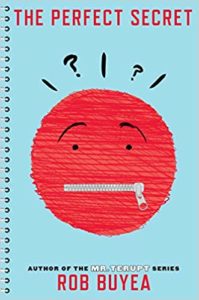 The Perfect Secret by Rob Buyea
GAVIN finally joins the football team–a dream come true!–but Coach Holmes refuses to play him for reasons that also threaten to tear Gavin's family apart. When RANDI attends an elite gymnastics camp, she uncovers a startling family connection. SCOTT starts researching an article for the school newspaper and stumbles right into a hornet's nest of lies. With his loser older brother, Brian, out of the house, TREVOR's life is loads better–until he realizes that only he can save Brian from getting into deep trouble. NATALIE's top goals: (1) find out why Mrs. Woods and Mrs. Magenta no longer speak to each other–a mission shared by all the kids–and (2) teach a certain someone an important life skill without anyone knowing. It's tough keeping secrets. And tougher still to deal with the fallout when secrets spill out.
The Turnaway Girls by Hayley Chewins
On the strange, stormy island of Blightsend, twelve-year-old Delphernia Undersea has spent her whole life in the cloister of turnaway girls, hidden from sea and sky by a dome of stone and the laws of the island. Outside, the Masters play their music. Inside, the turnaway girls silently make that music into gold. Making shimmer, Mother Nine calls it. But Delphernia can't make shimmer. She would rather sing than stay silent. When a Master who doesn't act like a Master comes to the skydoor, it's a chance for Delphernia to leave the cloister. Outside the stone dome, the sea breathes like a wild beast, the sky watches with stars like eyes, and even the gardens have claws. Outside, secrets fall silent in halls without sound. And outside, Delphernia is caught — between the island's sinister Custodian and its mysterious Childer-Queen.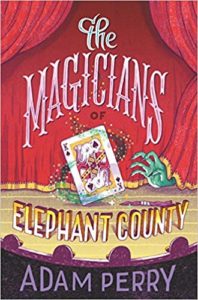 The Magicians of Elephant County by Adam Perry
Best friends Duncan Reyes and Emma Gilbert want to be as great as Harry Houdini someday. But when they discover that their neighborhood witch is more than just a local legend, their dreams of stardom quickly turn into a nightmare. After they (accidentally) steal the witch's magic wand, the duo uses it to put on an impossible new act—which draws even more dangerous foes to town in search of their secret. How are these two friends supposed to defeat the powerful dark forces threatening their town? Well, it may just take some sleight-of-hand, a bit of magic…and (allegedly) a little destruction of public property.
The Extremely Inconvenient Adventures of Bronte Mettlestone by Jaclyn Moriarty
Bronte Mettlestone is ten years old when her parents are killed by pirates. This does not bother her particularly: her parents ran away to have adventures when she was a baby. She has been raised by her Aunt Isabelle, with assistance from the Butler, and has spent a pleasant childhood of afternoon teas and riding lessons. Now, however, her parents have left detailed instructions for Bronte in their will. (Instructions that, annoyingly, have been reinforced with faery cross-stitch, which means that if she doesn't complete them, terrible things could happen!)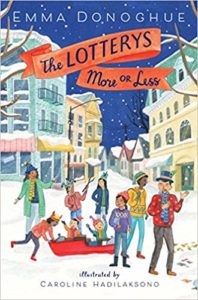 The Lotterys More or Less by Emma Donoghue, illustrated by Caroline Hadilaksono
Sumac Lottery is the keeper of her family's traditions — from Pow Wow to Holi, Carnival to Hogmanay, Sumac's on guard to make sure that no Lottery celebration gets forgotten. But this winter all Sumac's seasonal plans go awry when a Brazilian visitor overstays his welcome. A terrible ice storm grounds all flights, so one of her dads and her favorite brother can't make it home from India. And then the power starts going out across the city… Can Sumac hang on to the spirit of the season, even if nothing is going like a Lottery holiday should?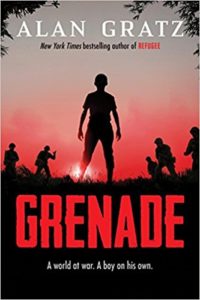 Grenade by Alan Gratz
Hideki lives with his family on the island of Okinawa, near Japan. When WWII crashes onto his shores, Hideki is drafted into the Blood and Iron Student Corps to fight for the Japanese army. He is handed a grenade and a set of instructions: Don't come back until you've killed an American soldier. Ray, a young American Marine, has just landed on Okinawa. This is Ray's first-ever battle, and he doesn't know what to expect — or if he'll make it out alive. He just knows that the enemy is everywhere.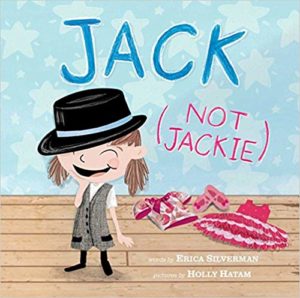 Jack (Not Jackie) by Erica Silverman, illustrated by Holly Hatam
Susan thinks her little sister Jackie has the best giggle! She can't wait for Jackie to get older so they can do all sorts of things like play forest fairies and be explorers together. But as Jackie grows, she doesn't want to play those games. She wants to play with mud and be a super bug! Jackie also doesn't like dresses or her long hair, and she would rather be called Jack.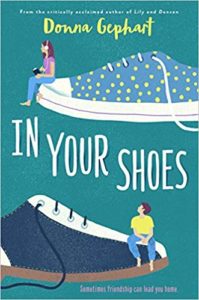 In Your Shoes by Donna Gephart
Miles is an anxious boy who loves his family's bowling center even if though he could be killed by a bolt of lightning or a wild animal that escaped from the Philadelphia Zoo on the way there.
Amy is the new girl at school who wishes she didn't have to live above her uncle's funeral home and tries to write her way to her own happily-ever-after. Then Miles and Amy meet in the most unexpected way . . . and that's when it all begins. . . .
Nonfiction New Releases
Thirty Minutes Over Oregon: A Japanese Pilot's World War II Story by Marc Tyler Nobleman, illustrated by Melissa Iwai
The devastating attack on Pearl Harbor, Hawaii, drew the United States into World War II in 1941. But few are aware that several months later, the Japanese pilot Nobuo Fujita dropped bombs in the woods outside a small town in coastal Oregon. This is the story of those bombings, and what came after, when Fujita returned to Oregon twenty years later, this time to apologize.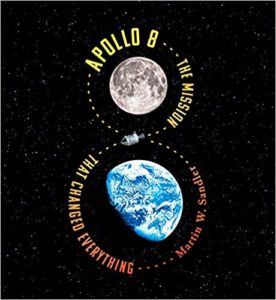 Apollo 8: The Mission That Changed Everything by Martin W. Sandler
In 1957, when the USSR launched Sputnik I, the first man-made satellite to orbit Earth, America's rival in the Cold War claimed victory on a new frontier. The Space Race had begun, and the United States was losing. Closer to home, a decade of turbulence would soon have Americans reeling, with the year 1968 alone seeing the assassinations of Martin Luther King Jr. and Robert F. Kennedy as well as many violent clashes between police and protesters. Americans desperately needed something good to believe in, and NASA's mission to orbit Earth in Apollo 8 and test a lunar landing module was being planned for the end of the year. But with four months to go and the module behind schedule, the CIA discovered that the USSR was preparing to send its own mission around the moon — another crucial victory in the Space Race — and it was clearly time for a change of plan.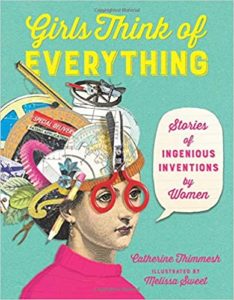 Girls Think of Everything: Stories of Ingenious Inventions by Women by Catherine Thimmesh, illustrations by Melissa Sweet
In kitchens and living rooms, in garages and labs and basements, even in converted chicken coops, women and girls have invented ingenious innovations that have made our lives simpler and better. What inspired these girls, and just how did they turn their ideas into realities? Retaining reader-tested favorite inventions, this updated edition of the best-selling Girls Think of Everything features seven new chapters that better represent our diverse and increasingly technological world, offering readers stories about inventions that are full of hope and vitality—empowering them to think big, especially in the face of adversity.
Backlist Book Recommendations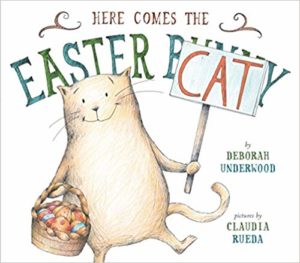 Picture Book Recommendation: Here Comes the Easter Cat by Deborah Underwood, illustrated by Claudia Rueda
Why should the Easter Bunny get all the love? That's what Cat would like to know. So he decides to take over: He dons his sparkly suit, jumps on his Harley, and roars off into the night. But it turns out delivering Easter eggs is hard work. And it doesn't leave much time for naps (of which Cat has taken five–no, seven). So when a pooped-out Easter Bunny shows up, and with a treat for Cat, what will Cat do? His surprise solution will be stylish, smart, and even—yes—kind.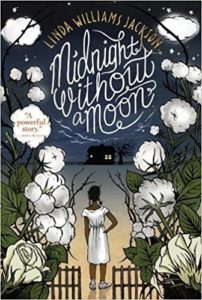 Middle Grade Book Recommendation: Midnight Without a Moon by Linda Williams Jackson
It's Mississippi in the summer of 1955, and Rose Lee Carter can't wait to move north. For now, she's living with her sharecropper grandparents on a white man's cotton plantation. Then, one town over, an African American boy, Emmett Till, is killed for allegedly whistling at a white woman. When Till's murderers are unjustly acquitted, Rose realizes that the South needs a change and that she should be part of the movement. Linda Jackson's moving debut seamlessly blends a fictional portrait of an African American family and factual events from a famous trial that provoked change in race relations in the United States.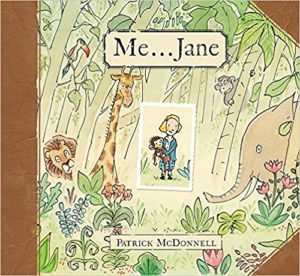 Nonfiction Recommendation: Me… Jane by Patrick McDonnell
In his characteristic heartwarming style, Patrick McDonnell tells the story of the young Jane Goodall and her special childhood toy chimpanzee named Jubilee. As the young Jane observes the natural world around her with wonder, she dreams of "a life living with and helping all animals," until one day she finds that her dream has come true. With anecdotes taken directly from Jane Goodall's autobiography, McDonnell makes this very true story accessible for the very young–and young at heart.
Giveaway!
Don't forget to enter our giveaway for a custom book stamp for your personal library! Click here to enter.
I would love to know what you are reading this week! Find me on Twitter at @KarinaYanGlaser, on Instagram at @KarinaIsReadingAndWriting, or email me at karina@bookriot.com.
Until next week!
Karina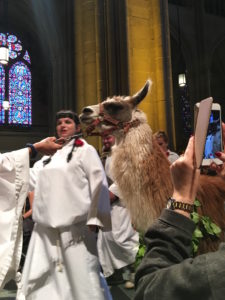 I took my kids to the Blessing of the Animals at the Cathedral of St. John the Divine in New York City this past Sunday. The service included an animal procession with a camel, horse, a tortoise, a cow, and a llama! I think llamas might be one of my favorite animals – they have the sweetest faces!
*If this e-mail was forwarded to you, follow this link to subscribe to "The Kids Are All Right" newsletter and other fabulous Book Riot newsletters for your own customized e-mail delivery. Thank you!*